Here's the chart I used over at SOH, updated to the moment.

Still maintaining breakouts in both the metal and the larger gold stocks.  Look, I don't make the charts up, I simply obey them.  And what this one is saying is that this time a confirmation is happening whereas last time a non-confirmation had been in effect.  This confirmation is a caveat to Tim's case.

I wish I could say that I wish more people understood the precious metals, but in honesty I am glad they do not.  That is how I make and preserve my money; at least as far as the financial markets are concerned.  There is a very specific investment case for gold and there is an even more complicated and specific investment case for the gold stocks - at certain times and during certain macro conditions only.

Are the PMs going to correct?  You bet your ass they are.  But trying to call 'from what level?' is becoming increasingly difficult for the gold haters and mis-understaners.  Not singling out SOH here, but rather an entire world of people and entities "on the outside looking in" as Jon so aptly put it a few posts previous.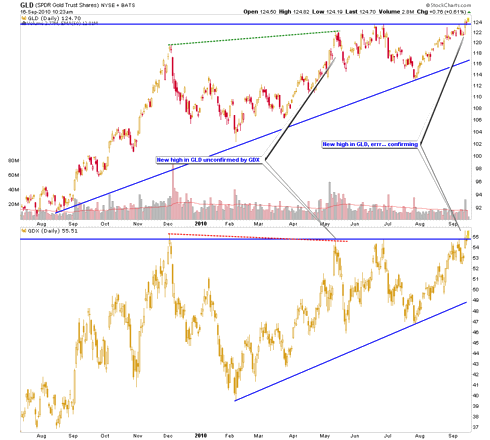 Disclosure: No position in either GLD or GDX