I got no shortage of grief for writing that title on May 23. The best and most succinct being "Gary = Dumb Investor". Others are here at SeekingAlpha and they are mostly non complimentary. Such is the life of a public writer.
I guess I could have titled it 'Dumb Money Sold in May and Went Away While Smart, Masochistic Money Bought the Bullish Sentiment Setup and Then Had to Wait Out a Very Annoying and Trying Mid-Summer Period as the S&P 500 Made a Nerve Wracking and Jagged Series of Higher Highs and Higher Lows While Manipulative Policy Makers Bull Horned Various Agendas Every Step of the Way'
Regardless of what the market does from here on, broad bullish has been the correct theme since dumb money puked out in May.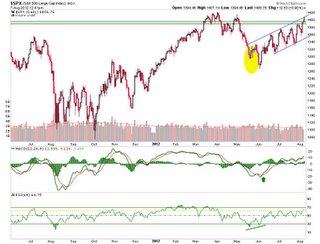 Now the SPX is threatening to break an important resistance level. It has a measured target to new recovery highs, which we covered in NFTRH198 along with a corresponding target on the NDX. Will they get there? Well, the first positive signs that things are accelerating upward - as was also speculated could happen in NFTRH - was the failure of the most recent 'higher low' to decline to the channel bottom and then the NDX breakout above lateral resistance on Friday.
There are election year dynamics in play along with the ever present cult of QE. I am not at all sure this is going to end well for bulls, and when the sentiment indicators get in line for the bearish case, there may be quite a short play shaping up.
But even if the market tanks tomorrow and stays tanked, the dumb money sold in May. Sentiment structures said so then and 'price' says so now. The big question is whether or not the dumb money will buy back in setting up the opposite scenario to May.
http://www.biiwii.blogspot.com
http://www.biiwii.com/analysis.htm