There is a global theme in play.  For NFTRH's two years of existence, the play has been GOLD MINERS nearly exclusively (with a recent side of Uranium) as their unique fundamentals stand to benefit when gold outperforms other assets (gold's 'real' price rises).  This could still be the play, and NFTRH holds by far an equity list weighted heavily in this area.

But I am seeing too many global markets - as an unbiased TA practitioner - to ignore the bullish global theme.  There are quality destinations for capital as well as laughable ones.  Slowly, NFTRH distributes and diversifies into quality areas.  Slowly, and with an ongoing regard for the need to have healthy cash levels for coming opportunities.

Inflation-instigated moral hazards are building, just as they did from 2003 to 2007.  But this does not mean 'don't invest'.  In some instances, it means quite the contrary.  NFTRH's 'Speculation' portfolio is now +18% for 2010, and +107% from baseline (NFTRH 1 dated 9/28/10).  This while maintaining grounded risk management every step of the way; including now.

Separately, a friend puts me onto this interview with Marc Faber after #103 is in the can and mailed to subscribers:  Marc Faber on the Federal Reserve and Hyperinflation.  This is one of the few 'gurus' I respect greatly.  Seeing him generally in alignment with NFTRH103's conclusions, is a good thing IMO.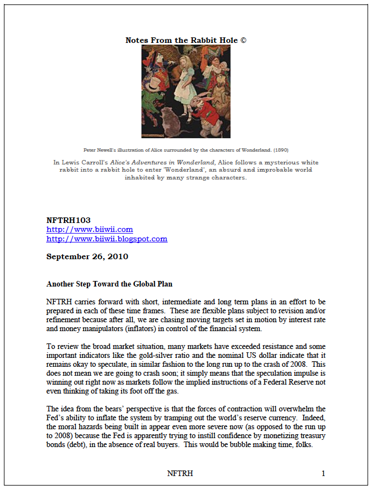 Disclosure: No positions mentioned