One result of silver's pop yesterday was to drive big daddy liquidity indicator the gold-silver ratio down from the EMA 50, to which it had been clinging. To all the other indicators we are watching, an over sold RSI on the GSR will be added.
This market really is making so much sense to me now after an early summer of discombobulation. Think about it; the analysis has been correct since the May lows (bullish, or at least DO NOT be actively bearish) and yet this market had me doubting myself at one point. Now things seem much more clear.
I am glad to have the GSR playing nice now and welcome it into the tool box.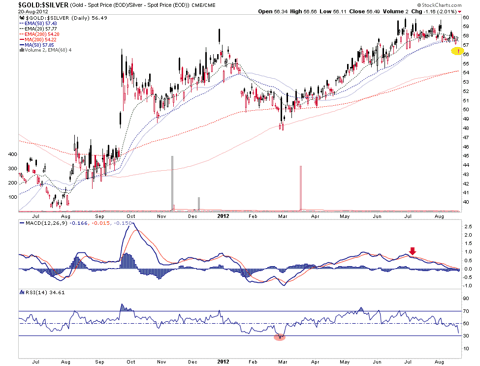 http://www.biiwii.blogspot.com
http://www.biiwii.com/analysis.htm
Subscribe to NFTRH or
Subscribe to the free eLetter
Disclosure: I have no positions in any stocks mentioned, and no plans to initiate any positions within the next 72 hours.
Additional disclosure: No positions mentioned.