Protalix And ZMapp: A Dream Team To Fight Ebola?
Please Note: Blog posts are not selected, edited or screened by Seeking Alpha editors.
Summary
Mapp Biopharmaceutical Inc. is seeking to boost production of its experimental Ebola drug ZMapp. ZMapp is grown in specially modified leaves of tobacco.
Protalix uses advanced genetic engineering and plants (tobacco and carrot) cell culture technology instead of the traditional mammalian yeast-based systems.
Protalix's technology produces biological drugs in plant cells and it already has a FDA-approved drug, ELELYSO, developed out of its partnership with Pfizer (NYSE:PFE) for the treatment of Gaucher disease.
Protalix's unique expression system presents a proprietary method for developing ZMapp proteins in a cost-effective industrial-scale manner.
Given these facts Protalix is an optimal candidate to team with Biopharmaceutical to launch a mass-produced ZMapp for the much needed immediate Ebola solution.
The current outbreak of Ebola is the worst case since it first occurred in 1976 with daily news on additional possible patients infected with the virus, and there is still no cure in sight. Fears of this present outbreak of Ebola spreading through West Africa and beyond have changed the picture dramatically, and experimental drugs are being tested on infected people even without regulatory approval for the Ebola virus infection in light of this exceptional situation.
One of the drugs that have drawn much attention this summer was ZMapp, made by privately held Mapp Biopharmaceutical Inc. ZMapp is composed of three "humanized" monoclonal antibodies directed against the Ebola virus by triggering the immune system to destroy them. The drug is manufactured in tobacco plants at Kentucky BioProcessing, a unit of cigarette maker Reynolds American. This drug was administered to several patients. Even though not all the Ebola patients who were treated with ZMapp were cured, including a Spanish missionary priest and a Liberian doctor who unfortunately did not survive, two American aid workers, who contracted Ebola in Liberia, were cured following ZMapp treatment. However, based on such small and inconclusive sample data, we cannot determine the success rates of Mapp Biopharmaceutical or any other biotech companies developing Ebola therapies and vaccines will for sure be successful against Ebola. The current data in humans are extremely limited, and with 30 percent of patients surviving without treatment the results cannot be deemed scientifically reliable. Larger trials are necessary to determine whether these experimental medicines are safe and effective.
Hurdles in the way of ZMapp manufacturing?
ZMapp is grown in specially modified leaves of tobacco. The plants must be grown for several weeks before they are "infected" with a particular protein. Once they are infected, it takes one week for the plants to produce enough of the protein to harvest and distill it into a useable drug. In layman's terms the production of their compound is just too slow. In fact, ZMapp have run out and manufacturers have admitted it will take months to make more.
The company is aware of the situation and it has been seeking to improve the yield from the tobacco plants. The company said it was working on the expansion efforts with the Bill and Melinda Gates Foundation and military agencies, but did not disclose which pharmaceutical company it had partnered with to produce the drug in a traditional biotech facility.
A Potential Current Solution: Protalix BioTherapeutics, Inc. (PLX)
Protalix BioTherapeutics, Inc. is a biopharmaceutical company that is revolutionizing the development and production of recombinant therapeutic proteins expressed through its proprietary plant cell-based expression system, ProCellEx.
ProCellEx® is a next-generation recombinant protein expression system that uses advanced genetic engineering and plant (carrot and tobacco) cell culture technology instead of the traditional mammalian- or yeast-based systems, enabling the production of a wide range of complex, proprietary and biologically equivalent human proteins to address a variety of diseases. Protalix's novel bioreactor system, based on disposable plastic bags, is the first of its kind. The closed system provides stable, optimized conditions, with manufacturing capabilities for the entire range of proteins, including antibodies, complex enzymes, and plant-derived pharmaceuticals.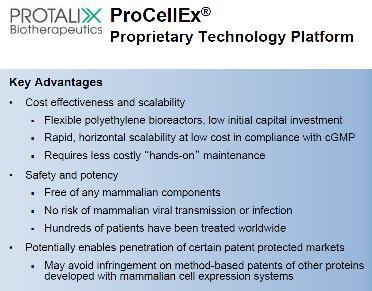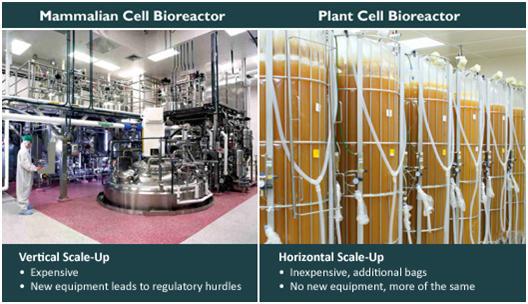 In fact, a few weeks ago Israel's Channel 2 television reported that Protalix's facility in Israel is one of few places in the world possessing the technology that can produce large amounts of Ebola drug like ZMapp, by using antibodies from tobacco plants. Protalix CEO David Aviezer said: "In theory, we probably could produce the antibody used for treating Ebola in our plant cell system… Based on our technology and their technology we believe this can be done." All that Protalix needs is "to receive the DNA sequence of the antibody, which is a proprietary asset." Now, the problem back then was that Mapp Biopharmaceutical was not looking for a collaboration; but as the Ebola virus continued spreading all over the globe, the demand for drugs that can help saving lives was increasing, and the company obtained federal funding early in September to speed up testing and production of the drug. The situation has changed, and now Mapp Biopharmaceutical is seeking to boost the production of ZMapp.
I believe that Mapp Biopharmaceutical should partner with Protalix in order to advance quickly through trials and human testing. Protalix can genetically engineer tobacco, has a production capacity that exceeds its needs and has the ability to produce cost-effectively a large amount of the Ebola drug for Mapp Biopharmaceutical in a relatively short period of time. Protalix's technology produces biological drugs in plant cells and it already has a Federal Drug Administration-approved drug, Elelyso, to treat Gaucher disease. Elelyso has validated Protalix's novel plant cell-based ProCellEx technology. Given all the advantages as indicated above I believe that Protalix can be the best Solution to the achievement of Mapp Biopharmaceutical`s goal of ZMapp mass-production.
But Protalix is not only useful to Mapp Biopharmaceutical Inc.. Protalix's first product manufactured by ProCellEx, Elelyso, is approved for marketing by the U.S. Food and Drug Administration (FDA), Israel's Ministry of Health, the Brazilian National Health Surveillance Agency (ANVISA),the Mexican Federal Commission for the Protection against Sanitary Risk (COFEPRIS), the Australian Therapeutic Goods Administration (TGA) and by the regulatory authorities of other countries. In January 2014 Protalix entered into a supply and technology transfer agreement with Fiocruz, an arm of the Brazilian Ministry of Health for Elelyso (UPLYSO-Marketing name in Brazil). Under the terms of the agreement, Fiocruz is committed to purchase $40 million (USD) during the first two years and $40 million worth of UPLYSO during subsequent years. Additionally, Protalix is not required to complete the final stage of the technology transfer until Fiocruz purchases at least approximately $280 million worth of UPLYSO.
In addition Protalix's development pipeline includes the following product candidates: PRX-102, a modified version of the recombinant human alpha-GAL-A protein for the treatment of Fabry disease; PRX-112, an orally-delivered glucocerebrosidase enzyme that is produced and encapsulated within carrot cells, also for the treatment of Gaucher disease; pr-antiTNF, a similar plant cell version of etanercept (Enbrel(R)) for the treatment of certain immune and inflammatory diseases, such as rheumatoid arthritis, Crohn's disease, colitis, psoriasis and other autoimmune and inflammatory disorders; PRX-110 for the treatment of Cystic Fibrosis; and others.
To summarize, Protalix can be a great investment candidate, and biotech investors should take a look at this company for both long- and short-term positions. With a market capitalization at around 200M, commitment to purchase ~$40M of Elelyso (UPLYSO) over the next 2 years just from Brazil and at least $280 million worth of UPLYSO, Protalix's technology platform and pipeline are underappreciated in my view. I believe that the company is greatly undervalued and has a significant upside potential. My price target opinion is at a conservative level of $4 compared to other analysts such as JPMorgan which rate Protalix as an "Overweight" with a $7 price target.
Analyst's Disclosure: The author has no positions in any stocks mentioned, and no plans to initiate any positions within the next 72 hours.
The author wrote this article themselves, and it expresses their own opinions. The author is not receiving compensation for it. The author has no business relationship with any company whose stock is mentioned in this article.
Additional disclosure: This article was written by Roy Vimer, one of our group analysts. Neither BGT nor Roy Vimer received compensation for this article (including from Seeking Alpha), and we have no business relationship with any company whose stock is mentioned in this article.
Seeking Alpha's Disclosure: Past performance is no guarantee of future results. No recommendation or advice is being given as to whether any investment is suitable for a particular investor. Any views or opinions expressed above may not reflect those of Seeking Alpha as a whole. Seeking Alpha is not a licensed securities dealer, broker or US investment adviser or investment bank. Our analysts are third party authors that include both professional investors and individual investors who may not be licensed or certified by any institute or regulatory body.