Western Canadian Select Price Collapse
The past month has seen tremendous negative sentiment in the Canadian oil markets. Western Canadian Select (WCS) crude is now trading at a $53 (USD) discount to West Texas Intermediate (WTI). This stunning price discount is the result of a massive glut of oil in western Canada that is struggling to find a way out of the region and into refineries, many of which are still under seasonal maintenance shutdown periods. The shortage of pipeline capacity and available rail tankers in the region continues to put significant downward pressure on prices.
The situation has become so dire that the Prime Minister of Alberta, Rachel Notley, has demanded that the Canadian government provide more rail cars to transport the glut of Alberta crude oil out of the region to help stabilize prices. However, recently passed legislation delivers penalties on rail companies that don't service their farm clients quickly enough, thus leaving oil producers as a secondary concern to the rail industry.
While Canadian oil exports by rail nearly doubled from last year, it appears that it still isn't enough. In June of this year, crude shipments by rail reached 204,000 bpd and are expected to hit 300,000 bpd by the end of 2018. While rail is a much more expensive transportation for Alberta crude, it's all there is right now until several pipeline projects stop running into regulatory and legal delays.
Cardinal Energy Hedge Book Concerns
In a recent Seeking Alpha article, Cardinal Energy: When Hedging Goes Wrong and Jeopardizes The 8% Dividend Yield, The Investment Doctor points out that the hedge book at Cardinal Energy (OTC:OTC:CRLFF) was holding the company back due to the recent spike in WTI prices this past summer. However, the missing piece of the puzzle here is that the Cardinal Energy hedge book consists of mostly WTI hedges and very few WCS hedges.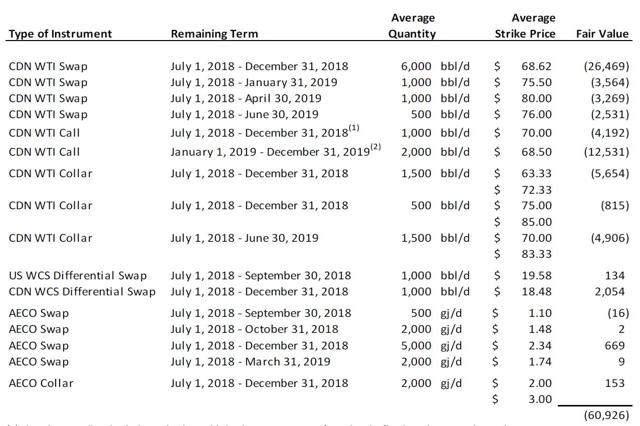 Source: Q2 Company Financial Statement
Upon inspection of the Cardinal Energy hedge book, we can see that 15,000 bpd is hedged in some way to WTI prices through various swaps, calls, and collars. However, there are only 2,000 bpd of WCS hedges (half of which expired in September).
At the end of Q2, WTI traded at $74.15/barrel and WCS at $47.90 for a discount of $26.25. By October 24, WTI is at $67.50 and WCS at $14.18, a discount of $53.32/barrel.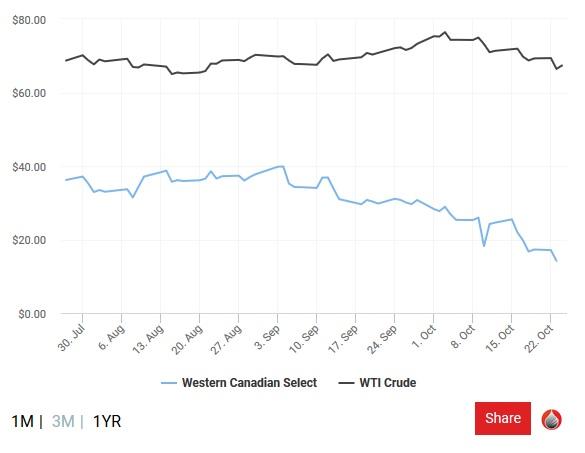 The precipitous drop in the price of WCS compared to the vast majority of Cardinal Energy's WTI hedges leaves significant negative exposure to cashflow since the gains on the hedges tied to WTI will not compensate for the larger drop in price of WCS.
What About the Dividend?
With the US-listed shares of Cardinal Energy currently trading around $3/share, the 2.6725 cent monthly dividend comes to a yield over 10%. The dividend costs the company $15.5 million (USD) per quarter at the current dividend rate and share count. The loss of revenue associated with the dramatic increase of the WCS/WTI discount could impact the company like this:
Change in WCS/WTI spread from Q2-Present

$-27

Hedged to WTI – 15,000 x 20.35/b

Compensates for drop in WTI covered by current hedges (6.65/b)

$-305,250

Hedged to WCS – 2,000

Assuming fully hedged protection (very favorable assumption).

$0

Daily difference between hedge gains and oil sale losses.

-$305,250

Quarterly difference between hedge coverage and WCS

Approx $20 million
Source: author calculations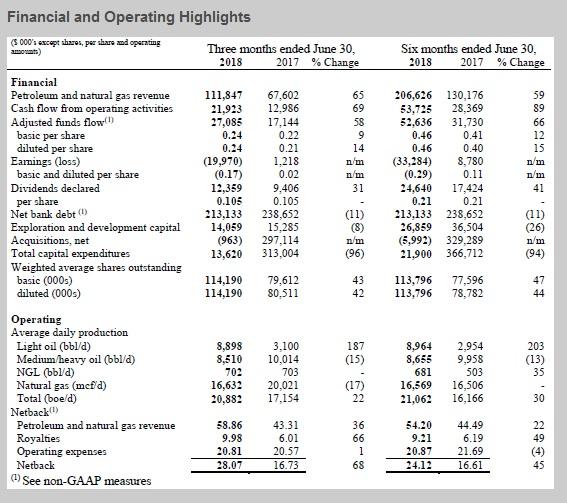 Source: Company News Release
The Q2 Netback per barrel came to $28.07 (CAD) for petroleum and natural gas equivalents and the payout ratio of 98% does not leave much room for error in the loss of revenue associated with a mismatch between cash hedges and production revenue. One of the management statements in the Q2 release is that "Our mandate for 2018/2019 will be to focus on three areas: maintaining our dividend and our total payout ratio below 100%", which leads me to believe that any significant reduction in oil revenue due to the WCS price collapse could lead to a dividend reduction.
On the positive side, Cardinal Energy produces almost equal amounts of light and medium crude which trades at higher prices than heavy West Canadian Select. This product mix should help soften the blow of the difference between the WTI hedges and the price received from their oil buyers. For example, several Canadian oil blends are seeing prices much higher than WCS: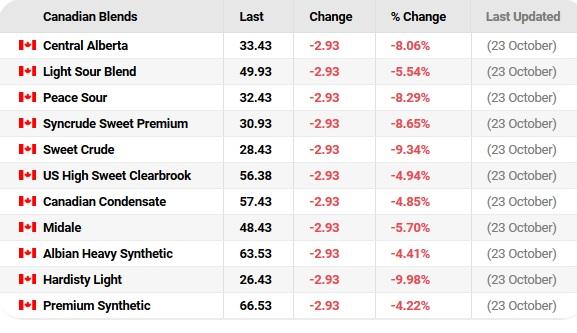 Source: oilprice.com
Adjusting the above calculations for Central Alberta oil pricing at 33.43 would reduce the discount to WTI to $34.07 instead of $53.32/barrel, however, at the end of Q2 the discount for Central Alberta oil compared to WTI was only $8/barrel. This means that the spread between Central Alberta and WTI has widened by $26.07/barrel, or nearly equal to the $27/barrel change in the spread between WCS and WTI since Q2.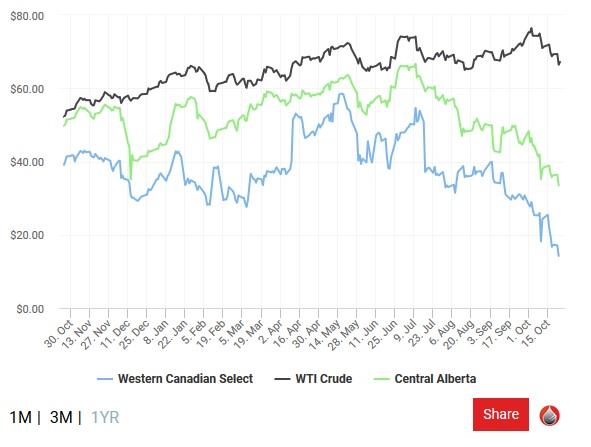 Source: oilprice.com
A sustained spread between current prices and the WTI hedges would likely require a reduction in the current dividend to maintain a payout ratio below 100%, at least until a recovery in prices is achieved through increased demand from re-opened refineries and increased transportation capacity to move oil out of Alberta.
Shares of CRLFF are down over 27% since the highs seen early in October. A recovery in the spread between Canadian and WTI oil prices could see shares snap back. With refiners coming back online in November and a likely stimulus from the Canadian government in the form of additional train cars for oil transportation, Canadian Oil spreads should start to narrow.
* All figures in USD, expect for company financial statement and company news release.
Disclosure: I am/we are long CRLFF.