Ferrovial SA [MCE: FER]
Date: 30/03/2017
Market Cap: EUR 12.45 billion
Industry: Heavy Construction
Share Price: EUR 18.78
Daily Traded Volume: EUR 57.9 million (3.2 million shares)
Summary and Conclusion
Ferrovial SA (FER) is a world leading Spanish transportation infrastructure developer with a very balanced and diversified portfolio. FER's strong position in the market lies in its ownership of unique infrastructure assets. FER's key infrastructure assets are:
407 ETR toll road in Canada - one of the most valuable assets in the infrastructure world
Managed Lanes in Texas - North Tarrant Express and LBJ Express Highway
Heathrow airport - one of the busiest airports in the world
As an infrastructure developer, FER has many defensive business model characteristics that are highly appealing to a value investor. FER's key strategic characteristics include:
Strong diversification metrics by:
Cash flow generation: Construction 23%, Services 37%, Infrastructure 40%
Geographical sales: North America 12%, Australia 15%, Poland 12%, United Kingdom 30%, Spain 24% and Other 7%
Business segment: Acquisition of Broadspectrum in Australia for an EV of EUR 934 million
Pricing power via toll roads: 407 ETR, North Tarrant Express and LBJ Express Highway toll roads enjoy tariff freedom and tariff flexibility by segment, direction, time and day 407 ETR increased tariffs by 9% in February 2017 and tariff increases of 5% and 2.5% are expected to happen in 2018 and 2019 respectively
Solid financial position with net debt/EBITDA and EBIT/interest expense in line with the sector
Strong management returning value to its shareholders: Total shareholder remuneration (dividends and buybacks) has grown by 93% from 2009 to 2016 Over the last 3 years management bought back 6% of total market cap indicating strong conviction of future growth
Quasi-monopolistic position with a competitive advantage: Owning highly valued infrastructure assets preventing susceptibility in economic downturns Competitive edge in Greenfield projects via construction arm by reducing construction risk
To conclude, FER is a leader operating in an industry that is undergoing structural changes and having an encouraging outlook. Its strong defensive business characteristics along with its unique infrastructure asset ownership make it an ideal stock to own for an investor with a long-term investment horizon. With its current market price per share of EUR 18.78, the stock presents an upside of 26.2% with an intrinsic value of EUR 23.70.
Business Description
Ferrovial SA (FER) is a world leading Spanish transportation infrastructure developer with a very balanced and diversified portfolio. Its projects are mature and resilient and FER has a presence throughout the whole infrastructure value chain from design, financing and building to operating and maintaining projects. FER's key infrastructure assets are 407 ETR toll road, Managed Lanes in Texas and Heathrow airport, as they area FER's main source of medium to long-term value creation. FER has the following business segments:
Services
The Services division performs all activities in the value chain from consulting, design and operation, to the life cycle management of assets
Recurrent cash flow generator with long duration providing long term visibility
Record backlog level in 2016 (EUR 24400 million including JVs)
Leading position in public and infrastructure services in Australia and New Zeland
Toll Roads
The Toll Roads division offers toll highways development, financing and operation
Through its subsidiary Cintra, FER is one of the world's leading private sector developers of transportation infrastructure, in terms of the number of projects (23 concessions) and the volume of investment (c. EUR 20 billion)
Covers 1923kms in total operating in 10 countries
Long duration: average portfolio maturity over 35 years while North American assets have an average maturity of over 51 years
Attractive tariff schemes and explicit toll projects with uncapped profitability
43% stake in 407 ETR Toll Road in Canada - one of the most valuable assets in the infrastructure world:
Tariffs 2006 - 2016 CAGR +9%
EBITDA 2006 - 2016 CAGR +10.8%
Dividends CAD 85 million 2005 to CAD 790 million 2016
100% payback first 10 years
Valuation up 31x since 1999
108kms in Greater Toronto
Tariff freedom and tariff flexibility by segment, direction, time and day
81 years to maturity (2098)
In 2016 407 ETR generated CAD 1135 million of revenues accounting for 8% of FER's total revenues (EUR 10759 million)
57% stake in North Tarrant Express- part of Managed Lanes in Texas
Investment USD 2.1 billion (21% equity)
Revenues +41.3% FY2016 vs 2015
Traffic +19.3% FY2016 vs 2015
Dynamic tolling: can change tolls every 5 minutes
Tariff freedom and tariff flexibility by segment, direction, time and day
44 years to maturity (2061)
No collection risk
51% stake in LBJ Express Highway- part of Managed Lanes in Texas
Construction
The Construction division develops public and private infrastructure projects including roads, railways, hydraulic projects and maritime works
Internationally renowned for its design, technical capabilities and construction of exceptional projects of all kinds
Airports
The Airport division focuses on airport infrastructure construction and management
FER is one of the leading airport operators in the UK operating 4 airports: Heathrow (25% stake), Glasgow (50% stake), Aberdeen (50% stake) and Southampton (50% stake)
25% stake in London Heathrow Airport (HAH)- owning and managing the busiest airport in the world
Traffic growth +1.0% 2016
Record passengers 75.7 million 2016
Heathrow operates at over 98% capacity
Annual flights 473231 (1293 per day)
194 destinations in 82 countries Government support confirmed for 3 rd runway (potential worth of EUR 1.5 billion)
Multiple awards received including Best Airport Western Europe (2 nd time), Best Airport for Shopping (7 th consecutive year), Europe's Best Airport (1 st time) to name a few
In 2016 HAH generated GBP 2809 million of revenues accounting for 36% of FER's total revenues (EUR 10759 million)
The main goal of FER is generating high cash flows, increasing profitability in construction and service contracts, increasing valuation of infrastructure projects and crystallizing value through a greater flow of dividends or in the subsequent sale of its assets. FER has 4 main strategic pillars:
Profitable growth
Internationalization
Operating excellence & innovation
Financial discipline
FER is also geographically diversified with a presence in Canada, Spain, UK, Poland, US and Australia. The 2016 sales breakdown is shown below:

Track Record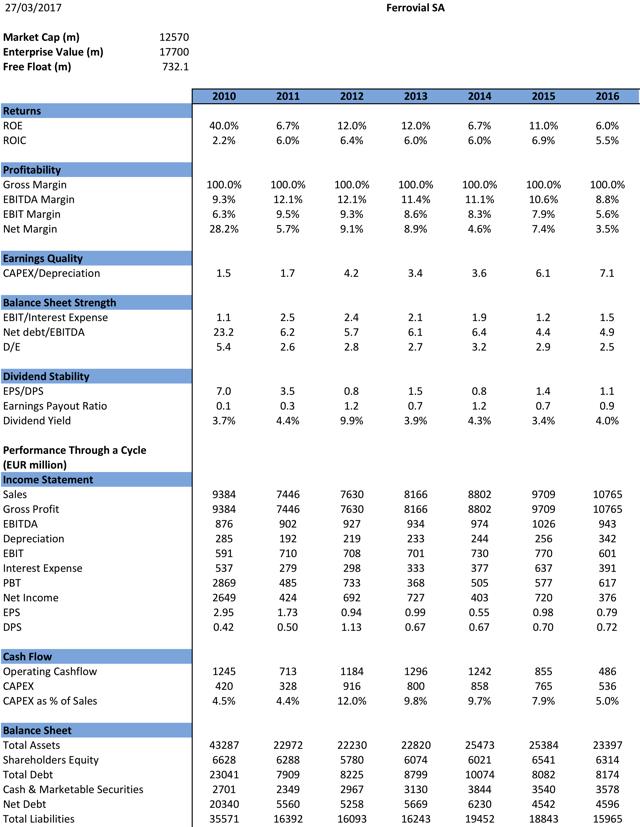 Key points to note
In 2010 FER underwent a sale of 10% of its share capital of the 407 ETR toll road, which resulted in a net gain of EUR 2471 million affecting net income, net income margin and ROE (one-off)
Net debt/EBITDA in 2010 is unusually high due to the fact that long-term debt of EUR 19566 million was incurred that year mostly accounting for HAH (Heathrow Airport) via bonds and bank borrowings totaling EUR 14737 million
Historically high and stable levels of ROE meaning that FER is not forced to finance its operations via 3 rd parties but can sustain its growth internally
Increasing trend of ROIC over the 7-year period with a current WACC of 4.56%, meaning that management is utilizing investors' capital efficiently and is increasing value for its shareholders
Consistent profitability via FER's margins from gross profit margin all the way down to net income margin
CAPEX/depreciation is constantly above 1, which is in line with FER's sector
FER's balance sheet is solid and its figures are in line with the sector (gearing): net cash position, ex-infrastructure projects, stood at EUR 697 million at year-end 2016 (EUR 1514 million in 2015), mainly reflecting the acquisition of Broadspectrum (EUR 934 million) while net project debt stood at EUR 4963 million (vs EUR 6057 million in 2015). Net consolidated debt reached EUR 4266 million (vs. EUR 4542 million in 2015)
In 2012 FER paid out to its shareholders EUR 832 million due to dividends received from 407 ETR (EUR 198 million), Heathrow Airport (EUR 143 million) and high levels of cash flows generated by the Services division (EUR 491 million). Significant increase in dividends from 407 ETR (+5.3%) and Heathrow Airport (+8.3%) in 2016 vs. 2015: 407 ETR paid out CAD 790 million and Heathrow Airport GBP 325 million. In February 2017, 407 ETR announced an increase of +10.7% in its dividend for 1Q2017 (vs.1Q2016)
Profit Drivers
Long-term drivers
Unique access to investment opportunities - The infrastructure investing landscape is much larger than it was in 2008, however there is more uninvested capital in infrastructure AUM now than there was invested AUM 3-4 years ago. Currently there is a structural shift towards infrastructure investments, which results in falling required returns. For a listed infrastructure operator like FER (looking to extract equity-like returns) that needs to deploy capital, it must have access to opportunities that pure financial buyers cannot obtain. FER is unique in its structure due to its operational expertise (dynamic tolling) and risk tolerance (construction capabilities), which enables it to sell mature assets at low-implied returns and deploy these in to less mature assets at high-implied returns.
Trophy assets ownership in the infrastructure world- FER's stakes in Heathrow Airport and the 407 ETR are two of the most attractive assets in developed markets infrastructure. Heathrow's capacity constraints mean near term passenger mix changes to more profitable passengers (long haul replaces short haul), whilst the 3rd runway option could be worth €1.5B today through RAB growth and potential construction profits. The 407 ETR meanwhile continues to benefit from urban congestion and net immigration in Toronto, where (NEAR) complete price freedom has continually seen pricing surprise on the upside.
Positive outlook for 407 ETR- The 407 ETR is viewed in a very positive light due to its pricing power, resilient traffic trends, long duration, supportive macro outlook and optionality on more aggressive re-leveraging (boosting the dividends it pays to FER). The concession runs to 2098 and is free to set tariffs, provided traffic stays above certain levels (no regulatory reviews but a concession contract). However, this tariff freedom scheme would not be that important if demand were not there to support it. Given the commuter nature of the users, the value proposition of the highway (drivers can save up to 26 minutes a day using the ETR) and the high household income per head in the Toronto area, the highway has been able to sustainably hike tariffs at a CAGR of 8.3% for the past five years, while traffic grew at a CAGR of +2.0% in the same period.
Construction business segment creating a competitive edge for FER- After a few negative experiences in Brownfield projects, FER is now focusing on developing Greenfield projects from the initial phase. In Greenfield projects FER can leverage the competitive advantage of having a construction arm (construction risk is one that financial players do not want to hear about), and focus on reducing the risks involved at the beginning of the project. Once de-risked, FER tries to divest to more natural holders with significant lower cost of equity (mainly pension funds in the search for yield), in order to recycle capital into other Greenfields in its target international markets (North America, Europe and Australia). A FER-led consortium was named as a preferred proponent in July 2016 for an upgrade of a Denver airport terminal, proving that FER's strategy is working.
Capital redeployment discipline - FER's management has historically been a very good recycler of capital in the portfolio, and is one of the few in the sector to manage its businesses as a true portfolio rather than a growing empire.
Short-term drivers
Acquisition expansion strengthens diversification - FER is taking a strategic decision to start investing in acquisitions in order to increase its diversification from the ETR. In 1999, FER acquired the concession for Ontario's Highway 407 ETR, worth €2.4 billion, which was Canada's largest ever privatization. Subsequently in 2006, FER acquired a 53% stake in BAA. The acquisition of BAA took FER's gearing from 11% in 2005 to 493% in 2016. Since then, it has moved to a <50% stake in these assets via deconsolidation. Previously FER has been viewed as a defensive play with a cash position of more than EUR 1.5 billion with stable but growing dividends from its more mature assets (Heathrow and ETR). However, FER seems to have entered investing mode, which is seen as a positive move due to the fact that its prior capital structure seemed inefficient (more than EUR 3 billion in gross cash and EUR 1.5 billion in gross debt), particularly under the current environment of practically no remuneration to cash. FER closed the acquisition of Broadspectrum in Australia in June 2016, for an EV of EUR 934 million (EUR 499 million for equity and EUR 435 million in assumed net debt) or 62% of the holding company's net cash position prior to the acquisition. Broadspectrum revenue breakdown is shown below: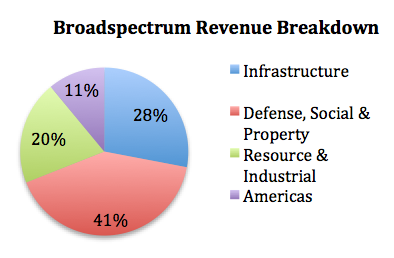 Tariff increase at 407 ETR- In February 2017 407 ETR increased its tariffs with a weighted average toll rate increase for light vehicles of 9%. The 407 ETR is free to raise tariffs as long as traffic does not decline below a certain level. 407 ETR boosts profitability via price increases, rather than volume, which is less profitable due to increased wear and tear and the need to incur CAPEX with expansion. 407 ETR has also structured its tariffs into more detailed segments in order to maximize revenue according to demand, price elasticity and value of time -e.g. 3 zones rather than 2, different eastbound and westbound pricing and an extension of the afternoon peak period by 30 minutes. Tariff increases of 5% and 2.5% are expected to happen in 2018 and 2019 respectively boosting FER's top line growth.
NTE (part of Texas Managed Lanes) showing strong performance and has an encouraging outlook - According to management of FER the underlying performance of the NTE (the 1st of the Texas MLs to open) in its first two years of operation has been promising. FER's data show that even though the non-tolled part of the highway is not congested (yet), revenue has been above expectations so far. This implies the managed lane concept may command greater pricing power than previously assumed, as affluent commuters are willing to pay up for greater convenience. Given 2016 toll levels were roughly 50% below cap on the NTE, growth potential is strong as congestion and pricing power are expected to increase over time.
NTE-35W is expected to be a dominant growth driver - The NTE-35W (the 3rd of the Texas MLs) to be opened in 1H18 has even more promising characteristics than the NTE given higher congestion and a higher proportion of truck traffic. As these young assets ramp up (50-year concessions, with two more to open between 2018 and 2022 in North Carolina and Virginia) they could become a second important leg of growth for FER, besides the 407 ETR
Sustainability of the Business Model
Strong and diversified cash flow generation (EUR 995 million OCF in 2016)
By business segment: Construction 23% Services 37% Infrastructure 40%
By geography: North America 35% Australia 18% Poland 16% United Kingdom 13% Spain 11%
Solid financial position: Ex-infrastructure projects net cash EUR 697 million Infrastructure projects net debt EUR 4 963 million
Owns/has stake in high quality unique assets around the world: Heathrow Airport (25% stake) 407 ETR (43% stake) Managed Lanes (57% stake)
Enjoys strong pricing power via toll roads
Management with a strong track record focused on increase value to its shareholders: Total shareholder remuneration (dividends and buybacks) has grown by 93% from 2009 to 2016

Thematic Headwinds or Tailwinds
Tailwinds
Positive infrastructure investment outlook - Infrastructure investment will be one of the main drivers of growth and job creation in the upcoming years. Global infrastructure needs are estimated at $3.3 trillion per year through 2030. The reason for this demand is due an outdated infrastructure system as well as population growth and the rapid increase of urbanization. The population in cities has grown by 65 million people per year over the last 3 decades, increasing the need for investment in transport, energy efficiency and social infrastructure among others. Given FER's global presence, it is positioned to benefit from the projected global infrastructure growth.
Shift in financial resources from the public to the private sector - There is an increasing trend of reducing financial resources available for public authorities. These budgetary restrictions will allow the private sector to play a greater role in infrastructure development and thus private infrastructure finance will become a necessary complement to public investment. This shift will put FER in a favorable position to tackle the growing needs of underinvestment in the infrastructure space.
Headwinds
Competition - The infrastructure sector requires high levels of finance; thus, given the budgetary constraints in the public sector, the need for private sector participation is increasing. This gives rise to increasing competition, mainly in projects that have already been built and are mature (brownfield). Increased competition is coming from both established competitors and companies in emerging countries. In recent years there has also been a growing presence in the sector of investment and pension funds. However as mentioned, FER's competitive advantage is in greenfield projects given its construction arm, so competition does not pose a significant threat to its business model as of now. For comparison, 2 of FER's competitors are shown below:
| | | | |
| --- | --- | --- | --- |
| 2016 | Ferrovial SA | Vinci SA | Aeroports de Paris SA |
| Ticker | FER | DG | ADP |
| Mkt Cap (EUR) | 12.5 billion | 43.4 billion | 11.4 billion |
| P/E | 36.6 | 16.4 | 26.3 |
| EBITDA margin | 9.2% | 15.6% | 42% |
| ROE | 6.0% | 15.7% | 10.4% |
| ROIC | 8.5% | 6.8% | 7.8% |
| Div. Yield | 4% | 2.85% | 2.28% |
Risks
FER faces the following risks:
Interest rate volatility FER holds many assets that have a long duration so an increase in interest rates would be a negative shock for the stock.
FX risk A depreciation of GBP/CAD/USD against EUR will have a detrimental effect on FER's profit line
Deflationary environment An ongoing low inflationary environment could impact the dividends FER receives from its concession assets.
Global macroeconomics affecting traffic and public spending Research shows that GDP growth has an impact on the performance of toll roads and airports. For this reason, it will be important to keep an eye on macroeconomic factors that could eventually have an impact on revenue growth of FER.
Management
The management of FER has been proving its competency over the years by establishing FER as a market leader in its industry, continually adapting and evolving with current business practices. The Board of Directors comprises of 12 members who are appointed every 3 years instead of 4 years as required by law in order for shareholders to express their opinion on director performance more frequently.
The current CEO and Executive Director is Mr. Inigo Meiras, holidng a Degree in Law and an MBA from IE Business School. He has been the CEO since 2009 and joined FER in 1992. He is the former Managing Director of Autopista del Sol and Director of Toll Roads at Cintra. Previously he has been the CEO of FER Services from 2000 to 2007 and later appointed CEO of FER Airports.
The Chairman and Executive Director of FER is Mr. Rafael de Pino, holding a Degree in Civil Engineering and an MBA from Sloan School of Management MIT. He has been the Chariman of FER since 2000 and CEO since 1992. Previously he was the Chairman of Cintra from 1998 to 2009. Furthermore, he has been the Director of Zurich Insurance Group, Banesto and Uralita.
In terms of remuneration, the President and CEO is strongly aligned with shareholders given his following compensation package:

The CEO's variable remuneration has a target of 125% with a maximum of 225% while his long-term remuneration is based on delivery of share plans structured into multi-year cycles (3y) overlapping, which turn into shares at the end of the cycle.
The Board's remuneration is in alignment with the remuneration packages of the IBEX35 members. When compared to the remuneration packages of the IBEX35 members, FER's Board remuneration package is located in the 25 th to 50 th percentile range implying very modest compensation with no greedy behavior at play to upset the shareholders.
In terms of increasing value for shareholders, FER has a long history of maximizing long-term return to its shareholders via dividends and share buybacks. In 2016 alone, FER paid out EUR 544 million via dividends and share buybacks. If opportunities to reinvest are limited, FER has demonstrated that it is not averse to returning capital to shareholders. The shareholder remuneration can be viewed below: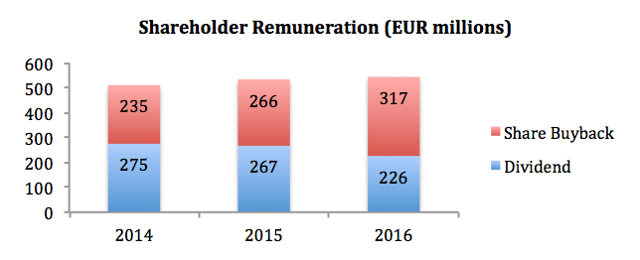 Furthermore, FER has a very interesting shareholder structure with significant family ownership shown below: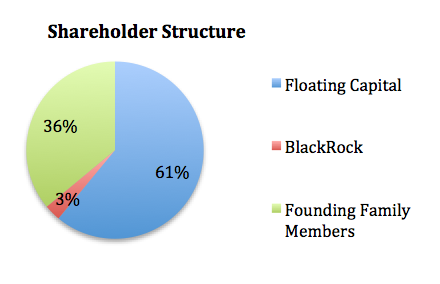 ESG
All of FER's activities must be sustainable from an economic, social and environmental standpoint. FER is focused on tackling emission reduction while keeping a close eye on the environmental impact of its operations. FER is part of Dow Jones Sustainability Index, FTSE 4Good Index, Carbon Disclosure Project, and is also a member of Stoxx and MSCI Global Sustainability Index. In relative terms FER has reduced its CO2 emissions by 31.6% from 2009 to 2016, which translates to a reduction of 18.1% in absolute terms in the same time period. Furthermore FER has recycled 2 million tons of waste and is conscious of its water footprint as it is actively working on treating and recycling its water supply.
Valuation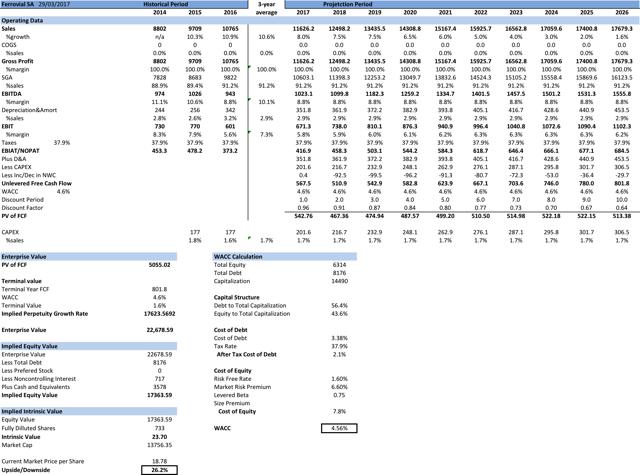 The DCF model above shows that FER's shares are undervalued presenting a good buying opportunity for investors. With a weighted average cost of capital of 4.56% and a terminal growth rate of 1.6%, FER's intrinsic value is EUR 23.70, +26.2% upside.
Broker Ratings
Analyst recommendations (last 3 months):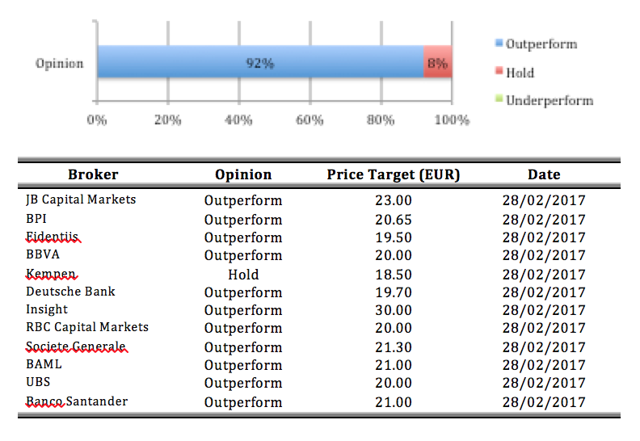 Liquidity
FER has an average daily trading volume of EUR 57.9 million (3.2 million shares) and 732.5 million shares are outstanding with a free float of 61%.