Shorting the Euro is a very compelling case and everyone loves doing so. Whether it is the Italian or Spanish spreads, the ongoing failure of the Greek bailout, the ECB's stealth QE via its LTRO facility, the Central Bank's questionable collateral rules or the looming recession, the arguments abound.
So first, for the Zerohedge readers questioning the ECB's solvency, please be aware that the ECB's main asset is not recorded on its balance sheet.
The ECB/Eurosystem has a monopoly on printing money and the concept of "seigniorage" whereby notes can be printed for a fraction of their face value insures it is very solvent.
It is all well explained in FTAlphaville where Citigroup's Buiter (a euro Sceptic) even argues that despite the fact that future gains from "seigniorage" are off balance sheet as opposed to the ECB's potential losses, the worst case scenario would be for it to live with negative equity for a short while. And yes we all know that the LTRO programme is a form of printing money but Broad Money Supply "M3" has for now expanded at a much less rapid pace in Europe than in the US as you can see below.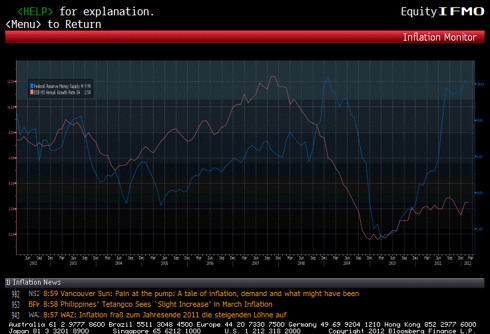 Secondly, when it comes to CDS and bond spreads, their correlations with the EURO have only existed for a short while at the beginning of 2010. The EURO is not correlated to EU spreads nor CDS. In fact the EURUSD exchange rate's main correlation has been to the spread between the German 2y yield and the US 2y yield. This spread now being close to 0 and the German 2y trading 80 bps below the ECB main refinancing rate, I see little downside on that front.
Finally, not only is the main refinancing rate 75bps higher in Europe than in the US, the Real Yield (Nominal yield-Inflation Rate) is also 95bps higher. (-1.7% vs. -2.65%). As mentioned above, FX flows are often yield related. Real yields explain the strength of currencies where nominal rates are at 0 such as the yen or the Swiss Franc. In Europe, both nominal and real yields are higher than in the US.
In Fact, should Europe's austerity measures create a deflationary shock and bring EU real yields in positive territory, EURUSD could go much higher! You can read more about real yields here....
And look at this chart, does it look like a currency in its extinction?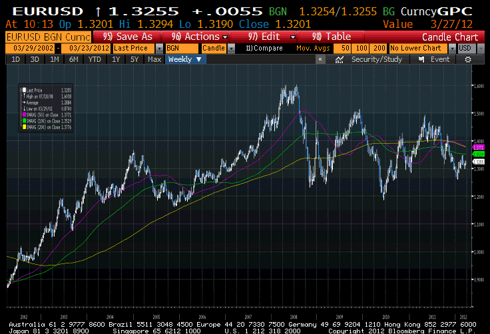 Disclosure: I have no positions in any stocks mentioned, and no plans to initiate any positions within the next 72 hours.