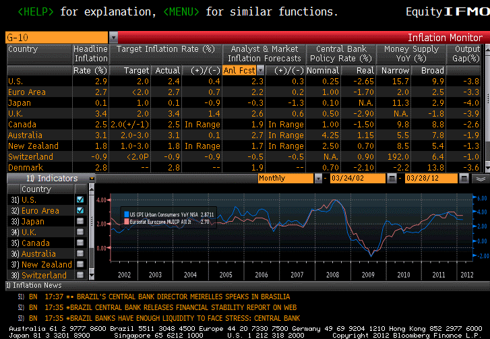 Nobel Prize winner Paul Krugman has recently argued in his blog that the high yen could be explained by the interaction between deflation and the zero lower bound. To summarize, short rates cannot go below 0 and if inflation is negative, Real interest rates (nominal interest rate-inflation rate) are de facto positive. Looking above, you can see that the highest real rates are in Switzerland, Japan, New Zealand and Australia.
All those countries had their currencies appreciate strongly against the US dollar. Obviously, New Zealand and Australia have high nominal interest rates but nominal yields in Japan and Switzerland are at 0. However, inflation being negative in both countries, the real return on cash denominated in both those countries is positive.
In his article Krugman highlights the dangers of deflation once interest rates are already at 0 as focusing on exports through currency devaluation which often is the best fighting tool against deflation is compromised.
I will add that notwithstanding currency devaluation, even QE style stimulus become largely ineffective as "inflation trade" post monetary easing cannot drive asset prices higher.
With nominal yields differentials in US, Japan and Germany now effectively closed, investors should pay even more attention to real yields going forward.
Disclosure: I have no positions in any stocks mentioned, and no plans to initiate any positions within the next 72 hours.