Just a quick follow up on Andy Xie's article about the Yen's day of reckonning. It is an interesting read but some facts are not quite right.
Japan's real interest rates are not similar to those of other countries. They are much higher, especaillly when compared to the US and Europe as dicussed here. And this is to me the primary reason for the Yen's strength and not the strong current account as mentioned by Andy Xie.
While I agree that the Yen has probably topped I am not sure it is about to collapse right now. The deficit was largely earthquake related and Japan will probably return to a surplus as believed by GS econmists.
Japan, as a country is also extremely wealthy as explained by Christian Carrillo at Societe Generale via FTAlphaville. He says that anyone shorting JGBs is going to have a difficult time, at least this year. The reason, he explains, is that Japan's net wealth actually rose in the last quarter of 2011, to ¥425tn or 90.1 per cent of GDP and will proabably keep doing so. There was also an increase in foreign indebtedness to Japan.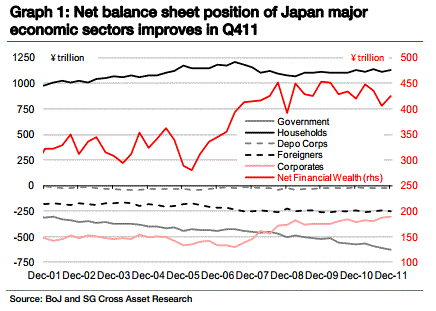 So the collapse of the Yen I think is more likely to be self orchestrated via debt monetization. I will citeDylan Grice who in a paper compares Japan's characteristic to those of Israel during its massive inflationary period (1972-1987).
During that period, Israeli spending was too high and the government chose to print money to deal with the problem. Inflation averaged approximately 84%. Grice says that Japan already spends 1/3 of its tax revenues on interest payments (imagine if yields currently at 1% were to double) and that the BOJ will have to buy any JGB the market cannot absorb.
(Click to enlarge)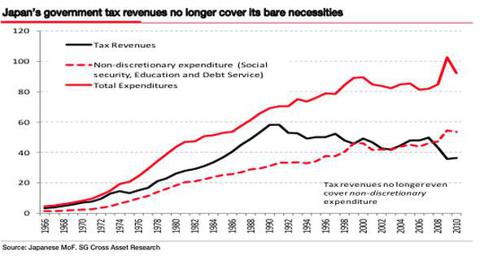 Disclosure: I have no positions in any stocks mentioned, and no plans to initiate any positions within the next 72 hours.