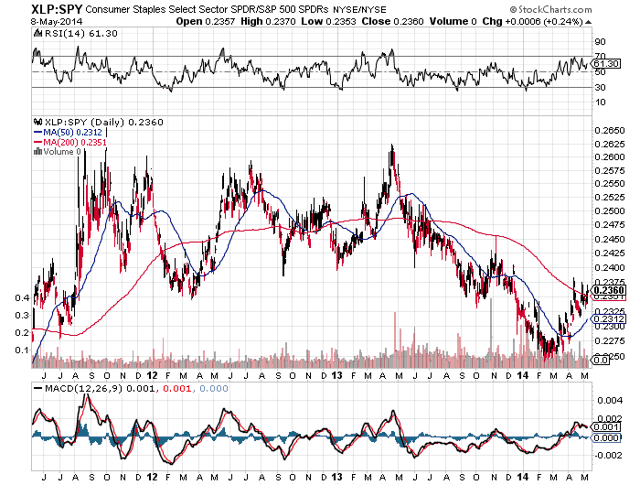 You must be wondering..."What am I looking at".
Well, you're looking at the ratio of the XLP (consumer staples etf) to the SPY (the S&P 500 etf). This ratio is an indicator of investor focus. As you can tell, this rebound, and 50day SMA upward slop below the 100day SMA last happened in mid 2011, where there was a mini-bearmarket. If the 50day crosses the 100 day, I would be cautious about investor sentiment, and defensiveness as this is a critical point in stock rotation showing a more defensive play about the future of prices and volatility.
MACD and RSI is showing a short term bearish play in this ratio, so the SPY could certainly rise in the next couple weeks or month, but then, if patterns play out the same way and the RSI becomes oversold, along with the MACD, we could see a similar spike in the ratio as market investors fear an upcoming end to a bull market along with a midterm election year.
Disclosure: I have no positions in any stocks mentioned, and no plans to initiate any positions within the next 72 hours.
Additional disclosure: I may enter into XLP after a pullback, which I predict will fall to the 100 day moving average of 42.00-43.00