If there is one sector that performed well during the financial crisis of 2007-2008, that would have to be consumer staples. If you don't understand why, then you will have to read this article a little further.
The first reason is that its simple market mechanics. Here is an image of market cycles/economic cycles and the sector rotations that take place.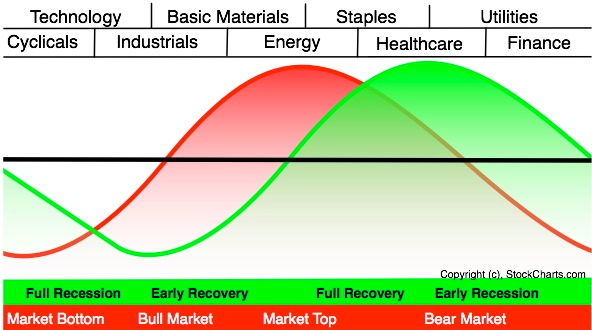 I would like to point out that the stock market is a leading indicator of economic recovery and cycle due to expectations and speculations being played out in financial markets. The economy can't make predictions, it happens when it happens, whereas in the financial markets, people can make wagers in which the majority may follow.
If we look closely at the sectors that have been outperforming this year, we can compare these sectors to the market sector rotation chart above and pinpoint where we might be on such a curve.
Source: finviz.com (finviz.com/groups.ashx)

We can see that Utilities, Basic Materials, and Healthcare are all leading sector given performance for this year. If we backtrack to the chart displayed above, we can see that investors are feeling that the economy may reach a top in the near future. When investors invest heavily in Utilities, Basic Materials, and Healthcare, we can assume that the market may be at the top or may be facing downward pressure.
Given that one can assume the market is at a reversal point near the top, one can see that Staples, Services and I might add, with the addition of Healthcare or Utilities as well, Staples and Services are non-cyclical sectors, while Healthcare and Services are minimally cyclical, and all of which might be the best play to limit downside risk.
Next we turn our attention to ETF fund flows as provided by etf.com
I would like for you to notice the outflow from SPY and XLY and the strong inflow to XLP. However, the outflows from SPY, XLF, and XLE are larger than the inflow to XLP, but looking at such flows can help us gauge overall market sentiment. We can see from the ETF fund flow that investors are moving from energy, and finance, into conservative consumer staples. This confirms the market may be topping off even more strongly.
Flows for 07/01/2014 - 07/28/2014 (this is selected and exlcudes other fund flow data from other securities as well, but this data was taken from the "Top 10 creations and redemptions" from etf.com (source:
www.etf.com/etfanalytics/etf-fund-flows-...
)) (Numbers are NET FLOW in $millions)
INFLOWS
Consumer Staples Select SPDR
564.62
PowerShares S&P 500 Low Volatility
538.73
OUTFLOWS
Energy Select SPDR
-840.58
SPDR S&P 500
-775.93
iShares U.S. Industrials
Financial Select SPDR
-659.66
Furthermore, the price ratio of SPY/XLP has reached an all time high since the start of the year, and with the RSI and MACD showing a nearing top, we can assume that for the ratio to reach a level of the 200 day or 50 day moving average, either the price of XLP to rise or SPY to fall, or both, which would further validate the market is ready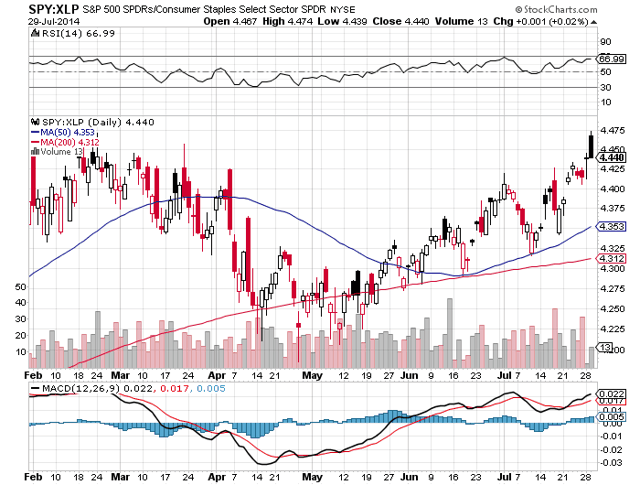 INVEST CAREFULLY and STAY HAPPY!
Disclosure: The author is long XLP.