Industrials have taken a hit, but one should know that when all hope seems lost, a good entry needs to be considered. With all the articles and blog posts stating that Industrials are likely to take on acorrection further in the year or the beginning of next year, I would have to say that my ideas on this sector are that of a contrarian. Would you be depressed if you were a car collector and one day some of your favorite cars took a price depreciation due to market conditions, do you sell off your cars, or simple look for bargains which have risen due to such a fall in prices? Well I would go do some shopping!
The industrial sector as a whole, as of 8/4/2014, is down about 2.8% YTD. With the economy in recovery mode and gaining consumer confidence along with better employment numbers, industrials may see the economy returning benefits in their favor for the rest of the year.
Some well-known names such as BA and GE have done a bit worst. BA is down about 11.8% YTD. GE on the other hand is down 9.56%, but regardless, both have underperformed their corresponding Industrial sector.
Sector at Large
A well-known ETF averaging around 8.1 mil. in volume daily, XLI, tracks the industrial sector with big-name holdings which include, GE,UNP, UTX, BA, MMM ordered from highest to lowest weight relative to each other. This index is only down around 92 bps YTD.
Below is the chart (source) for XLI, which I will rely on for most of my analysis.
The first thing that one should notice is that the RSI is at levels not seen for a long time and the closest recent level was in February after the market took a dose of some bull medicine. However it doesn't hurt to note that although the view of another bull rush is fading with increased fear and speculation, XLI is oversold and needs to find support and make its way back up. There is no denying that the industrial sector is indeed oversold.
From the chart, we can see that there is support at the 50 to 51 price range given its 200 MA, and further down at 47.00 to 48.00. Downside risk remains at most 6-8%, however one should pay close attention to the $50 to $51 price level for signs of indecision and a possible reversal. If an entry is made at that point, then hedging for downside risk is not out of the question. Nonetheless when taking downside risk out of the equation, the industrial sector is still sitting at a bargain.
The monthly chart shows XLI as overbought and a correction needed; however, I have found the weekly chart to be of better predictors on price reversals and price supports/resistances for the short to medium term. Although XLI has not had a large decline in price since February, if recent history repeats itself, XLI should find resistance on the daily/weekly chart and move onwards up to the top.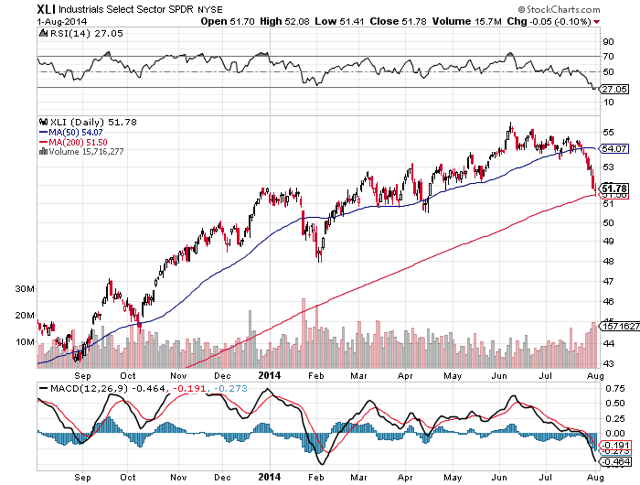 Aside from technicals, the economy has recovered substantially since 2008-2009 and industrials should be blossoming at this height of economic recovery. More jobs, more investments, more consumer spending = more profits.
Also, to note, XLI is not exactly overpriced in comparison to the overall industrial sector. XLI sits at a P/E of 16.42 and a P/B of 3.13, while the Industrial Sector at large sits at a P/E of 25.10 and a P/B of 26.99.
Individual Stocks (Top 5 by weight of XLI)
1. GE (General Electric).
With an operating margin almost twice as large as the industrial average, GE is now sitting at a major discount. After selling off its some financial exposure with its recent IPO of Synchrony financials, GE can now focus on what it does best, industrial innovation and production. GE recently broke its 50 MA and 200 MA and has the possibility of free-falling to a major support of $24.00.
Some fundamental ratios for GE are a P/E at 20.78, P/S at 1.73 and a P/B of 1.90. Fair value compared to the industry, but nonetheless a great company with a now narrower focus.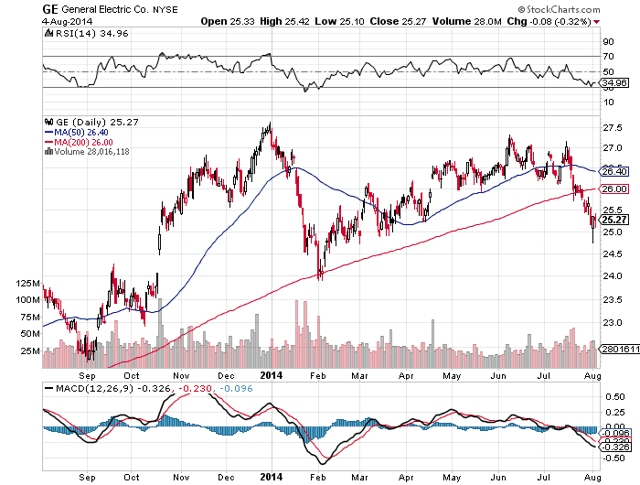 2. UNP (Union Pacific Railroads)
With a recent announcement of a 10% increase in dividends for the third quarter, this stock is looking even more attractive. While this is good news for investors, there comes more good news from the recent quarter: UNP's top line increased 10% y/y while EPS increased 21% y/y. EPS and REVENUE were both in line with estimates, and I don't see why an investor wouldn't hop on this train with great growth in top line and bottom line.
Sitting at P/E of 20.11, P/S of 3.84, and a P/B of 4.11, it is considered fair valued or slightly overvalued compared to the industry. Some may want to wait for a further decline in price or signs of massive growth.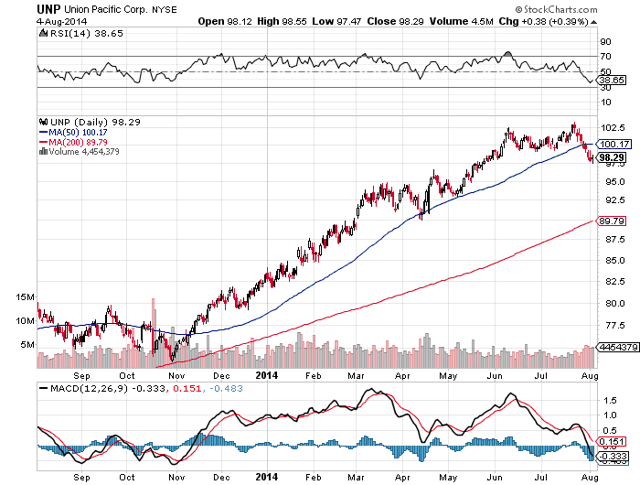 3. UTX (United Technologies Corp.)
UTX has faced pessimistic investors even as UTX beats analyst estimates for their second quarter top-line and bottom line and even raised guidance! Shocking is it not? This is a stock that has seen a slight correction ahead of the market and is sitting a discount.
Fundamentally, UTX sits at a P/E of 16.99 and P/S of 1.49 and P/B of 2.84. This stock is one of the relatively cheaper stocks of the top 5 holdings of XLI given P/E and P/S.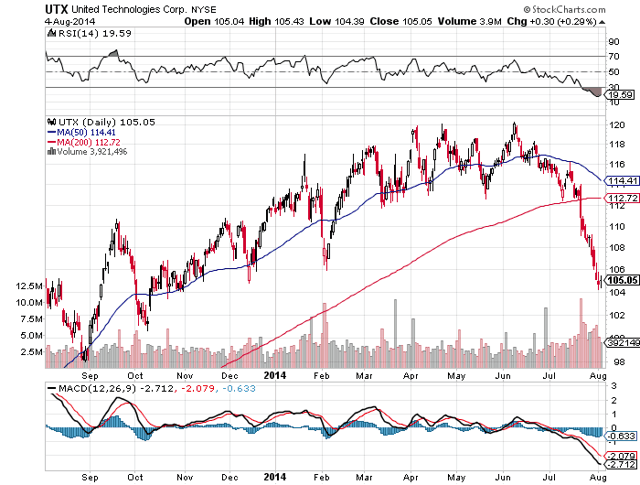 4. BA (The Boeing Company)
According to RSI, BA is extremely oversold. Even with its recent earnings surprise of 19.8%, it still couldn't withstand the pessimistic investors and their views on industrials; However in the last four weeks. BA has seen 12 analyst increase estimates for EPS, while 0 estimated down. That's a really good sign for the Boeing, a company that strives to beat expectations.
BA sits at a P/E of 20.67, a P/S of 0.98 and a P/B of 6.18.
Relatively cheap when focused on Price of share per dollar of sales.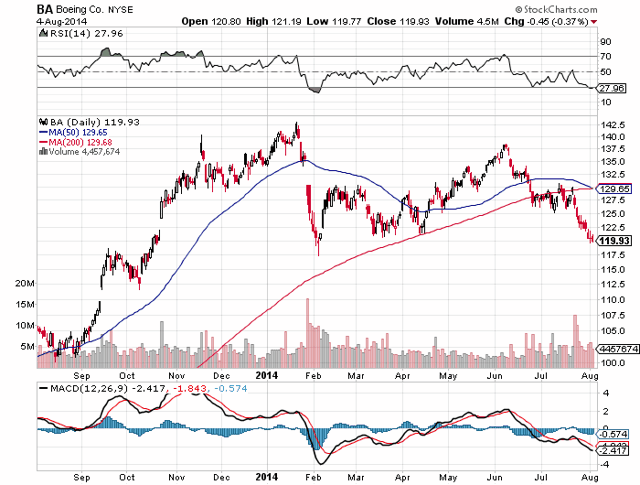 5. MMM (3M Co.)
New products for back to school, great company with good management, yet, a sell-off. For the most recent quarter. Revenue and earnings were both up y/y and is even planning on $4.5B-5B of share buybacks. Also, with new products, expect a growth in revenue for such an astounding company.
MMM is trading at a P/E of 20.40, a P/S of 2.89 and a P/B of 5.23.