About a month ago, I had made bullish call on industrials and recommended purchasing big names such as 3M Co. (NYSE:MMM) and Boeing (NYSE:BA). With the 'good news pop' today for BA, I decided to review those positions and evaluate these two positions for further potential upside.
1. Boeing
Performance since article: 6.98%
Boeing has a great history of making commercial and private aircrafts for a variety of organizations from major airlines to the military. Sure, they've had up and coming competition from Bombardier, a Canada-based firm, producing small regional jets with the promotion of less fuel consumption. As stated in the linked recently linked article,
"orders have been weak. One reason is that prototypes have been grounded after engine trouble. Another is that potential buyers, rather than take a risk on an entirely new airframe, can simply order the forthcoming Boeing 737 MAX or Airbus A320neo. Both add highly efficient engines to well-traveled narrowbody platforms."
"As for the Dreamliner, its deliveries nearly doubled to 30 in the second quarter from 16 a year earlier. Overall deliveries rose to 181 from 169. That offset declines in Boeing's defense business and sent revenue 1% higher, to $22 billion. Core earnings, adjusted for pension expense, jumped 45% to $2.42 a share. For the full year, Wall Street expects much the same: surging commercial jet sales offset by military declines, driving revenue 3.5% higher, to $89.6 billion, and earnings per share, up 16.7%, to $8.25."
Valuation metrics & Competitors/Industry
Source (Yahoo! Finance)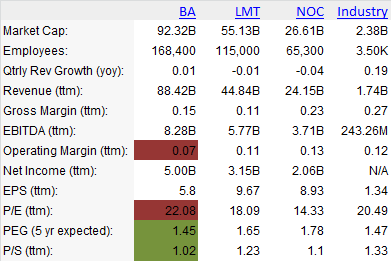 As can be seen from above there are a couple red spots relative to competitors and industry. The first is operation margin, which seems low with regards to ttm, but when looked at historically, operation margins for BA is relatively volatile, and can be unpredictable given their use of accruals. Instead of it being red, I would leave such a metric as inconclusive (this is with a very basic approach. An individual may find better predictor variables if they were to choose a deeper investigative method).
The second is P/E which is at a high of 22.08, however with information from Ycharts, BA's P/E is more fairly valued at 19.27.
Also, Barron has recently published a positive outlook article on BA recently, and with having such a larger readership base, they should influence some positive entries in BA's stock.
Given this information, BA still seems slightly expensive relative to competitors and fairly valued relative to the industry. What should be noticed is that analysts expect higher growth from BA, which gives it the opportunity to produce a smaller forward P/E, and makes BA seem like a better deal. Expected FY2015 earnings for BA is expected to be somewhere between $7.93 and $8.48. This equates to a forward P/E, given a price of 128.07, between 16.15 and 15.10. That's not too shabby. I'm going to continue to hold BA given their recent news about Ryanair's intent to purchase 100 737 Max 8 Jetliners, with the option to purchase 100 more.
This should push BA past expectations and help their top line in the near-future, helping them outperform and live up to their reputation.
Furthermore, if inflation is to pick up like some are believing it to, I should be okay holding BA given their dividend yield of roughly 2.34%.
2. 3M Co.
Performance since article: 4.33%
3M Co. is known for their wide variety of office supplies, but 3M is also known as being a favorite by Jim Cramer. His reasons seem reasonable, but that could just be a personal bias on my behalf.
I don't have much to say about this stock since its like a secondary favorite to me. Its a stock I purchased simply because I felt industrials were poised for a reversal and wanted to pick up a large-cap, well-known stock that would do well if this were to happen.
I like the near-term prospects of 3M, and with Jim Cramer backing this stock as one poised for exceeding expectations. I would hang onto this stock while carefully managing it as a winner and looking for a good exit. If BA is to find resistance and see a sell-off, I may exit this position as a winner, and reinvest funds into BA because as of right now, I see BA have a strong possibility of outperforming MMM.
MMM also has a favorable dividend with a yield of roughly 2.37%.
Disclosure: The author is long BA, MMM.