Galectin Therapeutics (NASDAQ:GALT) drug candidate GR-MD-02 in combination with Keytruda appears to increase anti-tumor activity and survival in cancer patients. This appears to be the highlight out of Dr. Redmond's poster presentation to be given on February 7th at the GTCbio 9th Immunotherapeutics & Immunomonitoring Conference at 1:40PM. The full title reads "The Combination of Immunotherapy Plus Galectin-3 Inhibition with GR-MD-02 Improves Anti-Tumor Immunity and Survival: Insights From Mice and a First-in-Human Phase I Clinical Trial" For investors who are anxiously awaiting the poster presentation on February 7th, this article is the "spoiler." The proverbial cat was let out of the bag when you read the title.
Dr. Redmond's first point was that the combination immunotherapy improves anti-tumor activity. What makes a tumor so hard to defeat are its defense mechanisms. Solid tumors overexpress the Galectin-3 (Gal-3) and actually secrete these proteins which are soluble into the blood. This is the tumor's first line of defense. When a cytotoxic CD8+ T cell programmed to kill the cancer cells comes in contact with the Gal-3 protein they become anergic. That simply means they lose their ability to kill the cancer cell. This galectin effect is one issue that has been plaguing cancer immunotherapy since it's inception. Getting tumor infiltrating lymphocytes past the galectin barrier and into the tumor is the goal of almost every immunotherapy trial.
In this clinical trial 5 blood samples were collected over 85 days and measurements of CD4+, CD8+, and melanoma specific T cells were taken. This blood data should be the basis upon which he concluded that anti-tumor activity increased. The question of how much the absolute values of T cells in each category increased should be answered by Dr. Redmond. However, preclinical data from 2015 showed a clear pattern that roughly doubles the effect of Keytruda. If the correlation between preclinical and human trials holds, the activity of the Keytruda would be increase with the addition of GR-MD-02. Data of this order of magnitude alone could possibly be the basis for registration of GR-MD-02.
Survival is a key clinical endpoint for all cancer trials and for it to be discussed in a Phase Ib trial is exciting. The clinical trial was designed to recruit 22 patients so if more than 2 patients had a complete response then the combination therapy will have exceeded Keytrudas 6% response rate. Survival data higher than the existing standard of care makes a very compelling argument for FDA approval.
The primary purpose of a phase I study is safety, and since GR-MD-02 is derived from apple pectin it's no surprise that after 2600 doses of the drug, in the CX trial, the Data Safety Monitoring Board (DSMB) found 0 safety concerns. The melanoma trial was expanded to Head and Neck Cancer and Lung Cancer. In order to do that the Principal Investigator would need the FDA's permission and show interim data and some measure of efficacy to expand the indication.
Additionally, Galectin-3 is the target associated with Plaque Psoriasis, Atopic dermatitis, cancer, and many other diseases. It is also known that Plaque Psoriasis and Atopic Dermatitis are immunological in nature and a result of immune system dysfunction. GR-MD-02 seems to restore the immune system to normal function. This is a before and after picture of patient #5 from GALT's Psoriasis trial.
Source: GALT's November 10, 2016 Press Release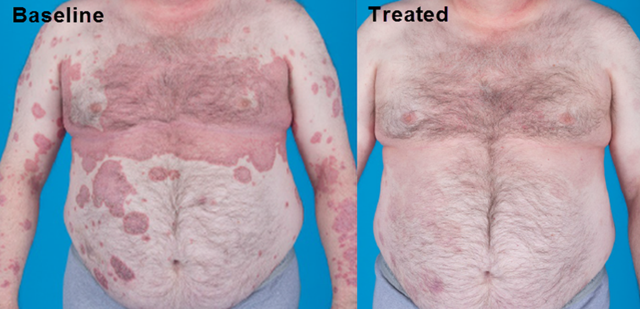 A picture is a thousand words. The Gal-3 is indicated in Psoriasis, Atopic Dermatitis, and anti-tumor immunity. Therefore, there are multiple chances of getting a partnership and eventual approvals.
The preponderance of data from Dr. Redmond's poster presentation, and both of GALT's skin disease trials suggest that this upcoming presentation is going to be newsworthy. This stock is extremely attractive because a partnership in cancer could mean millions. With Keytruda sales estimated at $7.8 by 2025 and with this combination therapy making the drug more effective it seems reasonable with all the other indications that GALT could be worth over one billion dollars. At the current price the market seems to be factoring in zero chance of approval for any indication, and zero chance of a major drug deal. Investor sentiment is just too negative and you do not have to wait until the GTCBio conference to get more information. Go to the Galectin Therapeutics website. All you have to do is connect the dots.
Supporting Documents
Disclosure: I am/we are long GALT.
I wrote this article myself, and it expresses my own opinions. I am not receiving compensation for it (other than from Seeking Alpha). I have no business relationship with any company whose stock is mentioned in this article.