The "galectin effect" is essentially a mechanism on how tumors avoid the bodies own immune system. Imagine a tumor the size of a tennis ball and then start wrapping barbed wire around it. The barbed wire represents galectins that are secreted from the tumor. When T-Cells that are designed to kill the cancer approach the barbed wire surface they basically get pricked and get deactivated. This is called T-Cell anergy. So your body has all these T-Cells floating around in your system but they are turned off. Now imagine that same tennis ball with barbed wire and then start putting marshmallows on each point. That's what the Galecting blockers do, they take down the shield of the tumor. Galectin blockers bind to all these galectins on the tumor surface and allow the T-Cells to freely infiltrate to kill the cancer cells. The blockers also are known to reactivate the anergic T-Cell.
Galectin Therapeutics (NASDAQ:GALT) has some great technology and is finally getting noticed for its potential (I-O) franchise. The volume over the past couple of days has been nothing short of impressive. Investor sentiment seems to be turning because investors have been extremely sour and downbeat on this stock primarily due to massive communication failures by the CEO. No pun intended but he is the Gal-3 in this company and if you put a little sugar over him he's not so bad after all. He did after all design a robust CX trial. My blog seems to have highlighted some of those communication failures. The most notable was the misinterpretation of the Psoriasis data and boggled trial design of the FX trial. It seems investors are viewing the cup half full again and taking a second look at the data. A picture is a thousand words. Just look at the Psoriasis patient and tell him he's not statistical relevant.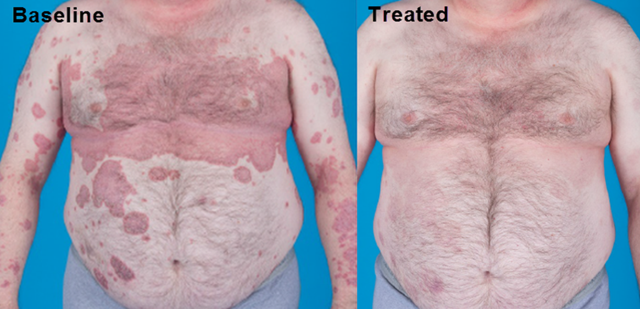 GALT shareholder presentation December 2016
The shareholder communication is improving and that is worth noting. The last webcast was okay but it took my blog posting to get the great news on Atopic Dermatits (AD) out. Hey Management where's the pictures of these AD people? Again that could be another catalyst. The management has had PTSD from a shareholder lawsuit that they actually won. They didn't make much of a deal but I will because I read the pleadings and they were guilty of everything they were accused of BUT... its not illegal. So anyone referencing pump and dump tactics that could be nothing further from the truth.
The threat of dilution seems to be gone and the risk of not meeting the next milestone has been minimized. The latest press release where they announced "through the sale of common stock via the Company's At-The Market sales agreement, and previously announced private placements in September and December 2016, the Company has reached a financing milestone and believes it now has sufficient funding to cover currently planned expenditures through 2017, most notably its NASH-CX trial." So we can see that for the foreseeable future that management seems to be done with their misguided use of the ATM.
Did anyone notice the reiteration the price target of $2.00 from FBR? I believe that was a tell that they are going to get back in the game and follow up with a buy rating after the announcement. They will likely cite valuation issues and the probability now of an approval increases with every indication.
The next thing capturing investors attention is that there are very few players in this promising field of Galetins and the indication seem clear there are a handful of companies at best and GALT is in pole position with a phase II pivotal trial drug candidate. In a sea of big pharma you have to ask who wants to add to their pipeline.
What every happened to traditional market valuations? This company has over $100 mil invested in the technology and its trading at a discount to that.
Finally we have news on the (I-O) breaking today. I can't imagine its bad but even if it is this train has left the station there is a compelling reason to buy the stock right here and right now. They have hired a business develeopment consultant to seek a partner. So you have to consider the potential of a deal with big Pharma is real even though the guy running this ship is a lousy communicator. Investors need to get over it buy the stock because the technology is transformational and you are going to see more entrants into this space. We might even see what happens to Galecto. They are very private but they can't hide their trial results forever.
RECAP - Reasons to Buy
- Investor sentiment positive
- Re-Thinking negative interpretation of past trial results
- Cloud of Shareholder litigation Dismissed with prejudice
- Attempts to improve shareholder communication
- ATM Sales are over
- Threat of running out of money before a milestone eliminated
- Analyst coverage coming soon
- Ripe buyout target
- Business development could bring in a license deal
- Every value matrix has company undervalued
- I-O could be a very big catalyst
Disclosure: I am/we are long GALT.