First we have to address the elephant in the room. For all you GALT fans wondering where I have been. I have been devoting my time to fighting a completely dishonest smear campaign that proclaimed Ampio Pharmaceuticals (AMPE) was under "paid promotion" on a site which I contribute to, without a shred of any hard evidence. If I get paid for something I disclose it!
What is going on with GALT?
Galectin Therapeutics (GALT) has been very sparse on disseminating information, so the only thing investors have to speculate on is the action of the insiders and the earnings and press release. I'm going to explore the rationale underlying the silence.
Recent Insider Selling
Other articles, like the one from Otto Capital, delves into the insider selling and I don't want to rehash the same ground but feel it might be helpful to reanalyze some of the data. The players are: Traber, Callicut, Shlevin, and the 10X Fund. The analysis of Traber is reserved for last. The recent selling by ex CEO Mark Rubin was part of a recently established 10b5-1 plan on August 10th. Looking at the trades yesterday the broker dumped the shares right on the open to result in a large trading range in the first 10 minutes. None of the "old" group of scientists have any understanding or the stock market. Additionally, they do not have the best brokers in the world working for them, or the broker had to follow specific instructions. It is understandable that Rubin wants to sell. He was probably removed as chairman so that the businessmen could take control from the scientists. Rubin's 58,000 shares is nominal, so he can't even be considered a player on a day that had well over 1 million trades. Also, the stock closed at $6.54 testifying to his lack of ability to place an intelligent sell order.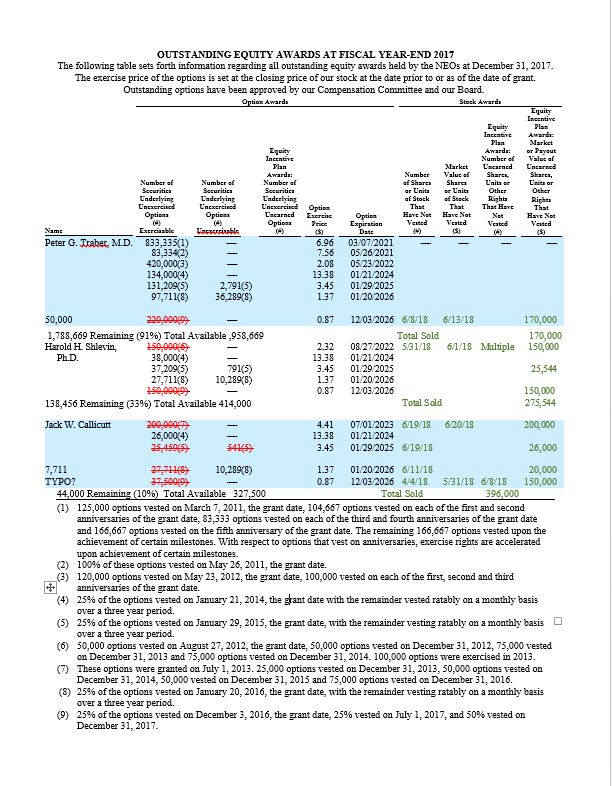 CFO – Jack Callicutt
The action paints a bleak picture when the CFO sells 90% of his shares. The optics certainly aren't good. We are of course assuming there was a typographical error that the company has yet to fix since I broke the news well over a month ago. Otherwise according to calculations he sold beyond what he had earned. What isn't clear is that these early sells were part of a Rule 10b5-1 plan that was adopted by the CFO on February 28, 2018 in the remarks portion of the Form 4.

All his Form 4 filings were part of the 10b5-1 program until his purge of 226,000 shares on June 19th and 20th which netted him $1,946,021 according to the last Form 4 filing for Callicutt. Notice there is no 10b5-1 disclosure or did he make a mistake on that too? This was the DAY AFTER Traber officially left on June 18th and likely due to the unenlightened view that the company was going to falter without Traber.
When someone hires you and you work together for years your loyalty becomes misplaced, it goes to the person not the Company. So you believe that the Company will collapse without the person. This rarely happens with rare exception like Steve Jobs. Obviously Traber is no Steve Jobs! What Callicutt and the others also do not understand is that the medicine is proven, so the need now is for strategic business action for the future and how to get this medicine to the patients that are dying. This is being aggressively pursued through the consultant Back Bay who have a great track record in the biotech arena.
There is however more to the story. On the day of Traber's departure on June 18th 2018, he filed a Form 144 to sell 2,208,669 shares and put it in the mail which avoided detection by market participants until it was received on June 27th 2018 and noted by Reuters. This action likely prompted Callicutt to use the ATM to dump 618,614 shares at $8.47 to net the company approximately $5.241 million and assure his payroll according to the most recent 10-Q filing. The one thing we know about Callicutt's timing on selling shares is that it's awful and much of this is likely driven by his bad experience while being the CFO of Vystar Corp. (OTCPK:VYST). When Callicutt joined VYST back in 2010, he received a base pay of $91,346 and 150,000 options at a price of $.68 when the stock was trading at $1.70. So he had approximately $150,000 in options that evaporated over a year later. When he left the stock price was trading at $.35.
Traber and Callicutt were responsible for managing the ATM. In November, 2016 after receiving spectacular psoriasis data when the stock was at less than a dollar they decided to sell. Most of the stock's recent dilution occurred then. The selling depicted in the chart below was so blatantly telegraphed the stock stayed in a tight trading range and didn't move until they stopped selling stock in January 2017 and let the stock price rise. Why would management do this? They need to ensure bloated salaries were paid, they do not have any understanding of the stock market, they are driven by fear not a vision of the future? Probably some of all of these. One thing is for sure, they do not understand how to interact with the investment community.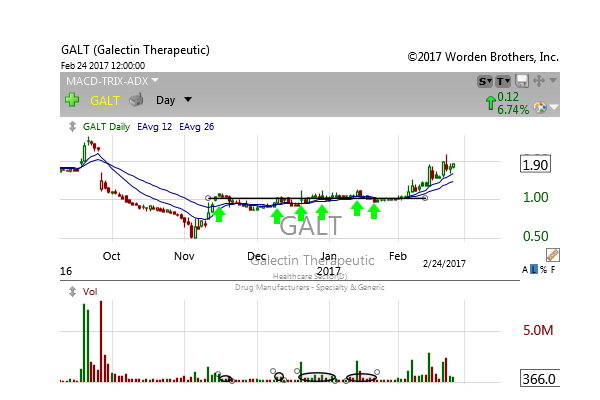 Because of this rampant dilution the CFO messed up calculating the remaining shares so badly that they needed to resort to a Class W re-designation. What would have happened on December 4th 2017 if on the news the stock shot up to its fair value of $20/share and the 10X fund wanted to convert the fully diluted 57 million shares, with only 50 million authorized? Woops!
The primary reason that I can see that this board keeps Callicutt after a history of missteps is that the Company is for sale and does not want to make any changes during the process! Callicutt and Shlevin were colleagues at Tikvah Therapeutics so it's also possible that Shlevin might be protective of Callicutt. This isn't the first company at which Callicutt has lacked focus. While researching I found out that Callicutt failed to timely file an initial Form 3 filing at VYST.
Harold Shlevin – NEW CEO
There isn't much to say here but you had a COO loyal to Traber who was clearly looking to retire at age 68, and he was thrust into spotlight by the sudden departure of Traber. All of his insider sales listed on the Form 4 were done via the Rule 10b5-1 plan that was established on March 12, 2018 long before Traber left. He sold a total of 275,544 shares.
The 10X Fund
The 10X Fund is managed by Jim Czirr so any filing under 10X is also filed under Jim Czirr's name. This makes it hard but not impossible to spot true insider selling. In the explanation section of the Form 4, investors can see that "Mr. Czirr disclaims beneficial ownership." This is how you can see if he is selling personally. After investigation, he is not. Furthermore, it's plain to see that these sales were also part of a Rule 10b5-1 plan. This selling plan goes in small price increments up to $10/share and then starts to spread out in larger increments to over $100/share. The intent of this plan was to sell dividend shares to pay accounting and legal bills and to recoup part of the investors' original investment until the Company is eventually purchased. The 10X Fund is the largest shareholder with close to 30% of the common shares under its control. They are clearly long term investors and bullish on the overall future of the Company.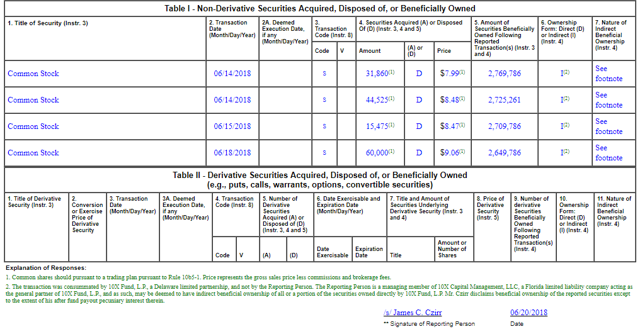 Peter Traber – Ex CEO
If it's not abundantly clear, he's all about ego and the money. It's interesting to note that while Traber was working at Galectin he was very handsomely paid as a director of Caladrius (CLBS) a potential competitor in T-cell therapy for cancer and diabetes. If you are the leader of a biotech running out of money like GALT was in 2016, and believed in the science, as a CEO you have three choices: dilute the company, take your compensation in stock or cut everyone's salary as was done in 2008 and 2009. He chose to take his money. You can conclude that he wanted the money, didn't believe the Company would survive and had no experience running a public company and did not know any other way. So he protected himself and his team at the expense of the shareholders with hefty dilution. Traber, Callicutt, and Shlevin all have insider sales around the $7.5 level (not $9 to $9.5), but what is interesting is that this was Traber's first and last sale. According to his most recent Form 144 filing he has a combination 2.2 million shares/options after he sold 170,000 shares on his Rule 10b5-1 plan.
The real question is why hasn't Traber sold? On June 15, 2018 he sold 265,000 shares as shown below. Where are his form 4 filings after this? He has lost millions of dollar in the past two months by not selling at $9.00 like he telegraphed in his Form 144 filing and he only has 90 days to exercise his options. His last day of employment was July 6 which means he only has until October 5th to sell. With just 30 days left to sell why would an existing CEO take any risk? If he did sell or will sell, the Company will have millions of additional capital from his stock exercises and the overhang of selling vanishes and leaves the shorts without any cover until $10.00.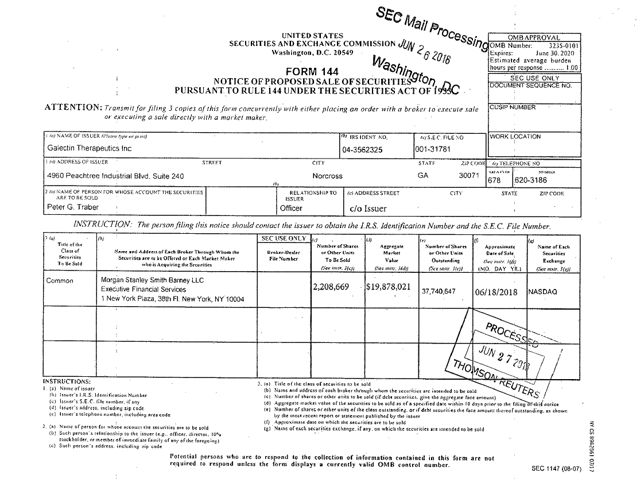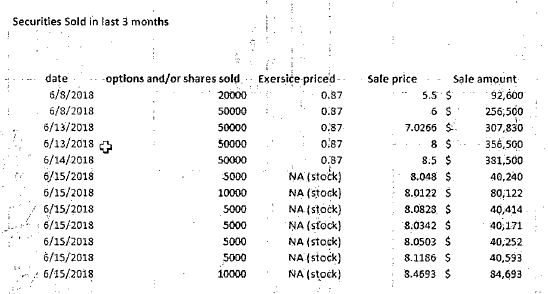 Where's the Insider Buying? – Tied up in Bureaucracy
There's this funny rule in Section 16 called Short-Swing Trading. The idea behind it is to prevent unfair use of inside information and discourage speculative trading. This means any insiders that realize profits from the purchase and then sale of the company stock within 6 months, are required to pay these profits back to the company. Since the BOD has clearly messaged that they want to sell the company, it makes no sense to purchase stock that can be subject to short-swing trading if the Company is sold. This might explain why insiders were not stepping up to the plate to buy.
The Revelation
This insider is all about the money so why did he not sell all of his shares between $9 and $9.5? Traber must have been in contact with Providence Cancer center regarding the Phase 1 data as part of his job. It's extremely likely that he has information on the progress of the trial. As mentioned above, he is all about the money. One potential reason for him to not exercise his options is the cancer data is going to be phenomenal. The company has announced a Summer 2018 release date from Providence Cancer Center to report cancer trial data. Which means it should be released before September 21, 2018 which would give Traber a little buffer should the announcement be delayed. Traber has made a lot of bad calls with respect to timing ATM and personal sales in the past, but this decision not to sell any shares no matter how far the stock drops, potentially shows sincere conviction on his part that the cancer data is worth waiting for. The other possibility is that Traber made another bad call on timing and dumped all in the money options. Investors should look at the trading activity on August 15th. A fire-sale of 420,000 shares and then the volume stopped. This Stocktwit author called the bottom.

Either option means the stock should rise on a technical basis. Remember the shorts increased their short position 1.5 million shares after his Form 144 filing. Traber's action is the equivalent to an all-clear buy signal and shorts should cover.
When investors truly look at the insider selling it uncovers a much more intricate and positive story than what it appears on the surface.
Disclosure: I am/we are long GALT.