Small Cap/Nasdaq Trading Software DDAmanda – A Review
Please Note: Blog posts are not selected, edited or screened by Seeking Alpha editors.
Summary
Snapshot of all the technical and fundamental things you care about in one screen.
Proprietary indicators work.
Inexpensive $6/day and worth the value.
When first asked to review the software I was a little skeptical. On the surface it seems like it is a platform with links to just about everything an investor would want to know, but on a deeper dive it's actually a way of finding winning stocks. One of my key criteria is knowing what the market capitalization is and how tight the float is. Also the buying versus selling volume and how it compares historically. There is also technical and fundamental analysis right at your fingertips. For the serious investor there are unique scans that find winners using pattern recognition. DDAmanda is essentially a new OTC / NASDAQ stock scanner on steroids that can be used by traders of any level of experience, from Beginners to Professionals.
Here are some more reasons to use DDAmanda. It gives investors what they want at their fingertips instead of trying to calculate it. When you see a volume spike you want to know how many shares traded for sure, but what you really want to know is how much money traded for the stock. The database contains 200 days of trading data to provide a detailed history of trading patterns. Users can also calculate how many shares traded at certain price levels within a date range.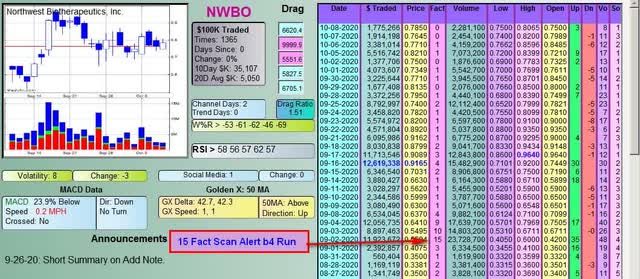 When you are doing a deep dive into a company DDAmanda also uses proprietary indicators such as Drag, which indicates the resistance to stock price movement given the dollars traded activity. This is another proprietary indicator which correlates Daily Dollars Traded with the 20 Day Average Dollars Traded. For momentum traders this tells you if your stock still has the mojo to continue higher and lets you keep the runners and sell the trading stocks that are going to roll over.
There is a lot of versatility to the software. Another thing you can do is scan for patterns. Some featured patterns are 'Death Drop' and 'DropBack' patterns which are great to catch panic moves. You won't lose the indicators that you are accustomed to either. They have customary charting indicators such as RSI, MACD, Williams%R, etc that can all be used as scanning parameters. The software also scans for certain candles: Hammer and Inverted Hammer. There are 35 pre-populated scans that users can run. Each scan can be customized in a number of ways.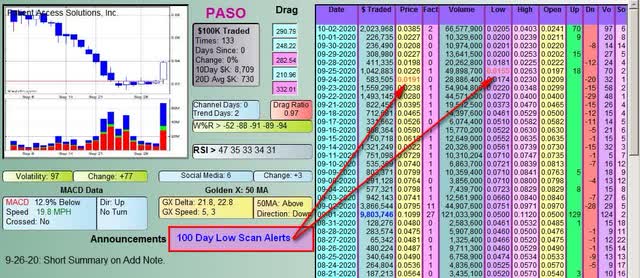 In stock charting 101 investors are taught to wait for the Gold Cross of the 200 day and the 50 day averages or the MACD crossing. DDAmanda takes this idea to a whole new level because the program can predict these days ahead of when they would occur, using the rate of change of charting indicators. CEO Hans Brost stated:
We are very pleased to offer these cutting edge tools to the investing and stock trading public. Our flagship product DDAmanda will let you scan for stocks that have a good possibility of significant price appreciation. The software also specializes in finding 'insider plays'. Our 8KSpy realtime 8K parsing/alerting service has found some major stock runs recently.
TESTIMONIALS
Here is a tiny sample of what traders are saying about DDAmanda (Source: FAQ, Sources available by request.):
Dude.... I have been a member for a month now of both, and you have made me so much money it's not even funny... Multiple 100% plays within past 4 weeks, and bought into CAPV as soon as the filing came out last Monday, the best play yet... . Please for the love of everything... don't ever discontinue Amanda... :) Thanks again!

Awesome program by the way, after just one day of use it's worth every penny. Not to mention it paid for it self several times in just one day...

I wasn't even in for a week with DDAmanda and I made $10k off of TRNX. I just notice that if you do your scans properly, there is at least one stock daily where you can make good money off. So, I really like using this program. 

I am absolutely digging DDAmanda. I think it's brilliant.

I just made 15k on my first DDAmanda Pick.

...just paid for my DD Amanda subscription for the next 3 years due to 1 find.

Loving DDA so far and recommending it to others.
Subscribing is Easy
Signing up for the service is easy. The company uses PayPal to handle every aspect of subscriptions. Signup at Stock Scanner, Stock Screener, Stock Trading Software - DDAmanda. You are able to create your own username and password. Membership fees are deducted from your PayPal account every month but during the first month there is a 100% satisfaction guarantee that allows you to stop the service for any reason, with a full refund of your payment. It's essentially risk free. The bottom line is that the service costs $6/day.
The Software consists of 6 packages/Features:
1. Proprietary stock scanning/screening with rapid due diligence capability at the push of a button.2. 8KSpy.com. Real-time heuristic scanning of 8K Filings to alert on 8K's with significant events that could result in price appreciation.3. DailyListSpy.com. Real-time alerts for changes to the FINRA Daily List.4. Real-time Social Media Alerts.5. Real-time Tier Change Alerts.
6. Semi Real-Time Share Structure Change Alerts.
CASE STUDIES
Here are just a few case studies: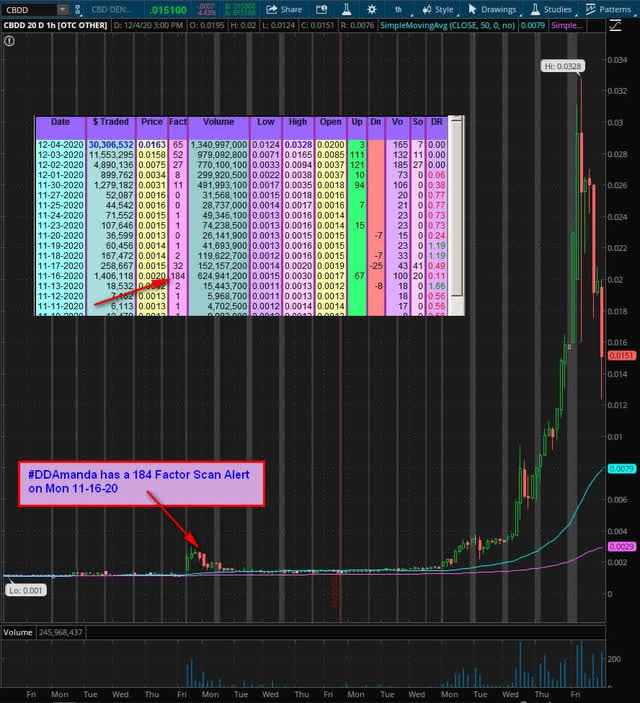 CBDD  $.002 to $.038 - 1900%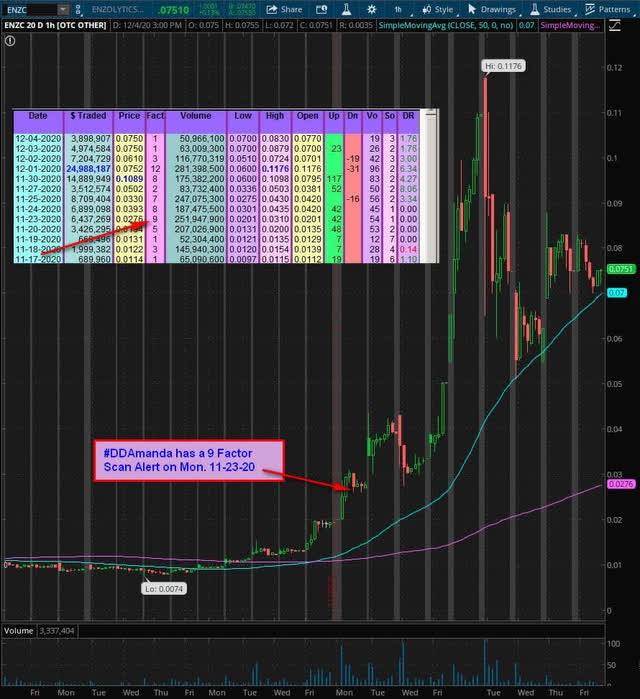 ENZC $.0275 to $.1176 - 327%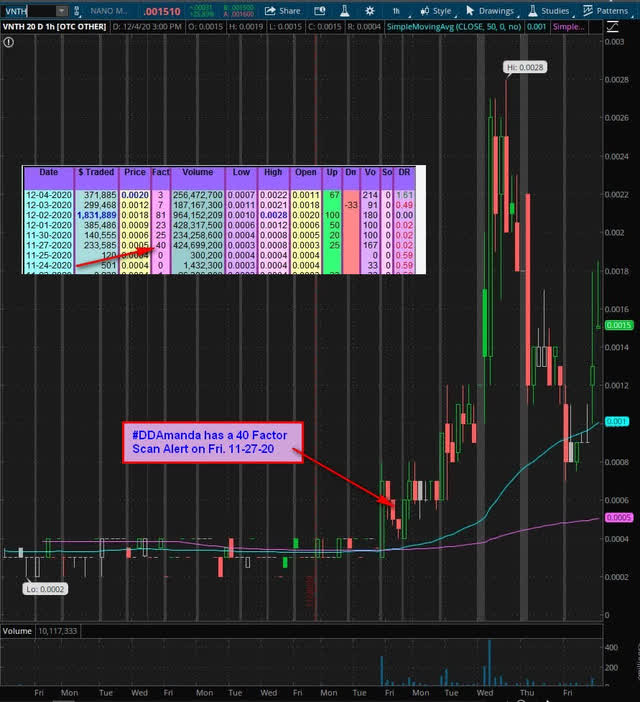 VNTH $.0005 to $.0028 - 460%
Comparables
The only comparable software would be Equity Feed, which is real-time, but does not base scanning on the money flow through stocks. DDAmanda updates every night, which gives traders plenty of time to run scans, and find possible winners for the next day.
Summary
DDAmanda scores high marks as a proprietary scanning software that also features rapid due diligence capability. Most users are sticky and use it over and over again, but the initial learning curve is low, due to the pre-set scans, A slight downside is learning the more advanced and extensive scanning capabilities of the software. It's very cost effective because one good trade could pay for the cost of the program for a whole year.  I am a consistent user for over the past year and cannot trade without it.  I hope this review helps other decide to subscribe to something I very much believe in.
For the Galectin Fans  - I'm still following the technology  - Just remember "All roads lead to Galectins"  You'll know what the mean soon enough.    
Seeking Alpha's Disclosure: Past performance is no guarantee of future results. No recommendation or advice is being given as to whether any investment is suitable for a particular investor. Any views or opinions expressed above may not reflect those of Seeking Alpha as a whole. Seeking Alpha is not a licensed securities dealer, broker or US investment adviser or investment bank. Our analysts are third party authors that include both professional investors and individual investors who may not be licensed or certified by any institute or regulatory body.