After five years of stable and upward trend in average oil prices, June 2014 was the beginning of a dramatic reverse. At first, analysts explained it as being a technical correction which will be a break before oil prices resume reaching higher highs. But day after day, the oil crisis began revealing itself, letting no one precisely predicting its downside limits.
This new born crisis is the result of various factors taking place simultaneously :
Global Economy Slowdown:
The growth slowdown can be identified by two numbers that summarize the global economic view; The US 30 year bond yields dropped to its 18-month low and the Germany growth forecast which was lowered to 1%; Two main indicators alarming the beginning of a probable deflation across the globe which will affect the 2015 expectations.
American Shale Oil Expansion:
The US long term strategic goal as explained implicitly and explicitly is to reach self-sufficiency in terms of Oil production for its market demand and decrease its reliance on OPEC cartel. In fact, the United States is approaching year after year to reach this goal through hydraulic fracturing and horizontal drilling in the Shale oil and gas industries. These techniques help producing companies extract oil from shale rock with decreasing cost overheads.
OPEC losing control:
Members of the OPEC cartel are becoming competitors rather than allies in oil extraction which is threatening its unity as an organization. In their November meeting, some OPEC countries called for supply cuts, but discussions failed. The unwillingness to decrease supply by OPEC and non-OPEC members such as Russia drives the supply to remain in its upward trend.
Country specific circumstances:
Saudi Arabia is afraid of reproducing the scenario of the 1980s when the barrel reached prices below 10$ and it lost market share because Saudi government decreased its supply while other OPEC members continued extracting oil regularly and without limitation.
Russia, a non-OPEC member disagreed cutting production because Russian government is facing huge economic and political pressures from western and European sanctions after the Ukrainian turmoil which is probably leading to a Rubble crash.
Japan expects to reactivate its nuclear reactors in 2015 which will depress oil's demand.
The production in Iraq reached a 13-year high as the Kurdish region increase its supply of oil to meet their war needs against the Islamic State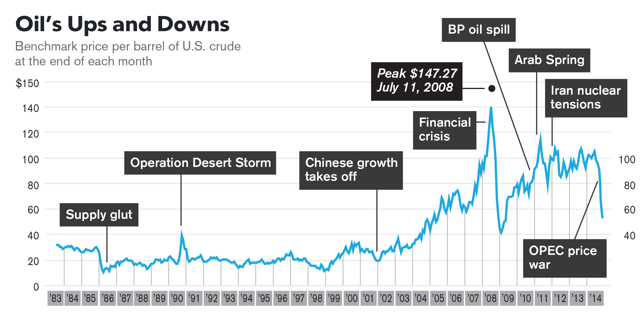 Source: Bloomberg Data
The oil prices in 2015 will be the main driver of all economies. Many countries will see increasing GDP and stimulate growth while others will experience budget deficits and will be obliged to cut spending.
For many investors, now is the time to invest and put money into funds that track crude.
Four funds are heavily listed on the buy side for investors willing to enter the market for long term investment:
 

These exchange-traded products are the biggest ETF listed in the United States. And according to Bloomberg they received combined 1.23 billion USD in December 2014, and 109.9 million USD this month through January 5. These amounts are the highest since May 2010, after the global financial crisis. The same pattern is being reproduced as the post 2009 crisis.
Disclosure: The author has no positions in any stocks mentioned, and no plans to initiate any positions within the next 72 hours.