I recently attempted to research Citrix, Inc. and found that it presents a profitable opportunity based on its price-per-share decline over the past few months, estimated intrinsic value, and its competitive position within the VDI market. By the way, the post is structured in form of an investment proposal - for easy of writing.
All comments are welcome!
Recommendation
Although, Citrix Systems, Inc. ("CTXS," "the Company," or "Citrix") has been recently undervalued by the market, the Company has maintained healthy profit margins, positive free cash flows, and ample cash reserves. Additionally, the Company's strategic position within the desktop virtualization market and a strategic focus to advance in mobile device management suggest a near-term reversal of the currently undervalued position.
The Company has been valued using multiples and discounted cash flow methodologies. I estimate the Company's valuation to range on average from $60.97 to $85.12 per share versus $61.73 per share market valuation as of December 20, 2013. Refer to the Valuation section for further discussion of the used methodology and other considerations.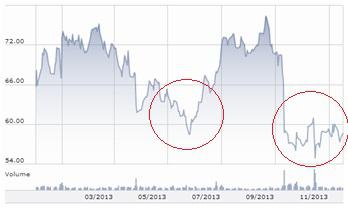 The market has undervalued CTXS twice during the trailing 52-weeek period as follows: (1) the price-per-share dropped 14.3% from $71.36 on March 1, 2013 to $61.19 on July 1, 2013. The decline was mainly driven by the Company missing earnings estimates for Q1, 2013 due to slower XenDesktop product sales growth; (2) the price-per-share dropped 16.4% from $70.61 on September 30, 2013 to $59.00 on November 22, 2013. The decline in November 2013 mainly resulted from the Company missing earnings estimates for Q3, 2013 coupled with Amazon's release of a competing product, Amazon WorkSpaces ("AWS") and slower quarter-over-quarter revenue growth. Refer to Catalysts and Risk Factors sections for further discussion.
Company Background
Founded in 1989 and headquartered in Fort Lauderdale, Florida, Citrix Systems, Inc. provides server and desktop virtualization, networking, software-as-a-service, and cloud computing technologies. On December 20, 2013, Citrix market capitalization was approximately $11.5 billion. The Company's main products (discussed below) serve as middlemen connecting virtualized computing environment with end-users' devices (i.e. desktops, laptops, and various mobile devices). Refer to the below diagram for an example.

Citrix offers a complete set of tools for the front-to-end desktop virtualization. XenServer and VDI-in-a-box products provide a virtualized desktop infrastructure ("VDI") that is a mix of hardware and software integrated with third-parties' datacenters. XenDesktop and XenApp are software agents that deliver applications and desktops, running on virtualized environments, to end-users. See the above graph for detail.
The newest XenDesktop 7.1 combines XenDesktop and XenApp capabilities in one product. Additionally, Citrix offers NetScaler, a one of its blockbuster products, which serves as a virtualized environment controller allocating computing power among running applications. NetScaler provides a faster and more efficient virtualized environment, and is a platform-independent product. In addition to the above noted products, Citrix offers CloudGateway, a software product similar to XenDesktop, specifically for mobile devices and handheld computers. XenMobile product serves as mobile device manager, allowing corporate IT to configure and manage employee-owned devices connected to the corporate infrastructure.
Competitors
Currently Citrix (XenServer & XenDesktop products), VMWare, Inc. (vSphere and View products), and Microsoft Corp. (Hyper-V product) dominate the desktop virtualization market. Amazon AWS has recently joined the former three, and is expected to compete with Citrix and VMWare by offering a low-cost generic VDI solution in the near future. Additionally, Citrix competes with various smaller vendors such as (i.) AirWatch, MobileIron, and GoodTechonology within mobile email and security market, (ii.) F5 Networks and A10 Networks within networking and application delivery market, (iii.) Cisco's WebEx, Skype, Microsoft Lync, Google Hangouts, and LogMeIn, Inc. within collaboration and data market.
The following are select Citrix's and VMWare's products that directly compete one with another:
Desktop & application delivery tools to personal computers and mobile devices - Citrix's XenDesktop and XenApp vs. VMware's View.
Hypervisors, an essential part of software making virtualization possible - Citrix's XenServer and XenClient vs. VMWare's vSphere and ESXi.
Technological and Other Advantages
Citrix's desktop and application delivery technology, XenDesktop/XenApp, has definitive advantages compared with the VMWare's "View".
XenDesktop and View support devices on various operating systems: Windows, Linux, iOS, and Android; but only XenDesktop supports Mac OS, Solaris, HP-UX, DOS, and Symbian.
XenDesktop and XenApp are platform independent and can be run on Citrix's XenServer/XenClient and on competing virtualization platforms including VMWare's vSphere and Microsoft's Hyper-V. VMWare's competing product, View, runs only on vSphere.
The Company has been working to extend desktop virtualization technology to mobile devices.
Recent acquisitions of ByteMobile (a video compression technology used in content streaming to mobile devices) in 2012 and Zenprise (a mobile devices management technology, marketed under XenMobile) in 2013 created a good runway for the Company's long-term success based on growing use of mobile devices within virtualized infrastructure.
Citrix provides secure access from mobile devices to physical desktops, and virtual apps and desktops - all from a single platform, XenDesktop. VMWare has to implement various tools to achieve the same level of service.
Products such as XenApp and CloudGateway allow for delivering virtualized applications with high-definition standard ("HDX") for video, graphics, and the like collaborations. Citrix is a pioneer in HDX content delivery to mobile platforms within a virtualized environment.
Recent Events
December 18, 2013 - Citrix released a new technology to enable desktop-as-a-service ("DaaS") service providers to deliver desktops from the cloud.
November 25, 2013 - Telecoms.com named Citrix as the 2013 Best LTE Traffic Management Product (ByteMobile product) by Telecoms.com.
November 6, 2013 - Gartner, Inc. positioned Citrix in the Leaders Quadrant for 2013 Application Delivery Controllers (NetScaler product) Magic Quadrant for the Seventh Consecutive Year.
Investment Thesis
Recent decline in the CTXS's market valuation provides a potential opportunity of up to $20.00 upside per share due to the stock price reversal that I expect to occur in 2014 and continue into 2015. I believe the recent drop in price was mainly driven by the market overreacting to the missed quarterly earnings, a temporary decline in quarter-over-quarter sales growth in Q1 and Q3 2013, and the release of AWS.
I believe the Company is a good investment for the reasons as follows:
CTXS is in a good financial position characterized by positive free cash flows, ample cash holdings ($695 million at 9/30/13), a debt-free position, and healthy margins (83.1% gross profit, 11% net profit, and 21.9% EBITDA margins for the last-twelve-months ("LTM") period ending September 30, 2013).
The Company provides the most complete desktop virtualization and mobile device management products such as XenDesktop, NetScaler, and XenMobile that are used by 2,600 service providers serving 300,000 end users (as provided by Citrix as of December 18, 2013). Citrix's technological advantages compared with VMWare relative to XenDesktop/XenApp and XenMobile products clearly distinguish the Company as a leader in the virtualized desktop and application delivery market.
CTXS is well positioned for the growing desktop and HDX mobile virtualization market, supplemented by increasing adoption of mobile devices in enterprise environment.
Catalysts and Risk Factors
As previously discussed, Citrix experienced a large value decline during the past six months that was primarily driven by four factors: (i.) the Company missing its earnings estimates in Q1 and Q3 2013, (ii.) the release of AWS, a new entrant in the desktop virtualization market, introduced during Amazon's "re: Invent Conference" on November 14, 2013, (iii.) declining profit margins, and (iv.) mixed views of the economy and overall IT spending. The Company's value has depreciated by approximately 10.1% YTD- Q3, 2013 and 16.4% QTD - Q3, 2013. Refer to the Recommendation section for further detail.
The following are the catalysts that I believe will be the leading factors in the Company's growth:
1. The releases of the new versions of the Company's three flagship products - XenDesktop 7.1 on October 22, 2013, XenMobile 8.6 on October 29, 2013, and XenClient 5.0 on August 7, 2013 will produce higher revenues and place Citrix in a more competitive position compared to its peers.
The release of XenDesktop 7.1 added support for Windows Server 2012 R2 and Windows 8.1, the two latest Microsoft software updates, previous versions of which had been largely adopted by enterprises. The release of XenMobile 8.6 provided a faster, more secure, and easier way for employees to access applications on their devices and corporate IT to manage the security and provide faster deployment options across various platforms and devices. The release of XenClient 5.0 represents another step toward the Company executing on the enterprise mobility strategy. As discussed, in the Company Background section, cross-platform advantage of XenDesktop/XenMobile compared to VMWare's View, allots Citrix a competitive advantage and a potential for higher earnings growth.
The releases of the above noted products occurred during the latter part of the year. Mixed with the uncertainty of the economy and IT spending, the Company ended up with a slower than expected customer adoption of new products during Q3 2013 and beginning of Q4 2013.
As the market's consensus for the 2014 economy improves, and corporate IT departments perform necessary testing of the new products, the Company's revenue is expected to grow at a higher rate in 2014.
2. Citrix management is working to improve profit margins. The Company's EBITDA margins declined from 26.1% in FY11 to 23.4% in FY12 and to an estimated 20.8% in the projected FY13. The decline had been mainly driven by (i.) the increase in sales of products with hardware components, and (ii.) higher operating expenses due to the increase in selling, marketing, and research and development expenses.
Increase in cost of sales driven by increased sales of the products with hardware components indicates that the Company was only able to partially pass the hardware cost on to the customers. Decline in hardware cost, mainly storage costs, coupled with the Company's growing software business will improve the Company's profit margins.
Increase in the operating expenses has been partially driven by the Company's acquisitions and inefficient spending policies. During the UBS Technology Conference on November 20, 2013, management noted it is reviewing spending and budgeting practices for efficiency and effectiveness. Reduction in spending and more effective budgeting policies will also favorably reflect on the Company's profitability.
1. 3. The new releases of the Company's flagship products, XenDesktop, XenApp, XenClient, and NetScaler will further affirm the Company's strategic position in the desktop/app virtualization market mainly due to the products' cross-virtualization-platform features. Additionally, Citrix's mobile strategy has made it the leader in delivering HDX graphics and video content to mobile devices. Thus, VMWare's vSphere supports Citrix's HDX products, making the Company an even more significant player in the virtualized content delivery market.
2. 4. According to S&P Capital IQ, enterprise IT spending is expected to grow by a mid-single digit rate during 2014. I estimate CTXS's revenue to grow by at least 12.6% (FY12 revenue growth rate) in 2014, which approximates 14% to 20% revenue growth expectation disclosed by VMware on December 3, 2013 at Credit Suisse Tech Conference. Citrix's management has not disclosed sales growth estimates for 2014. The 12.6% growth rate produces a valuation range of $64.44 to $83.22 per share using relative valuation. Furthermore, if the Company's sales growth rate equaled the S&P Capital IQ expected enterprise IT spending growth rate of approximately 5%, the price per share would be valued between $60.09 and $77.60 per share using relative valuation. Accordingly, if the revenue does not grow by the expected 12.6% and produces sub-par 5% growth, the Company's equity price-per-share would still increase on average by 7.8% from the current price. Refer to Valuation section for further detail.
If the above catalysts do not materialize, then the Company is fairly valued and is not expected to have a significant decline, and therefore represents a low investment risk.
Risk Factors
Overview of potential risk factors and how they would affect the Company's competitive position and price per share are as follows:
Slow or poor adoption of the desktop virtualization industry by enterprises. Although, the Company has a recurring revenue stream from desktop virtualization industry, moving legacy information systems to the cloud remains the industry's biggest challenge. Unless the cloud adoption accelerates, Citrix and its competitors are bound for a slow growth, which will translate into subprime price-per-share performance.
Although Citrix is the leader in the virtualized content delivery market, it hasn't been successful in providing complete VDI solutions - hardware and software that is integrated with either service-providers' or end-users' datacenters (i.e. where VMWare is the leader). Competitors may undertake further advancement and improvement of their own virtualized content delivery tools that would be damaging to Citrix business. Recent Citrix's acquisitions and new product releases within virtualized desktop and HDX content delivery market show the Company's aggressive strategy aimed at maintaining its competitive position.
Increased competition. AWS entering the desktop virtualization market resulted in a decline of CTXS's and VMWare's market prices decline. Although, AWS is in a testing phase and is set to target small businesses, once AWS gains some traction, it may pursue large enterprises and further fragment the market and reducing CTXS's sales or profit margins.
Reduced operating margins. The Company's operating margins declined from 86.7% in Q4 2011 to 82.6% in Q3 2013. The decline in the operating margins is driven by higher sales of networking and cloud infrastructure products that included hardware components with higher cost as compared with the Company's software products. Unless the software business improves, the Company may not be able to offset increased sales with a higher cost of hardware components that will result in lower than expected profit margins.
Commoditization of the desktop virtualization technology will put a downward pressure on the industry's profit margins. The Company's ability to aggressively develop new technologies ahead of the mainstream products, target new customers and maintain recurring revenue streams will be paramount to the Company's profitability in the long-run.
Valuation
As of December 20, 2013, Citrix's market price was $61.73 per share. To estimate the Company's intrinsic value, I used a combination of price-to-earnings ("P/E"), price-to-sales ("P/S"), price-to-free-cashflows ("P/CF"), and price-to-EBITDA ("P/EBITDA) multiples of Citrix's competitors and software industry averages obtained from Morningstar and Yahoo Finance on-line resources. Competitors used in relative valuation included F5 Networks, Inc., VMWare, Inc., Cisco Corp., and LogMeIn, Inc. Additionally, I valued the Company via free-cashflows-to-equity ("FCFE") using a two stage discounted-cashflows H-model ("H-DCF"). H-DCF calculates the terminal value over 5 year period using smoothed growth rate decline.
The Company's forward sales, EBITDA, net income, and free cashflows were estimated based on the historical sales growth rates, corporate IT spending forecasts obtained via S&P Capital IQ, and competitors' 2014 sales growth estimates. Additionally, I explored three sales growth rates scenarios to estimate the Company's equity value using H-DCF model. Refer to Exhibits section for 2013 estimates and 2014 projections, and valuation summaries.
Based on the relative valuation, I estimate the Company's equity equal $71.35 per share on average with a valuation rage of $64.44 to $83.22 per share. Note: Although previously discussed, I excluded P/E multiple from the Company's intrinsic value estimate based on significant P/E multiple differences of the comparable companies. Refer to the Exhibits section for Competitors' Multiples Summary.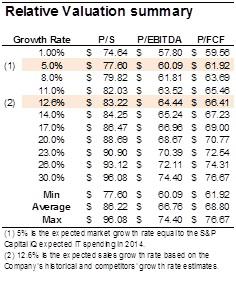 Based on the H-DCF, I estimate the Company's equity equal $73.04 per share with a range of $60.97 (Market sales growth scenario) to $85.12 (Competitor sales growth scenario) per share. Refer to the below table for detail.

Conclusion
I think Citrix has positioned itself very well when it comes to the desktop/app delivery tools in VDI market. My estimated intrinsic value (i.e. based on multiples and cashflows) shows that the current market price-per-share has a lot of room to grow.
As noted in the risk factors section, the danger to the Company's well being lays within its competitors building or promoting their own VDI delivery tools, thus capturing a significant share of revenue from Citrix. The Company's ability to aggressively market its products and continuously invest in research and development, in order to remain at the cutting edge of the VDI market, will be paramount to its success and our investment returns.
Disclosure: I am long CTXS.
Additional disclosure: The above research post has been prepared for non-commercial purposes using public resources such as Yahoo Finance, Morningstar, Citrix, Inc. website, and other publicly available resources.