I see a lot of references on Seeking Alpha and elsewhere to the market PE ratio. The Wall Street Journal gives the S&P 500 PE as 22.6 as of 10/30/2015. This "average" number has always been a little unsatisfying to me as a valuation benchmark. Here's one reason why: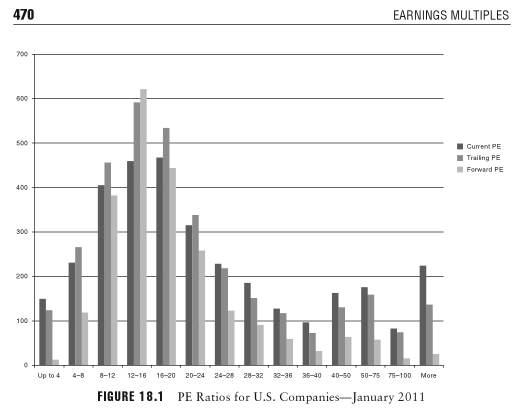 That is not a normal distribution! The modal forward PE in January 2011 was between 12 and 16. The average, per the book I got this from, Aswath Damodaran's Investment Valuation, was 21. (Modal current PE = 16-20; mean, 50!) Those are 50% to 100%+ differences in valuation measurements. And look at that giant hump in "More."
I don't know what the shape of the 2015 distribution is, but I'm confident that the "average PE" today would carry many of the same pitfalls we see in the 2011 chart above.
Be careful what you pay for, I guess.