Summary
Qihoo 360 2015Q1 transcript provides solid revenue and earning beat.
Efforts required on mobile transformation, however the post-earning sell off is way overdone.
Great initiatives are underway and likely boost future revenue growth and earning in later quarters.
Qihoo360 (NYSE:QIHU) reported earnings of 57 cents a share for the first quarter, beating analysts' estimates of 49 cents a share for the quarter. Revenue grew 45% year over year to $384.4 million for the quarter, above analysts' estimates of $378.12 million.
Looking to the second quarter, QIHU expects revenue of $435 million to $445 million, representing a 37% to 40% increase from the year-ago quarter. Analysts expect the company to report revenue of $437.2 million for the second quarter.
Even with the strong earning and revenue beat, QIHU shares dropped like a stone during market time today. An unexpected 8.83% drop from $59.29 to $53.59. Looking at P/E ratio, it is currently at 31 times earning and 12 times forward earning in 2016. Based on the valuation, QIHU is a very attractive buy.
(click to enlarge)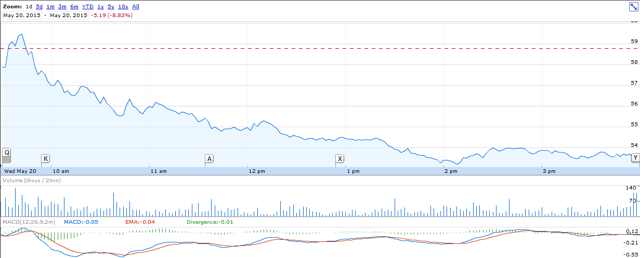 Source: Google finance
I believe the stock sell off has been significantly overdone. Next let's examine possible reasons behind the sell off.
From earning transcript:
1. Weak IVAS growth: IVAS revenue dropped more than 20% due to slowdown in web game sector and shut down of online lottery service by the Chinese government
Counter-argument: QIHU has been aware of the slowdown from last quarter and has been taking initiatives to ramp up its mobile game platform. Among 1,800 games in total offering, 1,600 are mobile, growing from 1,500 games from 2014Q4. It is obvious that a significant effort has been put up to ramp up the mobile app store platform. Registered game users from mobile side also increased from 950,000 to 1.1 million. There will be continued ramp up in mobile game to facilitate the transformation from PC to mobile. The shut down of the online lottery provides relatively small impact to IVAS revenue as a whole as the online lottery only accounts for a small portion of the IVAS operation. The stock price should have priced this in from last quarter's conference call.
2. Slow-down growth in advertisement revenue compared to last quarter
Counter-argument: advertisement has been a highly seasonal business. Taking a look at NetEase, Changyou or Baidu, all of their advertisement revenue took a deep dive in 2015Q1. Amid this highly seasonality effect, QIHU has done a great job realizing positive growth compare to last quarter. I am very confident that QIHU will continue to outperform in the next few quarters as mobile ramp up continues to drive revenue growth
3. Unclear explanation on new initiatives such as Coolpad JV and enterprise security business unit (couldn't find any other reason to support the sell-off)
Counter-argument: Mr. Zhou has explained why it is not the right time to disclose specific information regarding Coolpad JV. I believe it is a reasonable argument. It is difficult and time consuming for hardware companies to do modifications on products, such that for strategic reasons, QIHU is unable to disclose the status of the new phone. However Mr. Zhou did provide some color in terms of the features compared to market standard, as well as the use of crowd-funding as a new promotional strategy. Mr. Zhou has also mentioned multiple times in the JV launch event and the earning con call that QIHU is planning to sell the new phone for free.
In terms of the enterprise security business unit, Mr. Zhou did not provide any specific numbers when answering the questions. I believe this could be caused by the unclear translation as the questions were translated from English to Chinese and vice versa. Even the information was not provided during con call, analysts could potential call up the company for further explanation.
From other perspectives:
1. Low expectation on Coolpad JV: people have been arguing that it is too late for QIHU to enter mobile phone industry with strong market leaders such as apple, xiaomi, ZTE and huawei taking majority of the share
Counter-argument: I think differently. I believe it is about the right time for QIHU to enter the market and provide a disruptive force to change the landscape. Let's think about how QIHU entered the software security industry by providing software security solution for free and completely disrupted the industry. Mr. Zhou had the vision that as internet and pc become so popular among different groups of users, software/internet security must become a commodity product in the market. A commoditized market indicates similar products and much lower margin. Based on the vision, Mr. Zhou announced the right strategy to offer security solution for free and quickly claimed the leader position in the market. We are in the exactly same position in the mobile phone industry as we were in software security industry back then. Mobile phones are becoming a commodity. With many brands providing extremely similar offerings, mobile phones are getting commoditized everyday. It is absolutely the right time for QIHU to enter the market using the similar strategy they used before to offer mobile phones for free. With QIHU's disruptive force coming in, I believe the mobile phone landscape will be changed in the year of 2015.
Great Initiatives Going Forward
Based on the aforementioned reasons, I believe the current sell-off is drastically overdone. QIHU's fundamentals are strong and well prepared for mobile and IoT transition. Next, let's examine what kind of initiatives we will be expecting in the next few quarters:
1. New mobile phone launch with crowd-funding and free mobile initiatives will be very disruptive to the current market landscape
2. Continued healthcare search ramp-up
3. Continued enterprise security revenue ramp-up: with QIHU's leading security market position, enterprise security market provides a significant growth potential in topline as well as bottom line. With the seasonality effect, we should expect to see some good growth numbers in second and third quarter reports.
4. Continued security related IoT initiatives: QIHU's current smart device portfolio is still thin which provides significant potential for further development or acquisition initiatives. The existing products are very well received in the market. Sales may not be meaningful for the company topline in general, but as QIHU builds up the IoT hardware and software eco-system, the entire portfolio of offerings will provide and strong positioning in the market compare to other competitors.
5. Continued mobile game platform development with potential acquisition initiatives
6. Potential spin-offs to concentrate resource on main business units and fully actualize peripheral business units for the maximization of shareholder value
Conclusion
QIHU is a fundamentally sound high tech company with promising growth in the future. With great transformational initiatives, QIHU is determined to be a disruptive form in the mobile market. QIHU has the experience, the capability, the talents and the leadership to disrupt the IoT market going forward. I believe the current sell-off posts a great opportunity to buy for a great value and capital gain in the future.
Disclosure: The author has no positions in any stocks mentioned, but may initiate a long position in QIHU over the next 72 hours.