Dehaier Medical Systems Ltd. is a leader in the development, manufacturing, marketing, and distribution of medical products primarily in China but also in other western countries. The company focuses primarily in sleep respiratory devices both for homecare and profession-grade.
Dehaier self-branded products/devices are based on proprietary technology, including 6 patents and 10 software copyrights. Utilizing a network of over 2000 independent distributors and 3000 hospitals, the company distributes its products to government hospital and private clinics, and also directly to patients.
(DHRM) recently announced its annual financial results for the year ending 2013, with revenue of $16.86 million and net income of $2.00 million, down 21% and 37% respectively from revenue of $21.37 million and net income of $3.21 million ending in year 2012.
The total revenues are mainly from sales of medical devices and sleep respiratory and oxygen homecare products and services
The year to year decline in sales revenue are mainly caused by increasing competitions in medical devices markets
Looking at DHRM's financial statements, we can draw some descriptive analysis about the company.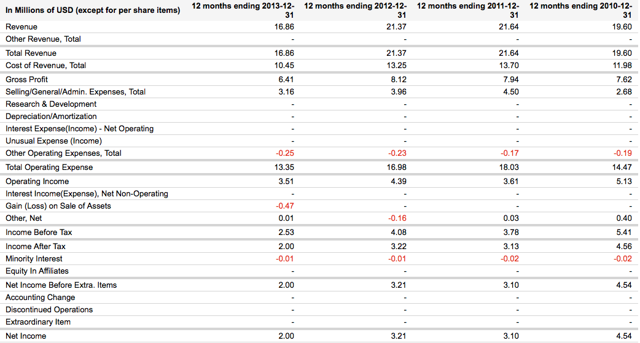 Although the gross profit decreased from $8.12 million in 2012 to $6.41 million in 2013, the gross margin actually increased from 37.97% to 38.03%.
In addition to challenging markets/competition, DHRM was about to reduce the Admin cost by 20%
As shown in the balance sheet, cash on hand declined from $3.5 million ending in 2012 to $2.59 million ending in 2013. The weakening liquidity position is attributable to the increase in account receivables to support the continuing sales.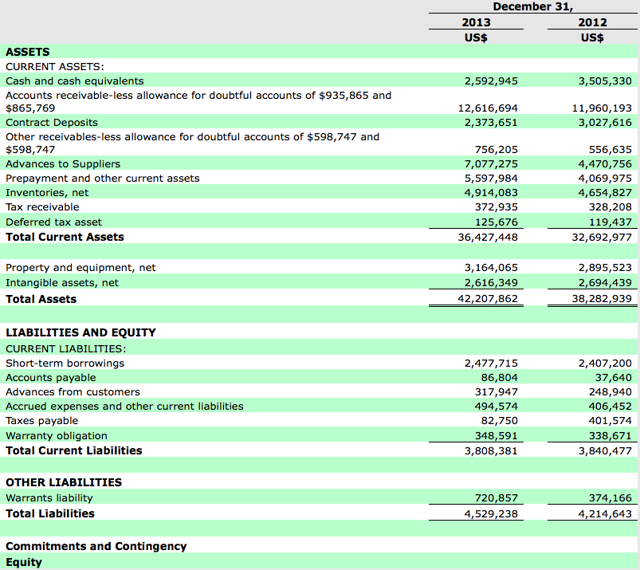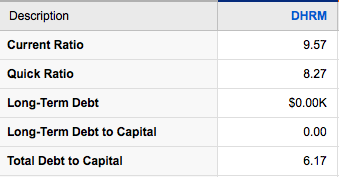 The brighter spot of 's financial strength comes from its current ratio and quick ratio. Dehaier's high current ratio indicates that it has strong abilities to pay off any short term obligations.
In addition, DHRM's quick ratio of 8.27 shows that it has nearly $8.27 dollar of liquid assets available to cover each $1 of current liabilities.
Conclusion:
Dehaier represents an interesting yet competitive role in the healthcare industry primarily focused in sleep respiratory products and services. Recent CFDA approval of additional DHRM medical devices are strong indications of tremendous growth potential and that they will position DHRM very well in the sleep respiratory market. Although the company reported a decline in annual revenue, I believe that with a good execution in product focus, expanding product portfolio, enhancing brand name, creating new distribution channels, and expanding overseas markets will further improve 's market share and financial performance. On a fundamental basis, I believe this company is inexpensively valued with respect to 2013 - 2014 earnings. The Stock was severely punished by its recent decline in sales by over 50%. However, looking at the financial strength of the company and its growth prospects, I am happy to see the company has formulated growth strategies to increase brand name awarenes both in the domestic and oversea markets, to improve its Research and Development capabilities, and to expand its product portfolio with a focus on higher margins. In time, DHRM will recover its sales through the new CFDA approvals and partnerships in additional distribution channels. As for the $30.58 million market cap company, taking into consideration of the recent decline in stock price, I rate this stock as a short to long term BUY.
Disclosure: The author has no positions in any stocks mentioned, but may initiate a long position in DHRM over the next 72 hours. The author wrote this article themselves, and it expresses their own opinions. The author is not receiving compensation for it. The author has no business relationship with any company whose stock is mentioned in this article.