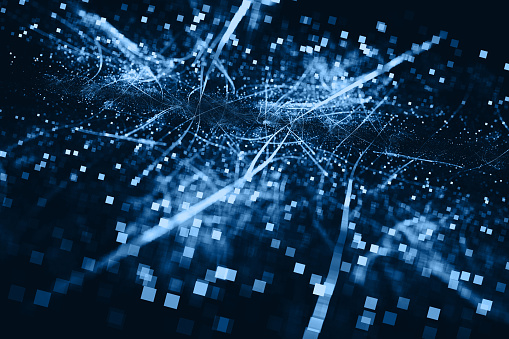 Telecom Italia (OTCPK:TIIAY) is a leading telecommunications group in Italy and Brazil.
With Total Revenues of Eur 15,805 Billion (2020), Telecom Italia is the fifth-largest Italian company and has more than 50.000 employees.
The Group's revenues largely depend on TIM SpA, a major provider of internet access, fixed and mobile communications in Italy.  
The Group is constantly developing new businesses and launching new services such as Cloud (Noovle), Internet of Things solutions (Olivetti), submarine fiber optic cables (Sparkle), cybersecurity (Telsy)
The Group has reduced its presence abroad and is now only present in Brazil with TIM Brasil, which accounts for almost half of the Group's total revenues and is one of the main players in the Brazilian telecommunications market.
Key figures
Telecom Italia reported in 2020 (values in Eur):
Total revenues of 15,805 Billion;
EBITDA of 6,739 Billion;
Net Profit of 7,352 Billion (Pre-tax income of around 1,4 Billions);
Total Financial Debt of 23,326 Billion;
Total Equity of 28,840 Billion.
In the first half of 2021, organic consolidated revenue increased by 0.5% YOY and corporate data continued to stabilize with debt at around 22 billion and despite a slight decline in EBITDA margin.
Analysis
When I first approached this company, in early 2021, I had the impression that the company was severely undervalued.
Indeed:
in 2020 it posted record earnings;  
P/E ratio was very low (1,09);
P/B ratio was almost ridiculous (0,30).
When you consider that in 2020 Telecom Italia received a tax benefit that added € 6,1 billion to its earnings, the P/E ratio and the above-mentioned earnings above become less significant.
A normalized P/E would be 6,30, which is still in the low range anyway. 
When I added that Telecom Italia could benefit from the investments in connectivity and infrastructures that are being made under The National Recovery and Resilience Plan, a special EU plan for recovery after the pandemic season, I was even more convinced that Telecom Italia is the stock to buy and hold.
Finally, I looked at the historical share price of Telecom Italia and found that the price has been falling steadily over the last 10 years.
This means that Telecom Italia, although a technological company, has not benefited from a general rise in listings recently.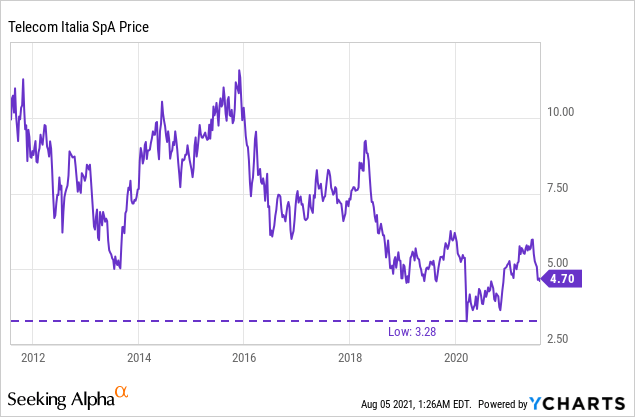 What happened in the last 10 years?
In 2011, Total Revenues were around Eur 30 Billion with a total Earning of around 2,6 Billion.
The debt level was around 30 Billion euros.
If we take a quick look at Telecom Italia's key data, we can quickly see that the company was more prosperous ten years ago than it is today, with a growing business and solid prospects.
Simplified, we can say that the business and the share price were about twice as high as today.
Unfortunately, Telecom has struggled to grow again over the last decade and has lost market share and profitability in its core business, as it is a mature market with strong competition and consequently lower profit margins.
In particular, the company has suffered from the technological challenge of fiber and the political hesitation to create a unified fiber network.
Looking at the price with this new focus, it does not really seem strange.
No, Telecom Italia is not a hidden gem.
My only point is that Telecom Italia could also be undervalued, but that's just irrelevant since it's been in the same situation for at least ten years, a period in which it has created no value.
Where do we go from here?
The current management seems very determined and well-focused on creating value for this company.
It is aware that the core business is declining, but there are some new trends in the industry that offer some very good opportunities to grow again.
In the Q2 2021 Earnings call the management illustrated some major opportunities.
Noovle the cloud company is expected to reach 1 billion in revenue by 2024 and is benefiting from growth in the cloud sector.
Sparkle owns and manages a global and technologically advanced proprietary network of over 600,000 km of fiber optic cables in Europe, the Mediterranean and the Americas as well as extensive interests in major international submarine cables. The company is experiencing double-digit growth and is recognized as a global leader.
TIM Vision is growing in on-demand services offering soccer and the richest platform TV in Italy, thanks to an agreement with DAZN and packages bundling Netflix, Disney Plus and other premium content providers. This area is expected to grow and contribute positively to EBITDA.
Much of the opportunity for this company is related to the EU Recovery Fund.
Telecoms will receive EUR 3,9 billion for fiber rollout in gray areas, EUR 2 billion for 5G, EUR 0,4 billion for school connectivity.
As the market leader, Telecom Italia is entitled to a large part of these funds.
Conclusion
In a world that is highly reliant on connectivity, data, and speed, Telecom Italia is well-positioned to retain its role in the domestic market and perhaps play a global role.
The company needs support, a clear vision and substantial investment to innovate and keep pace with the competition.
The current valuation is on the low end, but I see no particular reason why the share price should rise without an improvement in fundamentals or a relevant change.
On the other hand, I do not think there is any reason why the stock price should fall again either, and I would consider any further decline as a reason to buy and hold.
A return to growth, an agreement with Open Fiber to create a Single Fiber network, and a merger and acquisition operation could instead create new opportunities for the stock to rise.
In conclusion, I do not see much opportunity in the short term, but I think competent management and a stable political situation could lead to real value being extracted from this company's assets and the stock going higher.