My opinion that this is right moment to get LONG NATURAL GAS exposure for next few weeks, price is 3.430 on the September futures.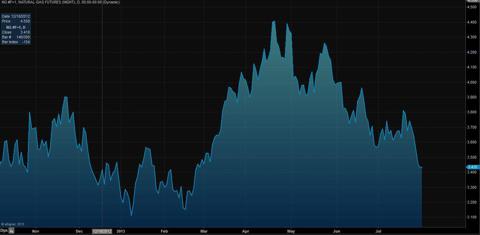 The patterns was got from Thursday's "Weekly Natural Gas Storage Report" (http://ir.eia.gov/ngs/ngs.html) and Friday's 3.30 COT reports confirmed the sentiment of the market.(www.cftc.gov/MarketReports/files/dea/his...)
Then strategy waited for right place to enter based on the volatility and price forces(quantitative pattern).
This is my MBA research and I'll need some kind of track record. I did trade with futures.
But for the people who are not able to trade futures, can do this with UNL - 16.87, UNG - 18.22, GASL -25.1, NAGS-10.95.
Average trade can hold for few weeks.
I started portfolio on the marketocrasy.com with this strategy and will try to replicate my trades there with ETF's for tracking in live the performance of the model.
I do not recommend to follow me, because the model was not traded live and was only back tested/calibrated.
This is the first money I put in risk for this strategy.
I will write the details of the factors I took in the model in next post.
Disclosure: I am long UNG.