The price of natural gas is 3.655 on the December 2014 futures contract
http://www.cmegroup.com/trading/energy/natural-gas/natural-gas.html
The UNG ETF is already rolled in next month, and current price is 19.01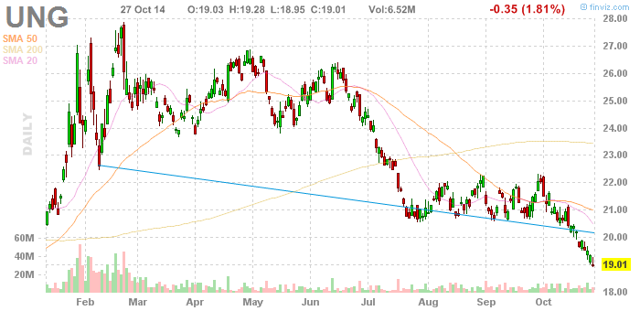 The position in model portfolio was initiated at price average 20.15 usd per share and now portfolio is loosing value, sometimes this happens.
But after receiving new data from CFTC (Commitments of Traders) http://www.cftc.gov/MarketReports/CommitmentsofTraders/index.htm
and add as new inputs in the model with other non financial market data got the confirmation that the direction LONG EXPOSURE to the price of natural-gas is still actual.
And will hold up to the 3rd week of November, or close after taking targets above 4.0 U.S. dollars and cents per mmBtu.
The weather are still quite good and expect that the demand will increase sharply is not reasonable.
That's why the price rising can start next week only. When cold weather will increase demand.
Disclosure: The author is long UNG.