If there is one thing certain in this market, it would be expect uncertainty. The broad market is currently facing a major inflection point. What happens over the next 5 to 10 trading days has the potential to shape the overall market sentiment through elections later this year. The DOW Jones has bounced off of support around 12,700 and once again is above the 13,000 level. Today was a consolidation day as the market attempted to catch its breath before pushing towards 13,300. If the DOW Jones once again fails to break this level, we will likely begin a down trend lasting through elections.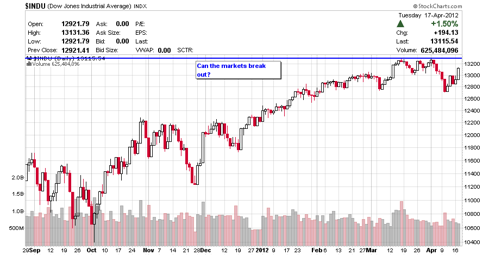 So how am I trading the uncertainty? Easy, I do not try to "guess" where the markets will go. Instead, I rely on emotionless statistical analysis of S&P 500 stocks. I match stocks against statistical models which generates a quantifiable expectancy over the next 5 trading sessions. Using this data I try to enter a balance of long and short positions to reduce my dependency on the broad market.
Recently on my blog www.mystockanalysis.com I posted 3 long signals and 10 short signals. Although I try to enter the same number of long and short positions, on any given day there is a slight bias one way or the other. Among the long signals that were generated were (FAST) and (NTAP). Both of these stocks have a positive expectancy over +3% within the next 5 trading sessions. On the short side I like (MDT) and (MU). MDT has a -3.3% expectancy while MU has a -1.3%. I took positions in all 4 of these stocks over the past 2 days.
Of the stocks listed has the highest 5 day expectancy checking in at +5.5%. A quick glance at the chart shows that the stock been in a very powerful up trend until recently. The biggest concern is whether or not this is a pull back, or the start of a new trend. In these situations I allow the historical results to dictate rolling the dice. By removing the human element, I know the analysis will be wrong sometimes, but right more often than not.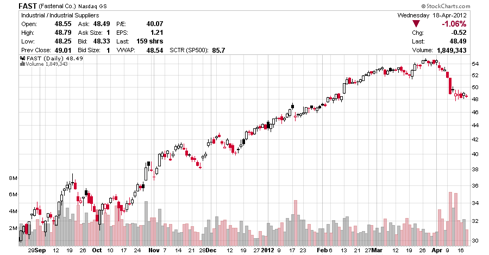 While statistical analysis of a stock may indicate a positive expectancy, I must also look at the companies upcoming events. A earnings release for example can render my statistical models useless. Of the 4 stocks mentioned, none are expected to release earnings during my 5 day holding period.
By only entering stocks that have a statistical advantage and aiming to keep my overall portfolio balanced between long and short positions, I do not need to guess where the market is headed next. However, likely wherever the market goes from here will have far reaching consequences for the remainder of the year.
Disclosure: I am long NTAP, FAST.
Additional disclosure: I am also short MU, MDT