(Editors' Note: Granite Oil trades on the Toronto Stock Exchange under the ticker symbol GXO.TO, with ~$CAD 1.1M average daily volume over the last month).
Introduction
This analysis recommends the purchase of an oil and gas stock in the middle of a massive commodity price downturn. This is not a shale oil company. This is a conventional oil company running a low decline, EOR scheme.
Granite Oil (OTCQX:GXOCF) is a Canadian junior oil company that can maintain its 6% dividend, moderate growth, and low debt profile without any recovery in commodity prices. In a commodity price recovery scenario, this stock has large, meaningful upside. The stock represents one of the best bargains that I am aware of.
In this oil price environment, oil and gas stocks seem very risky. First, consider that Granite Oil released strong earnings on August 14, 2015, and increased its dividend by 8%. Shares of the company responded with a 17% price increase on the earnings release, and have since improved that gain to 38%. This gain was achieved while the price of WTI crude oil increased 5% over the same period. On August 28 NYMEX strip pricing, I estimate this company's debt/cash flow ratio will never exceed 0.6x through the end of 2017.
In this analysis, I calculate Granite Oil's anticipated performance in three commodity price scenarios. I provide estimates for 2015 through 2017, and will mathematically demonstrate why I believe that Granite Oil is a strong buy, despite the current commodity price environment.
The Downside Scenario
Normally, I would begin by talking about the business. Since this is an oil and gas stock in an atrocious commodity price environment, I will begin with the downside. If NYMEX WTI crude oil prices remain at $50/Bbl through 2017, this is what is likely on the horizon for Granite Oil: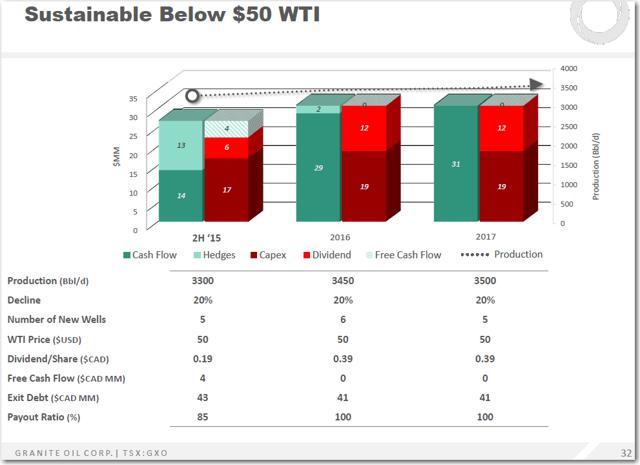 Source: Granite Oil August 14, 2015 Investor Presentation
This slide is dated with WTI at $50/Bbl, and I'll provide an update on it. The primary thing to note here, besides the fact that the dividend remains intact, is the debt level. At $50 WTI from here to the end of 2017, this company doesn't add any debt. Rather, production will increase modestly, debt does not increase, and investors receive stable income of 39 cents per share. At the current share price of $6.50, that works out to a 6% sustainable yield with WTI flat at $50.
I asked Granite Oil a few questions about the inputs to this slide so that I could modify the inputs. I was able to get extremely close to the numbers on that slide. Notably, Granite Oil has been able to decrease per well costs from $2.8 million to $2.1 million, but that $700k per well benefit is not reflected on the above slide, and is a major difference.
Below I show my version of that slide redone with three changes. I assumed a WTI average price of $35 in H2 2015, $40/Bbl in 2016, $45/Bbl in 2017, gave Granite the $700k per drilled well cost savings, and used the Q2 Net Debt of current assets - current liabilities - long-term debt = $35,286,000 as the debt starting point.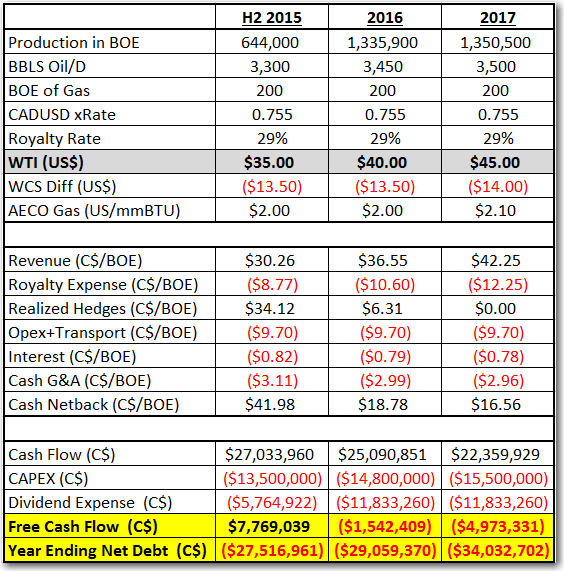 Source: Author's work
I consider this the absolute worst-case scenario. Even in that case, the company maintains the dividend, and its debt level goes from -$35.3 million in Q2 2015 down to -$34 million at the end of 2017. Granite Oil's debt decreases in that commodity price scenario.
The takeaway is that you can comfortably hold this stock, and you will receive a sustainable 6% dividend per year even if the price of oil experiences increased downward pressure.
The NYMEX Strip Scenario
If the August 28 NYMEX strip plays out perfectly, this is my estimate for Granite Oil: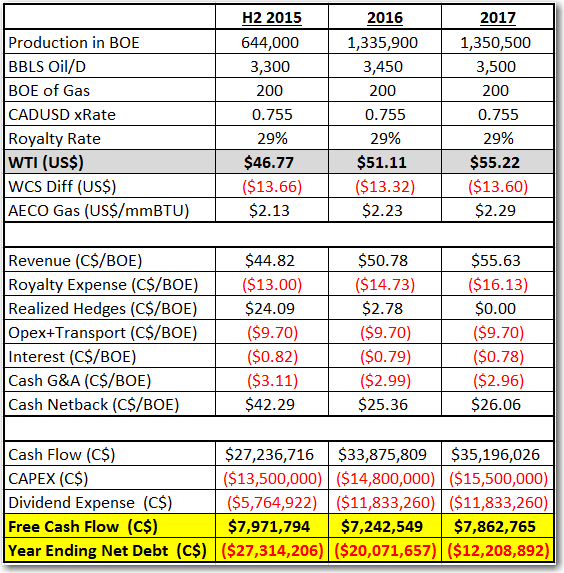 Source: Author's work
In the event that there is no commodity price recovery, and the NYMEX strip plays out perfectly, the company's debt/cash flow should hit a high of ~0.59x in 2016, and finish 2017 at ~0.35x. This is an E&P that can end 2017 at less than 1x debt/cash flow on the existing NYMEX strip, while maintaining a strong dividend yield. Note that this company has meaningful positive free cash flow every year on the existing NYMEX strip. Also note that these numbers could be better if Granite decides to use more of that FCF to drill wells.
The Upside
In a modest commodity price recovery scenario, ~7% increase over current strip pricing, this stock should be surging to the upside. Assume H2 2015 WTI at $45/Bbl, 2016 WTI at $55/Bbl, and 2017 WTI at $60/Bbl: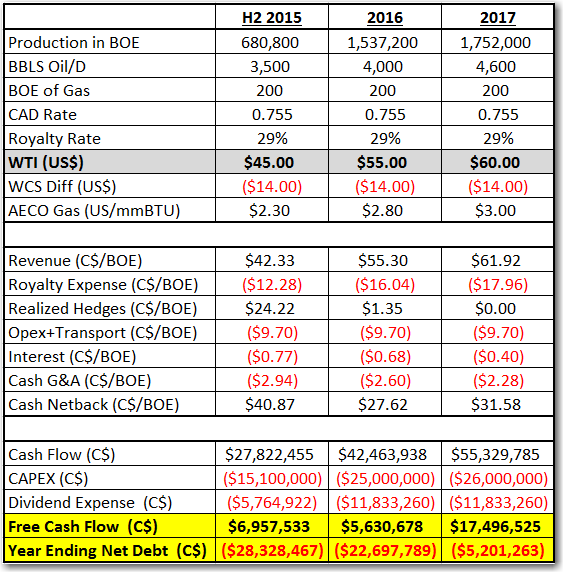 Source: Author's work
If commodity prices improve just ~10% over existing strip pricing, which is where they were about 3 weeks ago, Granite Oil's share price will see meaningful appreciation.
Consider that by 2017, under this scenario, Granite's debt will be near zero, and 2017 cash flow will be up around ~C$55 million. Using a very conservative 6x cash flow, which is a low multiplier for a company with a sustainable 6% yield and barely any debt that results in a share price of $10.59 vs. the current price of $6.50. In other words, this stock has 64% price appreciation upside using a low multiplier, and the investor can earn a sustainable 6% yield while waiting for the appreciation.
Because I view the modest price recovery scenario as the most realistic of these three scenarios, I believe that Granite Oil should reach 7x cash flow by 2017, or a price per share of C$12.39. Including the 91 cents in dividends collectable by the end of 2017, that represents 106% total upside with a reasonable multiplier and a very modest commodity price recovery.
Analyst Opinion
12 out of 12 professional analysts recommend buying Granite Oil. Of those 12 analysts, 10 have rated the stock since the August 13 earnings. Every analyst rates Granite Oil a buy, and the mean 12-month price target is C$9.50, which represents a 46% price appreciation 12-month upside. Add the 6% yield and that number is 52%.
Granite Oil released an incredibly impressive announcement on August 24th, and the 7 analysts that have rated Granite Oil since then have an average price target of $10, or 60% 12-month upside, including the dividend. Again, all analysts rate the stock a buy.
The Business
Granite Oil came into existence in May 2015 when DeeThree Exploration split into two companies. DeeThree was the third company run by Martin Cheyne. Cheyne started Dual Exploration and Devlan Exploration from scratch, grew them, and then sold them. DeeThree was the third iteration of an excellent business model. DeeThree owned two assets with very different profiles. In May 2015, DeeThree split into two companies, one being Granite Oil, to provide investors with two pure plays. DeeThree was an excellent company that consistently increased funds from operations without diluting shareholders or incurring significant debt:

Source: DeeThree Exploration 2014 Annual Report
Like DeeThree Exploration, Granite Oil is also a high quality company that can deliver strong returns to investors, without dilution or loads of debt. Look at the increase in funds flow per share which was combined with a falling debt/funds flow ratio, and increased netbacks and efficiencies.
A major selling point for this company is that it has tremendous control over its asset: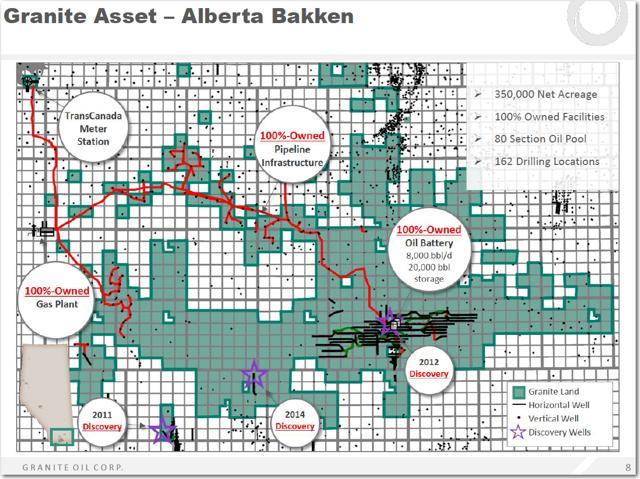 Source: Granite Oil August 14, 2015 Investor Presentation
The company owns a massive, 30-mile long, 350k net acre, contiguous block of acreage over a low decline, conventional oil pool, with an EOR scheme. Additionally, Granite controls a processing battery, a gas plant, storage, a pipeline, and is right next to a Plains All American pipeline with ample takeaway capacity. The company can sell to the pipeline at WCS + $2, but is not required to use the Plains pipeline when WCS spreads increase. Granite has the ability to rail its crude and achieve MSW - a transport diff, which is something the company has done in the past. The company is 100% owned and operated, and possesses complete control over drilling and operations. If market prices get severely depressed, the company can slow drilling without issue. With regard to setting up operations, most of the heavy lifting is done.
The quality I like best about this company is that it is completely focused on returns. The gas from production on their land has a high CO2 content, which gives it a low sales price, but makes it perfect for reinjection into the reservoir for enhanced oil recovery, EOR: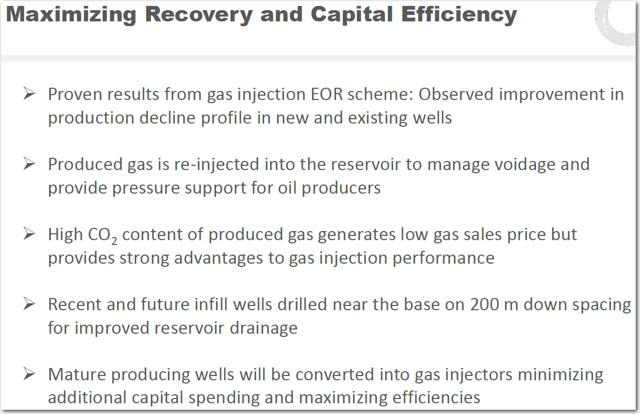 Source: Granite Oil August 14, 2015 Investor Presentation
As you can see from the following slide, Granite Oil's gas reinjection process has almost completely flattened the decline curve: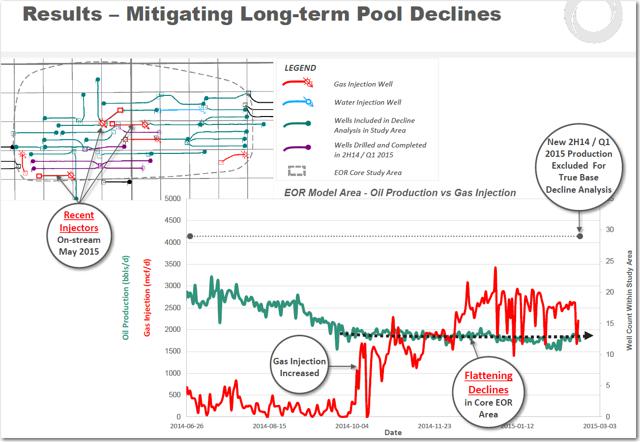 Source: Granite Oil August 14, 2015 Investor Presentation
The company estimates the long run corporate decline at 20-22%. Because of this extremely low decline, Granite Oil is free cash flow positive, even in an extremely low commodity price environment. In addition to the company's wholly owned infrastructural advantage, it is also in possession of multiple long-term organic sources of gas injection supply: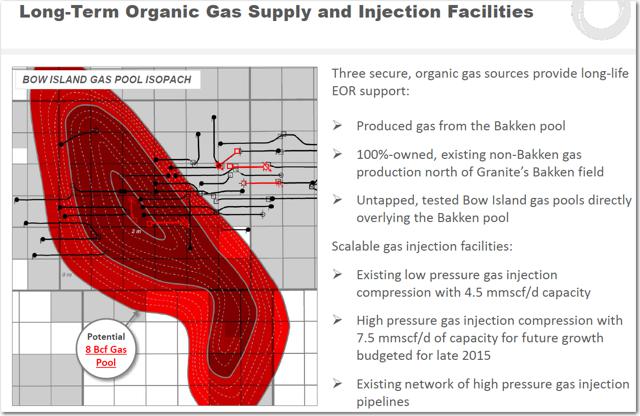 Source: Granite Oil August 14, 2015 Investor Presentation
20 other EOR schemes exactly like this one have been successfully developed in Alberta, and the average total recovery was 25% of the OOIP. All of Granite's data to date suggests that its EOR method is going to be ideal for this pool. This is an undersaturated reservoir. The Swanson River oil pool is a near perfect comparison to Granite's asset. The SR project was about the same size, and also undersaturated, and did this: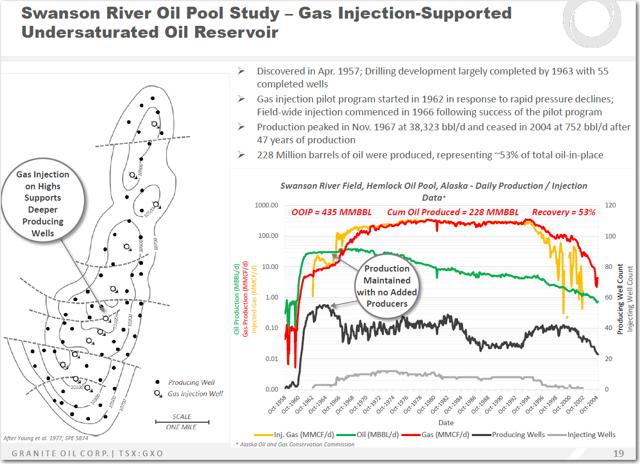 Source: Granite Oil August 14, 2015 Investor Presentation
Perhaps most impressive of all are the well economics from these wells. Perhaps readers will remember articles I wrote about Diamondback Energy (NASDAQ:FANG) and RSP Permian (NYSE:RSPP). RSP Permian currently trades at a jaw dropping 19.3x estimated 2016 discretionary cash flow against the August 28 NYMEX strip. Diamondback Energy is not far off. In those articles, the largest selling point of each stock was that they were able to generate 60% ROR with WTI crude oil at $60/Bbl. Noting that, consider the following slide: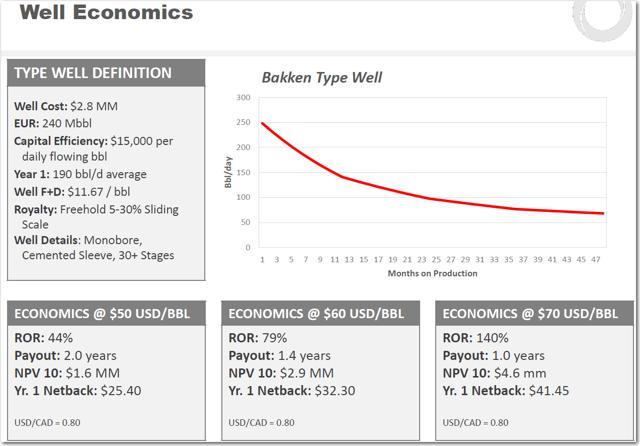 Source: Granite Oil August 14, 2015 Investor Presentation
Granite Oil generates 79% ROR with WTI at $60/Bbl, yet it trades a bit above 6x estimated 2016 discretionary cash flow. What is more impressive is that Granite Oil has achieved 25% well cost reductions, meaning that wells cost $2.1 million per well, not $2.8 million per well shown above. Because of the 25% reduction in well cost, this means that Granite Oil's wells are far more economic than the figures on the slide above. You can likely subtract $10/Bbl from the economic headers above so that 44% ROR is now achievable at $40/Bbl.
If you have been paying attention to share issuances of RSP Permian, Diamondback Energy, Laredo Petroleum (NYSE:LPI), Callon Petroleum (NYSE:CPE), etc, investors have very recently paid frothy multiples for shares of these companies because they can drill 60% ROR wells at $60/Bbl WTI crude oil. Granite Oil delivers superior returns per well, but trades at 6.3x 2016E cash flow on strip pricing. Furthermore, Granite Oil's debt/cash flow is far lower than any of the aforementioned stocks, and is the only company that I estimate to be free cash flow positive through 2017 on the existing NYMEX strip pricing, and the only one not issuing shares constantly. Finally, it's the only one paying a dividend, and a 6% yield at that.
Recent Insider Purchases
Basic insider ownership of Granite Oil is 24%, which is relatively high. Most telling is recent insider behavior. Since June 1, 2015, insiders bought 7% of the outstanding shares of the company. That is a staggering figure in that short of a time period. There were zero sales, during that time frame, and the purchases continued through August. The weighted average purchase price of the shares during that period was US$5.01, or 2% higher than yesterday's close price.
When considering investing in an oil and gas play, it helps to see strong insider purchases for the most recent few months. Notably, Jonathan Fleming, Granite's Executive VP and a former oil and gas equity analyst for 10 years, bought C$66,000 of stock on three separate occasions over the past three months. He's an oil and gas investment specialist with a unique, insider's knowledge of this company. He, and many others are buying shares.
Liquidity
Granite Oil had Q2 net debt made up of current assets - current liabilities - long-term debt = C$24,387 - C$59,673 - C$0 = -C$35,286.
The company has liquidity from a revolving demand credit facility with a borrowing base of C$115 million and as of Q2 2015, Granite had C$28.2 drawn against this facility. The borrowing base at the facility is reviewed semi-annually and the next review will take place on October 31, 2015. Interest is charged at Canadian prime + 0.5-2.5%, depending on the company's debt/cash flow.
As of Q2 2015, Granite Oil has 25% utilization at its credit facility, C$86.8 million in visible liquidity, and a debt/2015E cash flow ratio on the existing NYMEX strip of 0.5. Furthermore, I forecast this company to be free cash flow positive on the current strip for at least the next 2.5 years. I cannot see any liquidity event on the horizon. In my worst-case scenario, where WTI averages $35/Bbl in H2 2015, $40/Bbl in 2016, and $45/Bbl in 2017, I forecast Granite Oil as free cash flow positive +C$1.2 million through that entire period. I view this company's dividend as rock solid, with a very real chance of increasing again in 2016.
Reasons for Mispricing
1. Granite Oil is a new company with a new story. Granite's predecessor, DeeThree Exploration, was an excellent company. However, the investing thesis for Granite Oil is different than it was for DeeThree. Granite must prove that it can operate as a standalone company in the Alberta Bakken. Its EOR focus is relatively new, and investors prior to the Q2 report, largely took a wait and see stance.
2. The entire Canadian oil patch has been decimated, particularly in the small cap space. Here is a good SA article written by Oil and Gas Investments Bulletin about the perfect storm that hit the Canadian Oil patch. I recommended buying Granite Oil via stocktalk on Seeking Alpha 1 month ago when Granite Oil traded at C$4.30. The only response I got was this:
"ValueMan if you double the provincial tax rate do your numbers still pan out? The newly elected Socialist Gov't has plans to increase taxes."
Notice that the comment refers to the newly elected government as socialist, and I didn't get any positive comments about Granite Oil. Typical. The new government is a common fear among people considering investing in the Canadian oil patch.
3. Oil companies, especially small cap oil producers, across the board have been experiencing pressure on their netback, and cash flows. Many companies will go bankrupt during this down cycle. Small oil companies, good and bad, are being sold or avoided.
Catalysts for share price increase
1. Granite Oil's Q2 report signaled to the market that this company is very healthy. Consider first that the company just raised the dividend by 8%. Next, consider what Granite Oil has done relative to the price of crude oil since the Q2 report came out. The market reacted with a 17% share price gain the day of the earnings report, and has since built on that gain: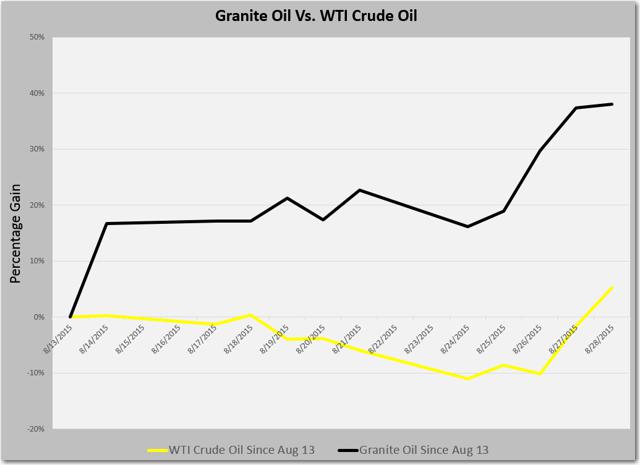 Source: Author's work
Before saying that I should have recommended this stock sooner, please remember that I did recommend it via stock talk on July 27, which is now 51% ago. There was another major positive announcement on August 24 that the market clearly loves.
2. My largest concern with this company, prior to the Q2 earnings and updated investor presentation, was how its EOR scheme would perform. Results have come in even better than expected, and it's now pretty clear that Granite Oil can potentially do even better than a 20% decline rate.
3. Well economics were another concern that has now totally vanished with the August 24 report. Granite Oil's well costs are down to C$2.1 million per well, and falling, and the most recent well flow tested at average of approximately 1,200 Bbl/d of 31° API oil and 600 mscf/d of solution gas over the course of a four-day production test. That is a jaw-dropping rate for a C$2.1 million well. Investors in companies like RSP Permian are paying 19.3x 2016E cash flow using strip pricing because that company can get 60% return on $60/Bbl WTI. Granite oil trades at 6.3x 2016E cash flow using strip pricing, with better returns, positive free cash flow, lower debt, and no share sales. It seems clear with the recent share price performance that the market is waking up to this fact. A company of this caliber should be at 8-10x cash flow.
4. The market doesn't fully understand that this company is both well hedged, and has tax pools: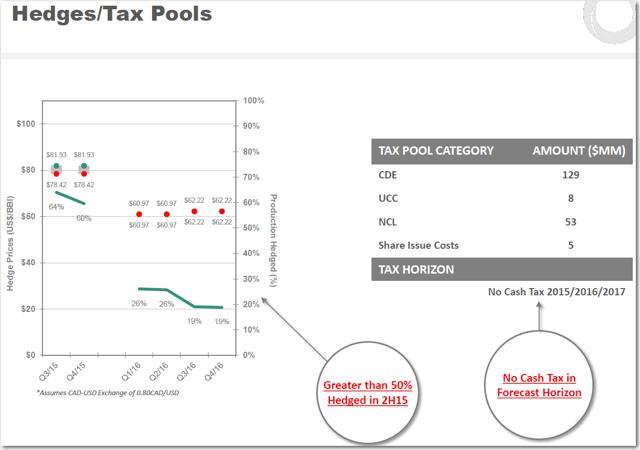 Source: Granite Oil August 14, 2015 Investor Presentation
Note that the 2015 production is 60-64% hedged at far higher prices. The massive commodity price pressure taking place in 2015 will not have a large effect on this company. Additionally, the company's tax pools will yield no cash taxes through at least 2017, which decreases the importance of governmental tax increases on this particular company. Yes, they still matter, just less so in this case.
5. Another fear the market has about the governmental change is a raise in the royalty rate on producers. 80% of Granite Oil's royalty charges are fixed due to their arrangement with PrairieSky Royalty LTD. You'll notice that I used a 29% royalty for all of my calculations, and that number shouldn't increase much, if any, above that figure. The main threats from the governmental change will have little impact on this producer. As results continue to come out from this company, the market will absorb that information.
6. A commodity price increase of as low as 7% should send shares of this stock soaring. Anything higher than that would be gravy.
Risks
Risks to the company include, but are not limited to, commodity price volatility, operational risk, industry risk, loss of key employees, drilling success, tax increases, government regulations, legislation, royalty changes, weather, unforeseen costs, access to capital, interest rate risk, currency risk, and product obsolescence. Since Granite Oil is an oil & gas producer, you must understand and be comfortable with these risks prior to investing. Additionally, the company's investor presentation materials have forward-looking statements. You must understand that actual results can differ materially from the forecasts. Please take a look at the company's disclosure materials for a more complete list of risks. Finally, the primary exchange for Granite Oil is the Toronto Stock Exchange in Canada, so there is FX risk. The CAD/USD is already the lowest in over a decade, but it could fall further.
Conclusion
Granite Oil is my top long-term pick of any oil and gas producer in any country. Here are the reasons that I am long Granite Oil:
Granite Oil just increased its dividend on August 14 by 8% to 39 cents per share annually.
This is a conventional oil, EOR scheme that is fully sustainable at $40/Bbl WTI.
In my worst-case scenario for oil prices through 2017, I forecast Granite Oil to be free cash flow positive +$1.2 million after paying its dividend. I believe that dividend is rock solid.
Granite Oil had decreased well costs to C$2.1 million per well, from C$2.8 million per well, and forecasts even lower future well costs. This company had a 44% ROR per well with WTI at $50/Bbl using the C$2.8 million figure. That means ROR with WTI at $40/Bbl is around 40%+ under the new cost structure. The most recent well drilled for C$2.1 million flow tested for 4 days at 1,200 Bbl/d of 31° API oil. Exceptional.
The Granite Oil asset, per Sproule in 2013, has 480 million BOE in place. Granite has delineated past that figure, and less than 1% of the barrels in place have been recovered, and less than 3% booked. The majority of the oil reserve is conventional, with many of their wells testing over 1,000 Bbls/d. The asset is in the early stages of development with a highly effective EOR scheme in place. The corporate production decline rate is estimated at around 20% annually.
If commodity prices increase 7% over the existing NYMEX strip pricing, I estimate that Granite Oil will trade 91% higher at 7x cash flow by 2017. Including the 91 cents of collectable dividends, that comes to a 106% total return.
If the August 28 NYMEX strip pricing plays out, I estimate that Granite Oil will be FCF positive every year through the end of 2017 for a total of +C$23 million in positive FCF over that period. The debt/cash flow never exceeds 0.6x in any year.
This company has tax pools and will pay no cash taxes through the end of 2017. Also, 80% of their royalty scheme is fixed through Prairie Sky. Therefore, recent changes in Canadian government policy will have a low impact on this producer.
Granite has 60-64% of production hedged at high prices for 2015. A bit over 20% is hedged for 2016, but the company has proven good cash flow management via hedges. Look for management to add hedges and lock up returns in a commodity price increase scenario.
The viability of Granite's EOR scheme was a large concern, and that is quickly dissolving. The company has proven the ability to maintain reservoir pressure, and dramatically slow the decline rate.
Granite owns 100% of its infrastructure, and thoroughly controls its asset. The company has long-term organic gas supply available for years to come.
The Granite Oil asset is directly analogous to the Swanson River oil pool, which produced 53% of the oil in place over 47 years. I view Granite as a very early phase Swanson River project, which means this company is worth many multiples of the current trading price over time. I'll enjoy a stable dividend while I wait.
12 of 12 professional analysts have a buy rating on this stock. 7 analysts rated the stock after the August 24 announcement, and the average 12-month price target is $10. With the dividend that represents 60% 12-month upside.
I intend to own this stock for years. If you are considering an investment, here is a link to a webcast of Granite Oil's CEO and VP of Exploration at the Enercom conference in Denver on August 19, 2015. I urge you to watch that to get a strong feel for the asset. I would download the investor presentation as well to get a good feel for the future of this company. Once you have a good understanding of how valuable Granite's main asset is, and note that the dividend is fully sustainable, I believe that you will consider owning this company for years as well.
If you peruse Granite Oil's website, you will notice a lot of links. I recommend inspecting those links, as they are all very informative. Please note that the investor presentation, and those links have numbers based on Granite's budgeted C$2.8 million per well, not the realized C$2.1 million per well. It makes a big difference in the returns.
Why do I own Granite Oil? I can earn 6% per year by holding a company that I view as low risk while I wait for meaningful price appreciation with or without a commodity price increase. Because of the sheer magnitude of its asset, and economics deliverable by that asset, I believe this company will trade many times higher over the course of the next several years.
Enercom Denver Webcast from August 19, 2015
Disclosure: I am/we are long GXOCF.
I wrote this article myself, and it expresses my own opinions. I am not receiving compensation for it (other than from Seeking Alpha). I have no business relationship with any company whose stock is mentioned in this article.
Additional disclosure: I am not a registered investment advisor and this is not a formal investment recommendation. I am not telling you to go buy or sell this stock. I'm telling you that I recommend that you research the stock to see if it is a good fit in a well-diversified portfolio. I recommend that you do as much research as possible on every stock you purchase or sell prior to any action. I recommend that you consult your investment advisor or broker prior to any action. I am not liable for any transactions you make after reading this article. Do your own due diligence prior to making any investment decision. Additionally, I invest with a 12 month or longer time horizon. If your time horizon is shorter, you may consider other investments. This article includes forward-looking statements and the investment is subject to uncertainty. This author explicitly disclaims any liability that may arise from this article, and all commentary in the chat area after the article.