Full disclosure, I've never bought Apple, as a matter of fact I have primarily been a Warren Buffett type of investor for my whole career. I have shied away from most anything technology related. It's not that I am completely non-technologically savvy, just that I've never really tried to understand their balance sheets nor really read their annual reports. I will admit I did buy Facebook on their IPO at $38 a share, and then watched it drop to around $16 a share, held through the trough and got out around $42. Yes, I am aware of what the current stock price is and recognize that I completely missed the boat on that investment, which also likely plays into my nervousness around the Technology sector. I did mention to my wife in the summer of 2016, I don't have this recorded anywhere so it can't be proven, that I like Apple at $90 a share but I'm afraid to buy it because I don't know what will be the catalyst to drive the stock price higher. Again, I missed the boat so now I am going to do a full review to see where I think Apple is headed in the next year.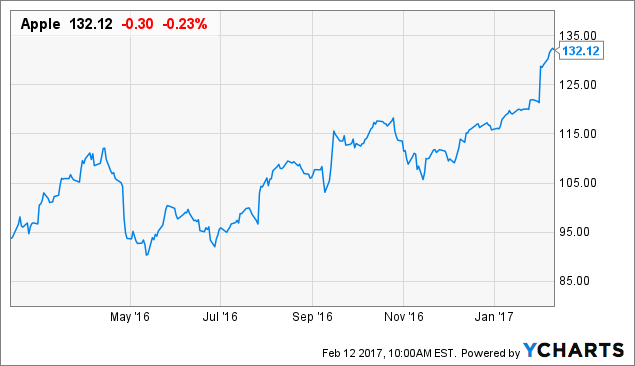 Let's start by looking at Apple's financial ratios. Their Debt-to-Equity ratio is the highest of their industry segment at .60. That doesn't particularly scare me as they brought in about $27 billion dollars in cash in the last quarter, according to their SEC filings. $27 billion in cash generation puts them at a run rate of about 18 months to generate enough cash to equate their total debt load.
They are currently trading at 15.42 times their earnings. This is actually a little bit expensive for Apple historically. Their 5 year average P/E ratio is 13.45 and the 10 year average P/E ratio is 15.46. These indicate to me that the stock is pretty fairly valued right now. Their current annual earnings (backing out the first quarter of last year and adding in the most recent quarter) is $8.43 per share. We're primarily interested in seeing where the stock will be in a year, so with a projected growth in earnings of 13% over the next year that would put earnings per share at $9.53. If we use their historic average P/E ratios that puts the stock price between $128.18 and $147.33. They did ramp up their Research & Development cost, so that is potentially a bright spot for the company going forward. Along with that ramp in research and development, their earnings over the last quarter only grew due to the fact that there so many fewer shares of stock outstanding due to their share repurchase program.
Let's dig into their share repurchase program next. In the last quarter they bought back $10.85 billion dollars worth of their stock. $5 billion dollars worth of their repurchases were done in the open market at an average price of $112.78. That should give us some additional insight as to what the directors feel the company should be valued at and give us somewhat of a faux floor under the stock price. That is approximately 12.6% below the current stock price. They also have another program together where they are doing "Accelerated Share Repurchases" where they work with a financial institution and have an agreement on the amount of stock they will buy back from that institution. There is still an outstanding $6 billion dollars sitting out there to purchase at the end of February. Their total outstanding repurchase agreement has the authority to purchase an additional $31 billion dollars worth of the company stock. That consists of about another 275 million shares, which if they are all purchased would boost the stock value by about 5.22%. Using the P/E ratios we figured in the last paragraph, if you increase the stock price by the 5.22% that could come from the repurchase you'd have the stock price between $134.87 and $155.02.
I also am a fan of the fact that they are continuing to improve and increase their dividend. A really interesting fact about their dividend, is that they are able to borrow commercial paper at well under 1% in order to fund growth as well as pay dividends if they need the cash for the dividend payment. At 1.77% currently, the dividend is not huge but they generate free cash flow of $7.63 a year so a $2.28 yearly dividend is not difficult at all for them to continue to pay. Also, of great importance to the dividend consideration is the fact that they are buying back large portions of the company, so that doesn't show as free cash flow but they could always slow down the repurchase if they need to do that in order to keep the dividend strong. Also, within the last year they have raised their dividend by just under 10% from .52 a quarter to .57 a quarter. That is an excellent way for an investor to continue to compound their wealth through a stock investment. Dividend growth may be better for the long term investor than actual stock price appreciation.
I did notice a few things that are of significant concern in their most recent quarterly report. The first one is that the company actually lost sales in China. Their China sales were down 12% from the year prior. All of the other areas where they track sales did see an increase year over year, but with China being one of the fastest growing and the second largest economy of a country that is of some concern. Apple sales indicates China as their third largest economy behind the Americas and Europe. The other portion of their sales that concerns me has a bright spot within it as well. Apple saw a 5% increase in their Iphone sales due to the 7 being introduced. I am concerned though that 69% of their sales comes from the Iphone, so essentially they are a smart phone company right now. There was another great bright spot in the sales and that is an 18% increase in the sales within their services segment. They are slowly transitioning from a hardware company to a software and service company, which improves their ability to obtain recurring monthly income over just selling a product that will last for a couple of years.
I am targeting a price of approximately $148 for the stock by this time next year. When completing fundamental analysis and review of the annual reports, I don't like to buy stock in a company unless I can foresee approximately a 20% increase over the next 12 months. In order to obtain a 20% increase based on my $148 target, I would only be willing to buy the stock up to $125.23. Therefore, if we see a 5-6% pullback of the stock I would be interested in buying at that time. I always put a stop loss on any stock I purchase, with Apple I would put a 25% stop loss in place. Then we'll continue to revise our number as we're presented additional information throughout the year.
Disclosure: I/we have no positions in any stocks mentioned, and no plans to initiate any positions within the next 72 hours.