The biggest financial topic of 2017 was undoubtedly bitcoin and cryptocurrency mania. Unfortunately, investing in these can be tricky and requires a tough stomach as prices can swing wildly. In fact, bitcoin has fallen 14% in the last two days due to news South Korea is eying regulation that would prohibit anonymous trading and could give authorities power to shut down exchanges. This comes less than a month after $70 million in bitcoin was hacked from a South Korean exchange (hackers from their Northern neighbor are credited with the heist). The recent volatility and loss of momentum has only adding to the list of crypto-doubters. The truth is, nobody knows what's in store for cryptocurrencies but there is no doubt about the potential of blockchain, the underlying technology, and 2018 could be the year commercial applications take shape.
 A blockchain is a publicly distributed ledger replicated across a network of computers, rather than a single server. This allows all users to view a detail of transactions, increasing transparency, and process transactions between parties without unnecessary middlemen, decreasing cost. The ledger replicates across the network in real-time and makes it hard to change historical records. As you can imagine, the uses for such a network are immense and we are starting to see commercial applications take shape.
Unfortunately, some market leaders devoted purely to blockchain technology are private companies that retail investors can't yet access. Their recent achievements are worth discussion to understand the technology's applications and what the future might hold.  
The Blockchain Trust Accelerator, a nonprofit focused on applying blockchain for global good, and BitFury, a private blockchain consultant, developed a land title system for the Republic of Georgia. This historically corrupt nation has moved 200,000 titles to the new system and is working to build a more transparent government. One of the most promising blockchain applications is in titling and this project provides a real-life glimpse.
Axoni, another blockchain startup, worked with Goldman Sachs and JP Morgan to test a swap contract tracking system over six months. The system was able to track every transaction, including all transfers, dividends, splits, terminations, and amendments with a 100% success rate. The R3 consortium, a group of 11 international banks, is developing a private distributed ledger platform called Corda that allows banks to record and see underlying contract terms in real time. Lastly, Symbiont (a subsidiary of Overstock.com's Mercini Ventures) lobbied Delaware lawmakers to allow companies to use blockchain for share-tracking and wants to be the first to implement such a system. As you can see, financial service companies are salivating over the potential and are starting to make real headway on blockchain projects.
I purposefully left one significant Fintech development out of the last paragraph that will start to build my case for an investment in Broadridge Financial Solutions (BR). Digital Assets (previously known as Digital Asset Holdings) worked with the Australian Securities Exchange to develop a distribution ledger that will be adopted (announced 12/7/17) as the exchange's primary system to record shareholdings and manage settling and clearing of equities.
Broadridge invested in Digital Assets in Jan-16 and has been aggressively working to implement blockchain technology into their services. In my view, Broadridge is in perfect position to leverage this relationship and employ blockchain technology to enhance products and improve efficiency. The partnership already yielded results, announcing successful completion of a pilot project leveraging blockchain technology to enhance operating efficiency and auditability of bilateral repurchase ("repo") agreements. This was completed in partnership with Natixis and Societe Generale and is another significant step in applying blockchain solutions across collateral management.
If you think Broadridge is a new company riding the hype of blockchain you're quite wrong. In fact, the company is has been around since 2007, when it spun off from ADP, and has amassed an impressive client list. The company specializes in investor communications services such as processing & distributing proxy materials and assisting with the voting process. They also provide systems that support real-time processing of security transactions. In 2016, the company processed over 80% of US outstanding share communications and 60% of US fixed income trades. They're the market leader, by a wide margin, in services that were almost tailor made for blockchain technology. In fact, they achieved proof of concept for blockchain proxy voting through a project with JP Morgan, Banco Santander, and Northern Trust in 2016.
Not to mention that fact they've increased their dividend payout every year since going public in 2007 and free cash flows equaled 106% adjusted net earnings for FY17.
Broadridge earns revenue through Investor Communication Solutions and Global Technology and Operations segments. Their sales consist of 91% recurring customers and they boast a 98% customer retention rate. This is an unbelievable clip for any company. Broadridge offers an opportunity that could weather a market correction because their sales are driven by transaction volume rather than stock market returns. The downside to their revenue scheme is that prices are set by the NYSE and SEC, and theoretically, rates could become lower and cause sales to fall. This is unlikely in the short term, as the last rate change was in Jan-14 and another rate change would take at least a couple of years to be cleared by authorities and enacted.
The company has a stable cost base comprised of employee and development costs that aren't greatly impacted by sales, meaning higher sales translate directly to bottom line earnings, as can be seen in the following graph. It should be noted the spike in revenue for the quarter ended Jun-17 and lower margins throughout FY17 represent the impact of their acquisition of North American Customer Communication ("NACC"), a business unit purchased from DST Systems in Jul-16. Margins have improved since the merger and management expects to improve operating margin by at least 50 basis points annually through FY20 as synergies are realized. Even further, I don't think it's unreasonable for the company to work its way back towards their pre-NACC acquisition gross margin above 30%.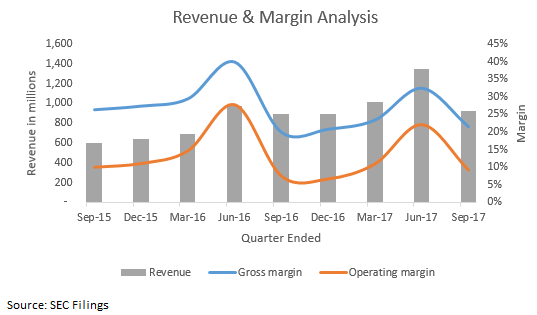 The stock price continues to rise and my biggest concern is the stock's high P/E ratio, which exceeds 30 times earnings in some quarters. However, this ratio has been sustained through FY16 and FY17 while the company continued to boost earnings and dividends. Meanwhile shares are up 75% since Jan-16.
Broadridge should be a beneficiary of the tax reform bill as their current effective tax rate is 34% and any movement towards 21% (although somewhere in the high 20%'s is most likely) will have direct impact on the bottom line, enhancing earnings roughly 5 cents per share for every 1% tax decrease. The stock is currently trading 90.88, and should easily break $100 in 2018 as they consolidate NACC and continue to grow revenues.
Broadridge has a strong management team, with many top executives tenured since before the ADP spin-off. This team has overseen stock appreciation and dividend growth every year since 2007 and I don't expect 2018 to be any different. The company has been aggressively entering foreign markets and looking at both organic and inorganic growth initiatives, all while improving margins. The incorporation of blockchain technology will only make margins wider and bring on new customers.
Disclosure: I/we have no positions in any stocks mentioned, and no plans to initiate any positions within the next 72 hours.