My last blog (Bring on the Robots) argues that the robotics revolution is upon us and its time to invest. This blog introduced investment options ROBO and BOTZ, two ETFs that are designed to track the robotics megatrend. ROBO tracks a portfolio of robotics and other industries impacted by robotics, while BOTZ is more concentrated in companies that build and market robots.
A third fund has emerged, established on February 21, that could be an effective alternative to the larger ETFs mentioned above. The First NASDAQ Artificial Intelligence and Robotics ETF (NASDAQ:ROBT) is designed to track performance of companies engaged in artificial intelligence and robotics of the technology through industrial and other economic sectors. It follows the NASDAQ CTA Artificial Intelligence & Robotics Index (NQROBO).
ROBT is a best-of-both-worlds for those interested in getting into the space. It provides more diversification across industries that benefit from robots, as opposed to just the companies that build robots. In this case, it is more like ROBO. However, ROBT has an expense ratio of 0.65% which is more like the cost of BOTZ (0.68%) than ROBO (0.95%). It's the diversification of ROBO at the price of BOTZ!
The ETF is still quite young and only has $3 million of net assets in its portfolio at time of writing. This compares to the $2.4 billion under management at ROBO and BOTZ. Smaller size isn't necessarily a bad thing right now since ROBT can be more flexible than its peers and performance of "winners" won't be as diluted. It's also the cheapest of the three funds, with a P/E ratio of 23.22 (ROBO = 23.69, BOTZ = 28.32).
The competitive advantage here may not even be the ETF, but its strategy to replicate the performance of the NQROBO index. The index was developed in conjunction with CTA, the Consumer Technology Association. This is a trade association that represents technology companies and produces the annual technology mega-show, CES. CTA represents technology companies on key legislative issues, sets industry standards, and produces market research that suggest they understand the industry and who is set to benefit. CTA constantly works with member companies to understand their business and ensure that the US continues to be an innovative economy that encourages investment.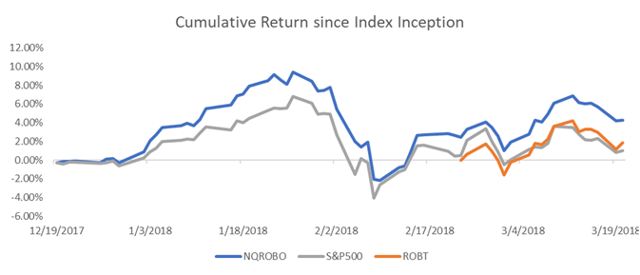 History is quite short for this ETF but performance of the NQROBO index gives me confidence that the ETF will follow. Since index inception on 12/21/17, it has outperformed the S&P 500 by 3.28%. With the continued support of CTA, this index and the related ETF may continue that performance.
Disclosure: I am/we are long ROBT, ROBO.