Since last November, China Shanghai A Share Index (SSEC) has staged a powerful rebound from around 1700 to a recent high of 2650, a 50%+ gain.  There are a couple of investment vehicles available to US investors to get exposure to SSEC, among them, Morgan Stanley China A Share Fund (NYSE:CAF) is one that dedicated to SSEC most, with 90% exposure to A Share stocks traded on Shanghai Exchange.
The CAF is a closed-end fund that invests in large cap, growth type companies, with 55% exposure to Services (among which, 34% was on Financials), and 45% to Manufacturing.  This asset allocation is on constant change, you may check the latest holding on morningstar.com.
Despite its 90% exposure to stocks traded on Shanghai Stock Exchange, CAF recently dropped heavily, broke its trendline to the downside, while SSEC only dropped slightly and was maintains its up trend, see chart below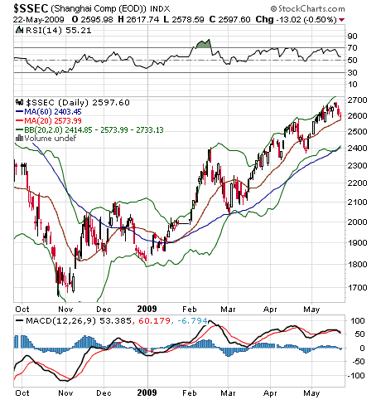 Then why the divergence?  The chart below is percentage change of CAF and SSEC in one year time frame.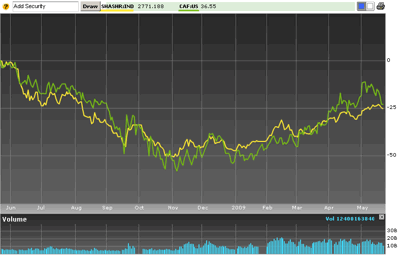 Shanghai A Shared Index (yellow) vs. CAF (green)
Since CAF is not an ETF tracking SSEC index, but a fund that invests in component stocks there, naturally CAF is not 100% tracking SSEC.  The truth is CAF follows SSEC directionally, but beta (sensitivity of change in CAF price to the change in SSEC) alternates across 1 over time.  CAF has just went through an over-sensitive period (beta > 1) relative to SSEC from early March to now, it's now switching to less sensitive mode.
Another reason for this to happen was that even though CAF is almost all about Chinese market, since it's traded in US, its performance is affected by the US market sentiment.  As S&P 500's March- May rally ran out of steam, CAF also got affected negatively.
Author holds long position in CAF