There was a consensus view that stock market tends to trade sideways before the Fed tightening cycle begins. Based on that view, earlier in 2010, many analysts predicted in first half of 2010, volatility will rise in stock market, and major indices will trade sideways. Morgan Stanley predicted that in 2010 stock market will behave in similar ways as 1994 and 2004 did, in both years Fed stopped expansionary monetary policy by starting to raise Fed funds rate.
Comparing with 1994 and 2004, 2010 shares strong economic recoveries reflected in the form of improved corporate earnings, however, 2010 suffers a much higher unemployment rate (9.7% YTD vs. 6.1% in 1994 vs. 5.5% in 2004, all in averages). What's more, unemployment rate is expected to remain high for an extended period of time.  Based on history, Fed wouldn't start tightening cycle before unemployment rate drops below a certain level.  
If Fed does keep rates at near zero level for extended period of time, how will stock market behave then?  To answer that question, I decided to take a look at the relationship between Fed tightening cycle and stock market performance from timing perspective. The discoveries are interesting.  For both 1994 and 2004 recoveries, I looked at 3 year span for better context of both Fed Funds Rate and S&P 500.
In 1994, Fed started to raise rate in February, almost exactly at same time, the stock market started to correct.  After a 9% correction, S&P traded sideways until November, then staged next leg up for new highs.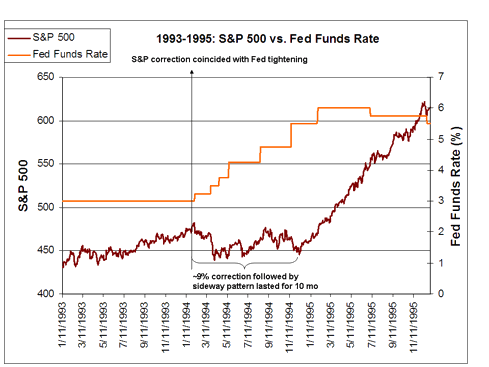 In 2004, unlike 1994, S&P 500 started correction well before (5 months to be exact) Fed started tightening cycle. The full correction lasted about half a year and registered ~8% drop from top of initial recovery rally to bottom of correction.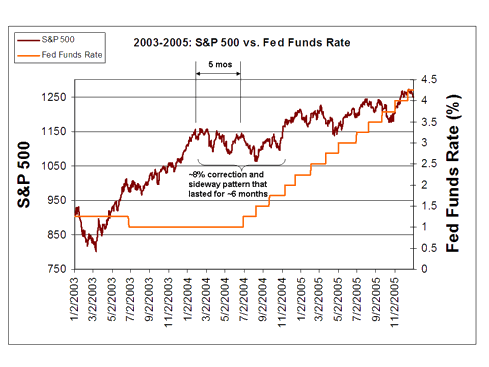 So to answer the question of whether stock market will enter the correction stage right when Fed starts tightening, the answer is no, stock market may start to correct well before the Fed tightening cycle starts. It took 10 years for US economy to go from one recession to the next last time, it took only 6 years this time.  In 1994 recovery, S&P 500 corrected in the same timing as Fed's tightening cycle; in 2004 recovery, S&P 500's correction preceded Fed tightening cycle by 5 months, in this recovery, this time window may be longer, in other words, S&P 500 may start correction more than 5 months before Fed starts tightening.  All these interesting historical facts indicates that US economic growth are increasingly dependent on Fed's expansionary monetary policy which, like addictive drugs, relieve US economy (the patient) for short term, but not healthy to the economy in the long term.  As a result, recessions happen in increasingly short frequency, and in each recession, Fed needs to take longer time (increase the dose) before it could start tightening.
Although history tends to repeat itself, the way it does usually is unknown to us while we are in the process.  S&P 500 reached 1150 on Jan 19, then corrected to intra-day low of 1044 in early February, now it's back to 1150.   This may or may not be the correction for Fed's tightening cycle.  On one hand, history tells us the correction should last longer than the one we just experienced, and it's possible the correction starts well before Fed's tightening cycle; on the other hand, we need to be prepared for the unexpected (either the correction has not started or the correction last much shorter than previous ones)
Disclosure:
various long and short positions in SDS and QID at different time