There are not lot of certain sure things and there few almost sure things. One almost sure thing is Macau gambling will outperform Las Vegas gambling well into foreseeable future.
There few industries underlying growth potential better than that of gambling industry. Pharmaceuticals and biotechnology comes to mind first fastest. Wines spirits tobacco maybe. But there no industries with low operational risk level of gambling industry.
House advantage sets profit house always wins. In Macau baccarat main game gamblers love more than life. Those in know think Macau gambling will keep adding at least one Las Vegas Strip worth of revenues every year for at least next five years.
Good no nonsense way to play gambling opportunity for income is arbitraging top US listed gambling shares with their Macau specific listed gambling shares. Go long Macau and short Las Vegas.
Each of top players unique attributes. Wynn Resorts (NASDAQ:WYNN) is best in class US operator so WYNN not sensible short. Las Vegas Sands (NYSE:LVS) is great company with big growing Asia presence outside Macau so LVS cannot be candidate for short side.
That leaves only MGM Resorts International (NYSE:MGM) and MGM is perfect short side element for gambling venue arbitrage. MGM bears too much debt so shares vulnerable to any downside pressure in Las Vegas gambling dynamics macroeconomics driven. Shares had great run in 2013 but this unsustainable unless Fed stays hard on QE accelerator.
Year 2014 brings on line mammoth endeavors by Caesars Entertainment (NASDAQ:CZR) in Caesars Palace region of Las Vegas Strip. That plus looming arrival of Genting Malaysia Berhad Resorts World Las Vegas (OTCPK:GMALY) moves center of gravity on Las Vegas Strip north away from MGM core properties.
MGM baccarat revenue expansion not certain as compared with WYNN and LVS. And baccarat carries US operations of WYNN, LVS, and MGM keeps MGM bankers debt holders calm.
Very heavy debt burden means MGM cannot pay dividends so no dividend issue on short side with MGM. WYNN LVS pay dividends.
What saves MGM is majority ownership holding in MGM China Holdings (Hong Kong listing 2282, Seeking Alpha information MCHVY) this gambling dynamo runs very well run by Miss Pansy Ho first lady of Ho gambling empire of Macau.
Miss Ho like father mentor Stanley Ho is gambling genius and she upped her game with latest baccarat promotion Golden Chip launching in January further proof she understands baccarat players. She broke ground on extraordinary gambling entertainment complex MGM Cotai wonderful second effort right in line with Macau diversity guidance from new Chinese president Xi. MGM Cotai means extra tables and Macau diversity effort means more extra tables for well connected Miss Ho.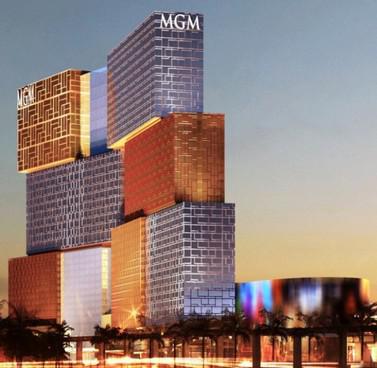 MCHVY special dividend policy very good for MGM very good for shares. MCHVY is dependable income generator now that will double maybe triple. MGM Cotai envisioned by Miss Ho game changer for MCHVY for MGM for Macau for China for Asia.
Let MGM fund and ground good solid income generating investment in MCHVY in 2014. Benefit from Miss Ho baccarat savvy today tomorrow beyond this trade downside protection.
Only upside miracle for MGM negatively impacts trade but not in cards. Difficulties at MGM more probable could cause MGM divestiture of some all of MCHVY position. Four big MGM control holders Dubai, Janus, Paulson, and Tracinda create downside pressure if any.
Over in Macau Miss Ho all systems go for big results from MCHVY.
Disclosure: I have no positions in any stocks mentioned, and no plans to initiate any positions within the next 72 hours.