Caution Flags Real Imagined For Baccarat Dependent Gambling Stocks
Please Note: Blog posts are not selected, edited or screened by Seeking Alpha editors.
Great day Monday for LVS, MGM, WYNN as Goldman Sachs raises price targets on best US gambling stocks LVS, WYNN. Publicized remarks Goldman Sachs gambling expert S Kent highlights explosive Macau mass market baccarat growth.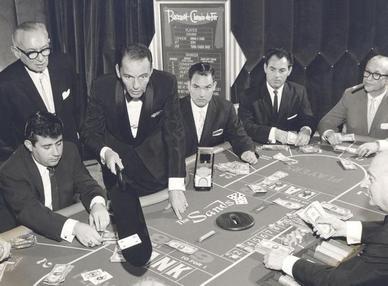 This what CLSA stock picker A Fischer predicts all along in Hong Kong. Still raining cash says he right on TV. Almost everybody agrees. Raging gambling bulls gambling stocks big baccarat exposure very happy this excitement. Goldman Sachs projects strong growth for Macau gambling win brings joy. CLSA sees Macau gambling stocks best Chinese consumer play travel bet. Baccarat party decade long good times.
Wall Street Caution Flag
Caution flag Monday too from JP Morgan Macau expert K Fong before Chinese New Year of Horse this confusing complicated. Still caution flag caution flag, JP Morgan dynamics major market force. Real or imagined hard to say. Never seen heard K Fong to know deep meaning. LVS, MGM, WYNN look good seven ways eight ways even nine ways.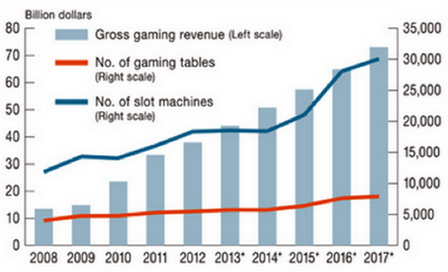 Wrote, "Gambling revenues more keyed to house advantage in baccarat rather than to US macroeconomics and global political winds that drive blue chip stocks." Also wrote, "House advantage sets profit house always wins. In Macau baccarat main game gamblers love more than life. Those in know think Macau gambling will keep adding at least one Las Vegas Strip worth of revenues every year for at least next five years."
Global gambling Chinese gambling baccarat gambling ask any casino boss anywhere. Electronic baccarat stadiums invented serve baccarat to hundreds together build add big player populations. New way learn baccarat prepare for mass market then premium mass market baccarat tables. Future VIP players too. Growth future gambler numbers no risk.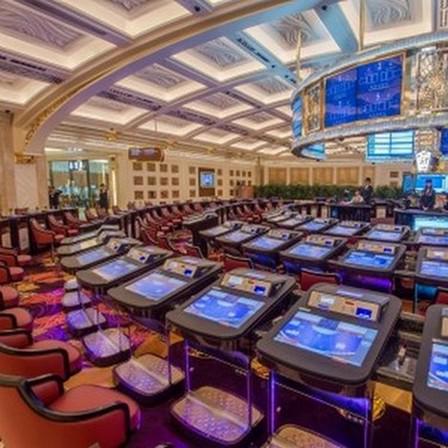 LVS, MGM, WYNN futures never better. Think S Kent and A Fischer more objective K Fong maybe overanalytical about gambling. Analysts never pure truth no such thing anyway. Investor sage B Graham teaches test numbers challenge analyst claims. Few risks blur Goldman Sachs CLSA sell side visions JP Morgan labor table supply worries imagine impossibility Beijing not watching Macau.
Goldman Sachs JP Morgan big Wall Street research activity focuses attention. Small players need look hard look hard elsewhere see risk factors not noticed. Must see trend switch take profits before dynamics change big players derisk out of baccarat. Even president Xi can see obvious major risk Macau dependence single game baccarat. Not just Macau all gambling stocks.
Blackjack history provides wisdom. Game solved by MIT professor EO Thorp fifty years ago exploded many years now growth killed by overmanagement rules changes. Baccarat dwarfs blackjack in Macau Singapore even in Las Vegas. Unlike blackjack baccarat rules not easily changed.
Baccarat Solved Caution Flag
Recent Las Vegas visit during global CES show identified baccarat mobile app contains baccarat game solution by Harvard graduates validated months earlier famous Caesars Palace gambling conference. Game now solved still believed game of fortune only strategy pure luck.
Small investors need know baccarat solution means baccarat play change certain casino win patterns subject to change too. Suggest gambling bulls study LVS, MGM, WYNN baccarat numbers carefully ask deep questions observe players playing too. Research trips key sites Macau Singapore Las Vegas good sense good fun too page from method famous investor B Baruch.
Free Lucky Dragon smartphone app baccarat gambling expert app seen at CES easy to use enjoy even has high speed simulator showing baccarat solution over and over. CES see app demonstrated to high rank Chinese smartphone company staff watching baccarat players amazement. Just onto iPhone and Android app can reach palm of hand of every baccarat player everywhere.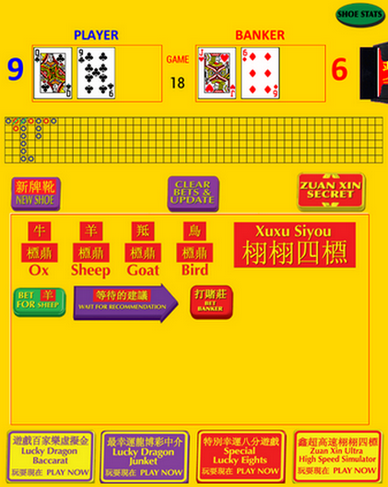 Caution flag for LVS, MGM, WYNN real or imagined hard to say, gambling stocks investors should watch study baccarat win numbers trends. Must notice first if when baccarat solution mainstreaming. Gamblers do like winning if winning easy as losing thrill big or bigger.
Sure baccarat win estimate next four years at least $200 billion US cannot be if many most baccarat gamblers get free app learn to play. Player population must pop to offset better play but this hard doubtful casino management not great marketing.
Baccarat Dependency Risk
Gambling industry stock pricing requires current baccarat trend. Seeing Lucky Dragon baccarat expert app reading Gamasutra honorable mention suggests possibility maybe half loser losses halved for $50 billion US profit lost. Could be worse baccarat game baccarat gamblers hard very hard to change. Even app maker say penetration slow start, app watchers say viral spiral inevitable but know not when.
No sell side analysts dare mention baccarat solution risk factor continuing flood cash flow. Strange behavior given game theorists solve most games. Small players listen in LVS, MGM, WYNN earnings calls dig deep inside baccarat data keep eye on Lucky Dragon news app stores. That best way only way small investors stay raging gambling bulls extract last profits then exit LVS, MGM, WYNN before giant hedge fund gamblers finally derisk take theirs.
Disclosure: I have no positions in any stocks mentioned, and no plans to initiate any positions within the next 72 hours.
Seeking Alpha's Disclosure: Past performance is no guarantee of future results. No recommendation or advice is being given as to whether any investment is suitable for a particular investor. Any views or opinions expressed above may not reflect those of Seeking Alpha as a whole. Seeking Alpha is not a licensed securities dealer, broker or US investment adviser or investment bank. Our analysts are third party authors that include both professional investors and individual investors who may not be licensed or certified by any institute or regulatory body.