Disclaimer: I am currently long SNP
China Petroleum & Chemical Corp. (NYSE:SNP)
By value investor metrics outlined in the Intelligent Investor by Benjamin Graham (SNP) is undervalued.
China Petroleum & Chemical Corporation, an energy and chemical company, through its subsidiaries, engages in the oil and gas, and chemical operations in the People's Republic of China. Its Exploration and Production segment explores and develops oil fields, and produces, and sells crude oil and natural gas. Its Refining segment processes and purifies crude oil, and manufactures and sells petroleum products. This segment's products comprise gasoline, kerosene, diesel, and chemical feedstock. The company's Marketing and Distribution segment owns and operates oil departments and service stations; and distributes and sells refined petroleum products, such as gasoline and diesel through wholesale and retail sales networks. Its Chemicals segment manufactures and sells petrochemical products, including intermediates, synthetic resin, synthetic fiber monomers and polymers, synthetic fiber, synthetic rubber and chemical fertilizer, etc.; derivative petrochemical products; and other chemical products. China Petroleum & Chemical Corporation is involved in the pipeline transportation of petroleum and natural gas. The company was founded in 2000 and is based in Beijing, the People's Republic of China. China Petroleum & Chemical Corporation is a subsidiary of China Petrochemical Corporation.
Value Proposal:
(SNP) is of adequate size considering its market cap of $94.87bn
Pays a dividend of $2.61 or 3.2%
The net tangible assets of the company amount to 85.4% of the total market cap with a market cap of $94.87 bn and net tangible assets of $81bn.
Current ratio does not make the cut - .7 compared to a suggested 1.5 in the Intelligent Investor, however this is an industrial company.
No earnings deficit in the past 5 years.
Last year's annual revenue was $447.2bn with income of $10.7bn
What this all means is that in just 5 quarters, SNP's net tangible assets will exceed the current market cap of the company, meaning if the company delists stock holders will theoretically make money.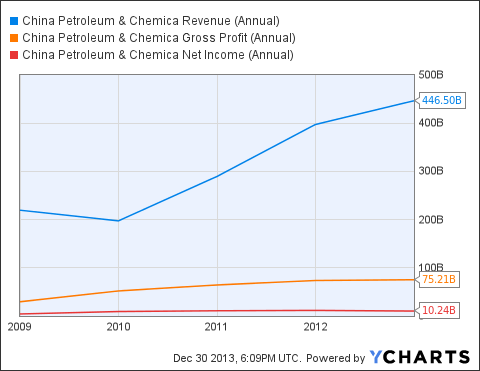 SNP Revenue (Annual) data by YCharts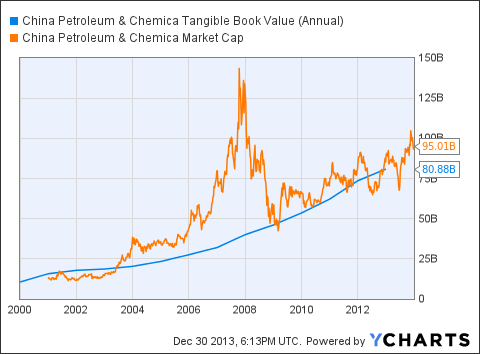 SNP Tangible Book Value (Annual) data by YCharts
-data provided by Yahoo Finance
Disclosure: I am long SNP.