The greatest lessons in my life were those that were taught, and modeled, by my parents. My father, a field technician for a variety of computer companies, even at the pinnacle of his salary earning days only made a very modest living. But my parents provided me, and my three sisters, a safe and happy place to grow up, and, where we were always greeted with a pretty bountiful plate of food at meal time. I still wonder how they managed to do that.
Retrospectively, it came down to living the axiom:
"A Penny Saved is A Penny Earned."
They did not spend money on things they didn't need, to impress people they didn't care for, with money they didn't have. They were steadfast savers and they were frugal with not only what they bought, but, how many they bought. So much so, that I even remember my mother reusing a single tea bag no less than 10 times to make cups of tea for herself. I suppose that this is the same technique that is used by some of the restaurants that I frequent when I order their iced tea.
We respect, revere and pay homage to those who patiently, and painstakingly, save their money…except for Apple (NASDAQ:AAPL). Apple, after announcing its Q2 results suddenly found itself in a position to have stockpiled over $110 Billion in cash. If it were a country unto itself, it would have the cash equivalent on hand as the 54th largest GDP, out of a list of 190 countries that are measured by the World Bank, (just beating out the oil-rich Kuwait). It is an unfathomable number. Yet, do we honor this company for saving this money. No, instead there has been widespread conjecture by others as to how Apple's money should be spent. Even within the context of Seeking Alpha some have opined that Apple should announce a special one-time dividend in conjunction with its regular dividend. The other end of the spectrum has been the wholesale vilification of Apple as greedy American Corporation hoarding money for nefarious enterprises. No doubt, worthy of an Occupy Wall Street protest with its epicenter in Cupertino. Others have opined that it is simply a prudent tax strategy. The facts are for a world replete with uncertainty and instability, perhaps the best place for Apple's money is in the security of their coffers.
What I have seen over a period of years is a remarkable amount of restraint by Apple relative to impulse buying of other companies. Apple has used a significant amount of critical thinking with respect to making incremental improvements in what it does and how it innovates. As a corollary, it then invests in smaller companies that can fill an unmet need. The most recent example is all the hype with LiquidMetal Technologies (OTCQB:LQMT). They manufacturer an alloy that has the following properties:
Is five times as strong as aluminum and twice as strong as titanium;
Is three times as elastic as ordinary metals;
Is highly resistant to corrosion;
Is highly resistant to scratching and wear;
Has a fingerprint-resistant, glossy finish that needs no polishing;
Can be blow-molded like glass or injection-molded like plastic.
Sure, it conjures up the imagery of the relentless, and indestructible, Terminator 1000 and Skynet, but the purchase opens up a new world of possibilities for everything "I" related.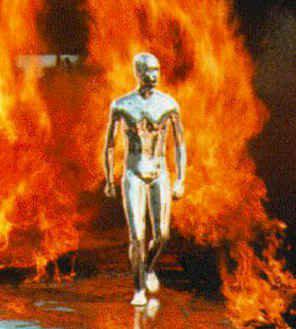 It would inarguably provide the IPhone with a new design format. It takes more than a passing interest for Apple to conclude a deal with the company in 2010 to secure exclusive worldwide rights to use the alloy in consumer electronics products. Liquidmetal still maintains the right to license its technology to other industries, such as defense or medical. More importantly, it would allay the number one fear of owners of all things Apple: breakage. Most owners don't lose their "I" instrument because they place great value on it. However to have your iPhone withstand the onslaught of a class of fifth-graders who decide to use the teacher's iPhone as a hockey puck would simply be "special."
Now to address the Department of Justice (DOJ). With the sheer amount of egregious injustices that I see televised or promulgated on the web daily, it is absolutely astonishing that the resources of the DOJ are targeting Apple and the five publishers that it has linkages to it. Apple's trove of cash represents a target especially by the Federal government. Interestingly enough, when you evaluate Ibooks, it places Apple at a distant 3rd at 10% share in terms of distribution of books in digital format. It is surpassed by Barnes and Noble (NYSE:BKS) at 27% and Amazon (NASDAQ:AMZN) who owns this space. More importantly, this area of Apple's business is dwarfed by everything else. But, this is another way to ride on the coat tails of Apple. Albeit the wrong way. The question needs to be asked, "Why is the government seeking prosecution of this American enterprise?" Is it to send a message to corporate America? Or, is it the administration's attempt to demonstrate how it fights the big bad corporations in the name of the average man. From my readings Apple has done more to promote business and technology in the schools and communities with some of its programs, relating to use of the IPADs, than all its competitors combined. If the DOJ wanted to truly concentrate its efforts on something eBook related, why does it chose to ignore the 500 pound gorilla called Amazon who is omnipotent in the eBook space. I can only think of a hundred and ten billion reasons.
And this leaves me with the last inescapable thing that needs to be addressed: taxes. It was reported by the news outlets that Apple was employing tax maneuvers aptly dubbed "Double Irish with a Dutch Sandwich," which cuts its tax bill by routing profits through Irish subsidiaries and the Netherlands and then to the Caribbean. Reflexively, many think in terms of something underhanded taking place. What we should be asking ourselves. "How has the United States become such inhospitable place for companies to do business?" or, "How do other countries incentivize companies for doing business in their country?" or, "Why can't we, or, rather why won't we, do the same?"
Having broached the subject of Apple savings, Apple acquisitions and Apple taxes, personally, I remain a buy on Apple (especially at the current levels). Because at the end of the day,
"An Apple a day, keeps the doctor away."
And all it costs at the close of Monday, May 11, 2012 is 56700 pennies a share. I currently believe that Apple is still a buy as it consolidates at this level and with analyst projecting much higher target prices for the end of the year. I am long on Apple and still buying it on the slight dips as it appears to being heading into "underbought" territory. Now add 98 pennies to the aforementioned, you should have a dollar. I still can't believe all the things my parents did with all the pennies they saved.
Disclaimer: The information in the aforementioned article is provided for informational purposes only. It represents the opinions of the author and is not a call for action relative to the buying or selling of stocks and other investment vehicles. It is highly recommended that you conduct your own research and reach your own conclusions before you make an investment in anything.
Disclosure: I am long AAPL.