Summary
Management.
Facility.
Growing technology with quality control environments and producing organic marijuana.
When is Organigram going public?
A glance at the MMJ market in Canada.
While marijuana has been prevalent in Canada for many generations, medical marijuana (MMJ) has been vastly emerging in Canada for over the last decade by way of the MMAR and the MMPR. Now the MMPR is proposed to take over for the MMAR since the MMAR has produced unintended side-effects upon Canada's society and economy. The Government's Facts registered with the Supreme Court of Canada states, "As the MMAR expanded and as large quantities of marihuana were produced by individuals in homes and communities, Health Canada became aware of a number of serious unintended consequences, including: violence, home invasion, theft, homicide, and the presence of firearms; diversion to the illicit market; production over the limit authorized by Health Canada; the presence of mold and toxic chemicals, such as pesticides and fertilizers; fire and electrical hazards; the emission of noxious odors; and various risks of children living in or near residential growing operations." The court trial will begin on this matter in February 2015, with an expected decision that will also conclude most, if not all court cases in relation to the court's injunction to allow the MMAR to temporarily continue and in response to the MMPR.
In an earlier article I catologued a list of prospective companies that I thought were viable and capable of receiving an MMPR license, such as Abattis Bioceuticals (OTCQB:ATTBF), Affinor Growers (OTCQB:RSSFF), CEN Biotech (OTC:FITX), Supreme Pharmaceuticals (SPRWD), and Enertopia (OTCQB:ENRT). While prospective MMPR companies are interesting and a fun speculation, there are currently only 13 licensed MMPR producers. Tweed Marijuana (TWMJF) is an already publicly-traded MMPR licensed company on the TSX exchange, with at least 4 other licensed producers planning on going public in the next month or so. One such company of much interest, with a great outlook on medical marijuana in Canada is Organigram.
Organigram, is a very interesting company in several respects. Geographically, the first and currently the only licensed producer east of Ontario, which is located in New Brunswick. This company is very different from other licensed MMJ producers, in that they offer select strains of marijuana based on one's medical condition. This is an excellent, yet unique, approach to offering medical marijuana, as the strains used are designed to focus on the specific ailments affecting the patient, it is pertinent that the strains the patients are using have a positive effect on their medical condition/ailments. The strains they offer range from $6-9 a gram, with free shipping and a 25% compassionate pricing discount for eligible patients. Global News toured their "20,000-square-foot facility" and has reported that Organigram's CEO, Denis Arsenault affirmed that they've cultivated their "first crop about two weeks ago and it's currently curing and we will be able to ship the product in a couple of weeks."
This article presents a look at the different components of Organigram and its medical marijuana growing operation/facility including the publicly known management of this corporation. In addition it covers information about the facility, the growing technology used with quality control environments to grow organic medical marijuana (MMJ) and provides a glance at the possible marijuana markets in Canada.
Management
Denis Arsenault, CEO and Director
Over 30 years being a successful entrepreneur that has built, ran and sold several profitable businesses. Arsenault's telling focus will be to lead Organigram into becoming a successful employer in Moncton and to expand the business accordingly.
Jim Laffoley, Founder and Director
Has been an executive in various industries for over 25 years. Has extensive experience in IT industry, joining Whitehill Technolgies Inc becoming its vice-president in which Laffoley helped accelerate the growth of that company and its market. Laffoley will act as a consultant in regard to regulatory affairs.
Randy Fleming, Master Grower
"Randy Flemming has legally grown his own marijuana for medical use for the past 20 years." Source:Globalnews.ca
Stephanie Steeves, Director of Quality Assurance
Steeves has a degree in microbiology and immunology from Dalhousie University. Steeves has been involved in the food services industry for over 12 years, which includes employment as a Quality Assurance Manager with Maple Leaf Consumer Foods.
Brett Allan, Director of Investor Relations
Allan has over eight years of investor relations and corporate communication experience. Allan is the President and CEO of Apex Capital Corp. He has also previously worked with Western Potash Corp.
Larry Rogers, Director
CEO and co-founder of CLS Lexi-tech Ltd., Canada's largest private language service provider. With over 20 years of IT experience and knowledge of establishing and running a corporation that has achieved accelerated growth.
Dave Doherty, Director
Has over 17 years of investment and finance experience. Served as President, CEO, and Corporate Secretary of Inform Exploration Corp. since September 2010, which is the company that is acquiring Organigram by means of a reverse takeover. Has worked as an Investment Advisor for over 10 years with Canaccord Capital Corp., now Canaccord Genuity, which is one of Canada's top/largest independent banking and financial services company. Doherty is the Founder and President of Inform Capital Corp since 2007.
Facility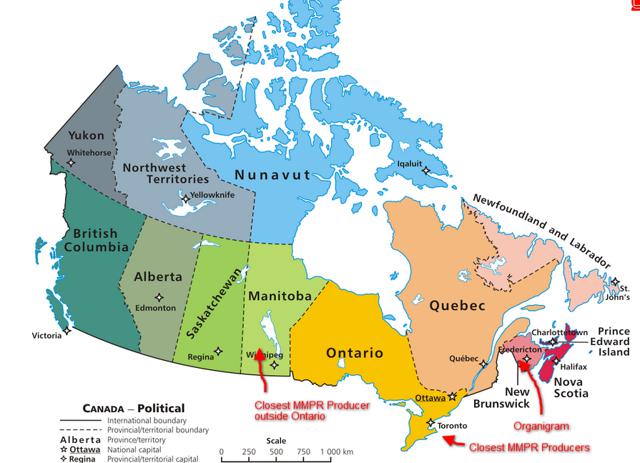 It is important to note that out of the 13 already licensed producers this is the first and currently the only MMPR licensed producer east of Ontario.
A recent filing statement from July 30th had stated, "The Facility is approximately 11,600 sq/ft in total located at 35A English Drive, Moncton, New Brunswick, with stacked production capabilities resulting in 14,890 sq/ft of usable space. OrganiGram has commenced production with 20 varieties of marijuana under cultivation." CBC News reported that "Organigram was granted a license to operate a 20,000-square-foot plant in a Moncton industrial park." According to the Chronicle Herald, "Organigram has a 20,000-square-foot facility in a Moncton industrial park, with the capacity of producing 100,000 grams of weed a month." In a more recent article from the Global News Organigram quoted CEO, Arsenalt: "We are currently under construction now to more than double our capacity. And we'll have another expansion that will be started October 1 to add another large section onto the building." In which Arsenault declares "the high demand for the drug means they'll be able to hire dozens more employees. The expansion will generate more than $30M in sales and create about 40 more jobs by next summer." By expanding, this should create more room for production and more room for exclusive high-grade, pharmaceutical-quality organic MMJ strains.
Organigram's Growing Technology with Quality Control Environments
"American Cannabis Consulting has turned out to be the experts we were looking for! We did our research well, and wanted not only an expert in system deployment, but experts in quality and yield production. We have made large capital investments, and now have the confidence that our systems, production facility and quality controls are in place for maximizing profits."
Denis Arsenault, CEO of Organigram on American Cannabis Consulting Company's testimonial page.
Organigram has utilized technology and services gained from American Cannabis Consulting Company which is a registered SEC filing company Brazil Interactive Media, Inc. (BIMI), doing business as American Cannabis Consulting Co. that offers a wide range of products and services from seed-to-sale. "The Cube" which is described as a "turnkey solution for indoor plant cultivation" seems to be the most interesting product. Below are pictures of brand new "Cubes" and next a picture supplied by Global News of Organigram's current grow.
"The Cube" by American Cannabis Consulting Co


A recent picture of one of Organigram's current grow ops.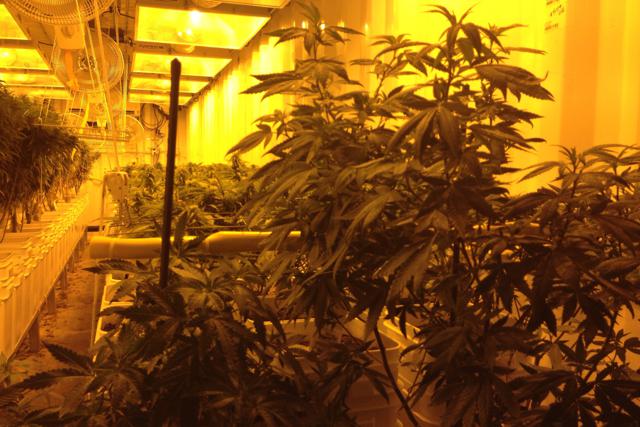 (Source: Globalnews.ca)
The "cube" offers very tightly quality controlled environments and are also "stackable, provide increased security and increase square foot production by 40%." The advantage of these quality controlled environments is that it greatly reduces the "risk of infestation and potential total crop loss," the risks could be greater for massive grows, as more could potentially go wrong. In addition to these tight-knit, quality controlled environments which could give this producer an advantage, Organigram is committed to production of truly organic MMJ.
Organic
IR director of Organigram, Brett Allan, explains how they achieve organic marijuana and that their process relies on the soil, "Essentially, instead of using pesticides and chemicals, we use natural, living organisms to attack bacteria or pests that threaten the plants. TLO (True Living Organics) is the system that Organigram uses instead of growing marijuana in soil. Our marijuana is grown in Coco Coir, which is the fiber obtained from the husk of a coconut." People tend to enjoy an organic or all natural product, versus one with additives and pesticides or anything other than an all natural product, so Organigram should be very appealing, especially, since many of the other MMPR producers are not producing true organic MMJ. "Those who have sensitive immune systems or who are dealing with various illnesses should have the opportunity to explore whether a natural product works for them."
When is Organigram going public?
Organigram is estimated to begin delivering its first batches of MMJ to patients in a few weeks, which is coincidentally the same time Organigram is estimated to go public. Organigram will be acquired by Inform Exploration Corp (V.IX) by a Reverse Takeover ("RTO") and will be listed on the TSX Venture Exchange. "We are on track for August 25th as our first day of trading under the symbol OGI" states Dave Doherty, Director at Organigram. They are also considering the possibility of listing on an American stock exchange. I would expect anywhere from 45 - 50M shares issued and outstanding and possibly large insider ownership.
Organigram, Bedrocan, Mettrum and Pharmacan are MMPR licensed producers that are all estimated to go public within the next month or two. Tweed Marijuana was the first licensed MMPR producer to go public, but competition is just getting started and Tweed's progress has been slow, so I would expect things to become rather exciting for a few of these MMPR licensed producers. Organigram, being a producer of truly organic marijuana with arguably better technology and quality control with a focus on helping patients with their specific ailments, should be a great competitor in the MMJ market.
A glance at the MMJ market in Canada
"The patient base nationally is expected to grow from 40,000 people today to 450,000 people over the next nine years," Organigram founder Jim Laffoley said on January 17, 2014. Health Canada has also projected the number of medical marijuana patients will be "up to 450,000" with a "1.3 Billion" annual market cap by 2024. This type of growth is very possible, but these numbers largely depend on what happens with the MMAR and the MMPR in regard to the court injunction trial that will begin February 2015.
The legal landscape is constantly changing in Canada. The constitution states that Canadian citizens have the right to access marijuana but there is no stipulation in the constitution on being able to grow your own marijuana. The debate between the MMAR and the MMPR is a very important one and could ultimately decide whether or not the MMPR undergoes vast/exponential growth.
The debate largely revolves around affordability, the MMPR licensed company's prices are very similar to the walk-in dispensary prices under the MMAR. However, people who grow their own under the MMAR for the low production cost of $2-$3 a gram disagree with paying higher prices under the MMPR, even if it has quality assurances with regulation and taxation that the MMAR does not have. There have also been unintended side-effects associated with the MMAR which have had a negative impact on Canada's economy and society, while also disrupting the youth and possibly even one's health. These unintended side-effects could add additional costs to the low price of marijuana under the MMAR.
There is also the possibility that these MMPR companies could be utilized to successfully implement legalization, if legalization occurs in 2015. Legalization would more likely prove to be successful with a functional model that supports regulation and taxation, while increasing/improving the jobs and economy in Canada and minimizing social risks/hazards. The year, 2015, should be a very eventful year, it might pay to pay attention.
Disclosure: The author is long BIMI.