Wanna be a hero?
Then you should jump on board when stocks of GoPro, Inc. go public. There are a lot of reason to be bullish on the fastest growing camera company on the planet. Let's look at the facts:
GoPro sales have doubled every year since the camera's debut in 2004. Every year. The company sold 2.3 million cameras in 2012 grossing over $521 million. According to IDC data, GoPro has taken 21.5% of all digital camcorder shipments for the first half of 2012, but even that number is not very accurate...it's a much bigger percentage if you consider the broader portable (or wearable) market.
The profit margins for GoPro are estimated at 15%. Yet a naysayer would take the position that GoPro only fills a niche market and that eventually that market will be saturated. Nick Woodman, the 38 year old founder of GoPro has said, "If this is a niche, it's a very big one." Indeed. GoPro has 425 million views on it's YouTube Channel and 7 million likes on it's Facebook page. The founder states, "We're building one of the world's most engaging and exciting consumer brands."
The cameras are ubiquitous at nearly all sporting events. Are you watching the Olympics? It's hard to count how many athletes are carrying around the little GoPro Blacks. But GoPro isn't just for extreme athletes anymore, the fact is that people are looking for a way to chronicle their every day lives and GoPro delivers just that, in HD.
But what about competition from other camera makers? Sony (NYSE:SNE) has shipped it's first "action cameras" but has already stated that's it's trying for the #2 spot in the market. Garmin (NASDAQ:GRMN) has it's VIRB sports camera and even Polaroid is also attempting to grab a share of the market, but the truth is that these other companies have come too late to the party. About ten years too late.
The business model has been smart from the start for GoPro, and the gradual build to the IPO is a sound progression. Chinese electronics manufacturer Hon Hai Precision Industry Co. (OTC:FXCOF) made a $200 million investment in GoPro last December. That valued the San Mateo based firm at $2.25 Billion. Ambarella (NASDAQ:AMBA) is currently the sole provider of GoPro's video encoding chips. I believe it is also a smart investment to go long on since they are doing so well in the wearable camera marketplace.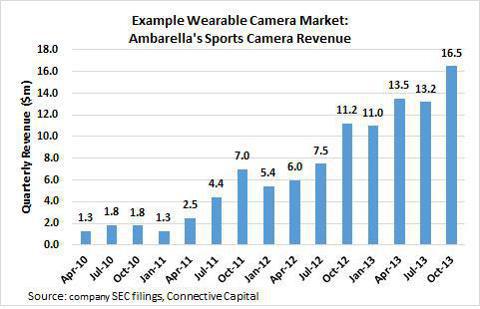 I admit that a lot of my confidence in GoPro comes from quietly watching Nick Woodman make his mark. He still owns 45% of the company and the guy is worth betting on. In May of 2011 GoPro took on $88 million from five venture firms including Riverwood Capital, and Steamboat Ventures (Disney's (NYSE:DIS) venture investment arm). This is a good strategy since GoPro has now gained enough notice from the big boys, (i.e. Sony) that it undoubtedly will need to work hard to keep it's lead in the marketplace.
Here's an example of how a smart business runs: You buy the camera but the company gives you the editing software for free. A gesture the fine folks at Adobe (NASDAQ:ADBE) would consider sacrilege. GoPro has also been very active in sponsoring athletes and looking toward other uses for the camera. Movie directors like Michael Bay always have dozens of the cameras on set. The NFL is testing GoPro cameras in it's endzone pylons and the Rolling Stones are using them to capture concert footage. Not to mention Felix Baumgartner and the Red Bull Stratos jump.
GoPro has the clout, the cool factor. It's teaming up with Xbox Live to unleash even more action videos for consumers to enjoy. So I doubt that Woodman is going to rest on his laurels now. The cameras will just keep getting better, smaller, lighter, faster.
Some critics have said that smartphones will be the death of companies like GoPro, but in fact the opposite is true. Consumers buy fewer traditional still cameras now because they rely on their phones for snapshots, thus leaving some extra dollars to spend on an action video cameras or specialty items like GoPros.
It would make sense for a firm like Google (NASDAQ:GOOG) or Microsoft (NASDAQ:MSFT) to buy up a company like GoPro. They seem to be interested in hardware a bit more these days and GoPro has a built in social media market. But how big would that pricetag be?
For now, I plan to jump on to the GoPro bandwagon as soon as it comes to town. I believe it has a very bright future.
Disclosure: I am long AMBA. I wrote this article myself, and it expresses my own opinions. I am not receiving compensation for it (other than from Seeking Alpha). I have no business relationship with any company whose stock is mentioned in this article.
Additional disclosure: referenced Forbes, Business Week