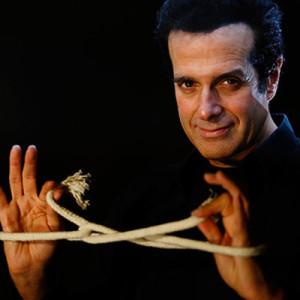 I can make a silver dollar appear behind one's ear and then disappear within my hands just like the best of 'em, but to do that 2 billion times? That would take a lot of time, and a lot of gullible people (disclosure: you would have to be a toddler or younger to actually fall for my magic trick). That said, even David Copperfield would be impressed by Hertz Global Holdings' (NYSE:HTZ) upcoming spin-off of its rental equipment business, in which HTZ holders will get one share in New Hertz for every five shares of HTZ, and a 1-to-1 distribution of HERC shares (the rental equipment segment) (Pending: HRI) for each share of HTZ. Following the spin, HERC will undergo a 1-for-15 reverse stock split. Yes, there are many moving parts to the transaction. Given that the HERC distribution is 1:1, you might even consider New Hertz - the car rental business - as the spin-off instead of the rental equipment company. Since the separation was announced back in March of 2014, the stock has not performed well…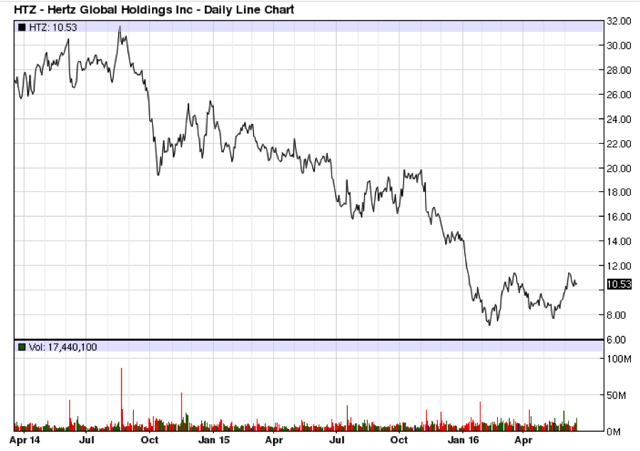 (Source: Barchart)
So where does Mr. Icahn come in? By September of 2014, Icahn amassed an 8.5% stake in HTZ while also winning three seats on the Hertz Board of Directors (his stake is now over 15%). Three Icahn dignitaries earned seats on the board, while the CEO was ousted; at the time, Mr. Icahn was quoted as saying, "I believe Hertz is a great company and a great brand and that the right new C.E.O. will return it to its former glory." So far, it hasn't been a very exciting magic trick.
Speaking of magic, how can you make $2 billion disappear? The casino seems like a good place to start, or maybe sports gambling in Las Vegas (just ask Floyd Mayweather). Those are decent places to quickly hide thousands, if not millions of dollars. But if it's a $2 billion trick, Vegas is just too small-time. Maybe David Copperfield could put it in the Statue of Liberty and make it disappear. Many have tried, few have succeeded. But it turns out that the easiest way to hide billions of dollars is on a corporate balance sheet, which might be just what Mr. Icahn and the Hertz Board are trying to do.
Below is the pro-forma balance sheet post spin-off, as of March 31st, 2016. The first column is HTZ currently, the second column is HERC, and the fifth column is New Hertz. At first glance, there's not much going on here. Actually, virtually all the pro-forma line items of the second and last column add up the numbers in the first column, EXCEPT Cash and cash equivalents and Debt. And here-in lies the magic. According to the financial notes, HERC will lose $2 billion in Cash & CE by way of a cash transfer, intercompany repayment, and distribution to New Hertz prior to the spin-off. Here is the note:

There is also a decrease in debt of $2.045 billion for New Hertz, or about 10% of HTZ's current debt level. The two items are not unrelated: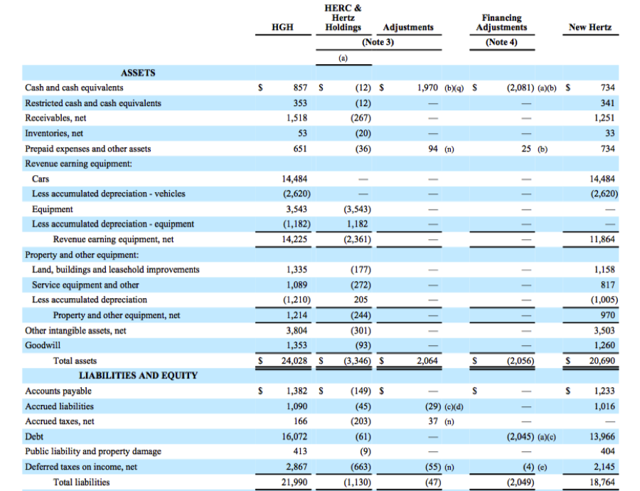 (Source: Hertz)
So here we go. Witness $2 billion appear, and then disappear right before our eyes, within a single page of financial notes, in all its bewitching splendor. Be amazed on June 30th, when a spin-off, reverse stock split, and inter-company payment swirl together in a tornado of financial enchantment, and then poof! It's gone. Can you believe it? You might ask yourself, where is this $2 billion coming from? Is there a secondary stock offering in HERC? Are insiders buying extra shares? Will there be new bonds issued on HERC? Was this even Carl Icahn's idea? If not, then at least he likes owning the shares. Then again, you could always just say, "I don't believe in magic", curse HTZ and its financial wizardry, swear under your breath, and be on your merry way. It is as my mother always tells me, believe none of what you hear, and only half of what you see.
Disclosure: I am/we are long HTZ.
Additional disclosure: No information contained in this article is a solicitation to buy or sell any security.