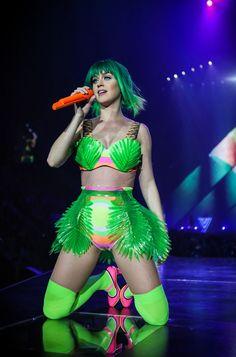 "Thank you for believing in my weirdness" - Katy Perry
Oh man, this lady is weird. Whether it's the seashell outfit, the spinning peppermint dress, or that spooky Cleopatra picture, she's definitely a larger-than-life character out in left field. Last Friday night, she took too many shots, maxed out her credit cards, and got kicked out of the bar. She even kissed a girl, and she liked it (I like it too, Katy, cherry chapstick and all). Not exactly a role model for the young crowd, especially considering she dropped the f-bomb multiple times in a 2015 Elle interview. Nevertheless, there does seem to be at least a few people out there who like to see her perform. Her 2014 Prismatic tour grossed over $200 million. There were 149 shows across the world, from Ireland to Costa Rica. There were over 275 costumes used for the tour. She changes outfits more in one day than I do in a week. Her net worth currently stands at about $125 million. If Russell Brand doesn't want a slice of that pie, then I certainly stand ready to answer the call.
While I wait for a pie in the sky date with Katy Perry, here's an easier way to get a slice of $125mm. Northstar Asset Management (NSAM) will be merging with Colony Capital (NYSE:CLNY) and NorthStar Realty Finance (NRF) in an all-stock transaction that will result in NSAM stockholders owning 32.85% of the new REIT, along with CLNY and NRF holders owning 33.25% and 33.9%, respectively. There is no real arbitrage opportunity within the three tickers. With a combined market cap of $5.99 billion, at current prices NSAM is trading at about 34% ($2.03b), CLNY at 31% ($1.88b), and NRF at 35% ($2.10b) of the total. Any deviations from the deal percentages will be promptly corrected by high frequency traders/arbitrageurs. The deal is expected to close in the first quarter of 2017.
Interestingly, this is not the first time there has been a corporate event surrounding NorthStar. In December 2013, Northstar Realty Finance Corp. announced a deal to spin off NSAM in a 1-to-1 stock deal, along with a 20 year agreement that NSAM manage NorthStar Realty Finance's business (by that time Katy Perry had sold 686,000 copies of her Prism album, which debuted two months prior). Since the NSAM spinoff, shareholders haven't been very impressed by the NorthStar wardrobe change:
(Source: Barchart)
NorthStar management decided to spin off NSAM to increase shareholder value, yet here we are years later and NSAM is ready to re-merge with NRF, in order to…you guessed it…increase shareholder value - only this time they are sporting $115mm worth of annual cost savings. It appears management is still singing the same tune, they just needed to go backstage and change their costume. They can refashion their look all they want, but it will still be the same real estate assets. At least Katy sounds good while she's doing it.
So what's the point? The deal sounds like a played out pop song…EXCEPT for the ~$125mm slice of pie ($128mm to be exact) in the form of a special cash dividend paid out to NSAM shareholders after the deal close. Even with the lack of arbitrage opportunity among the shares, the $128mm still stands out to me. Is there an opening here? How can I write my own quirky song in the form of a bizarre investment strategy? Katy can't be the only weird one, right? Finally, it comes to me: write December $10.00 puts on NSAM (the bid/ask is about $0.85/$1.00) for say, $0.90. The special dividend is worth about $0.60 per share. Together, that's a $1.50 discount to a $10 cost basis. It sounds peculiar, but this trade essentially creates an entry price of $8.50. At the current price of $10.75 for NSAM, that is a 20.1% discount. It's not quite the same as a date with Katy Perry, but it's a start.
If you don't believe me, and you say there's no way to conjure a 20% stock sale out of thin air, then that's perfectly fine. Outlandish investments and eccentric Katy Perry melody may not be your thing - better to stick with good wholesome musicians like Celine Dion or Tony Bennett. But if in some way, shape, or form you do believe me, then I will simply say this:
Thank you for believing in my weirdness.
One more thing. Katy, if you are reading this, I like long walks on the beach, and unconventional financial discourse, samples of which can be found here, here, and here.
Disclosure: I am/we are long NSAM.
Additional disclosure: Nothing contained in this article is an offer or solicitation to buy or sell any security