"Red Herring - (1) A herring cured by salting and slow smoking to a dark brown color. (2) something that distracts attention from the real issue" - Merriam Webster Dictionary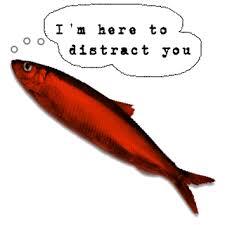 Everyone is drawn to Amazon (AMZN) news. The company is not just a company - it's a force, crushing the will of any retailer standing in its path. Any flash in the pan report can motivate investors and make markets tremble. Especially when it comes to grocery stores, if you want in, be ready to ride the roller coaster. Enter Jana Partners, who recently disclosed a ~9% stake in Whole Foods Market (WFM), and is pushing WFM for a sale. Throw in Amazon's mulled bid last year, and you've got yourself a bona fide 10% market mover headline: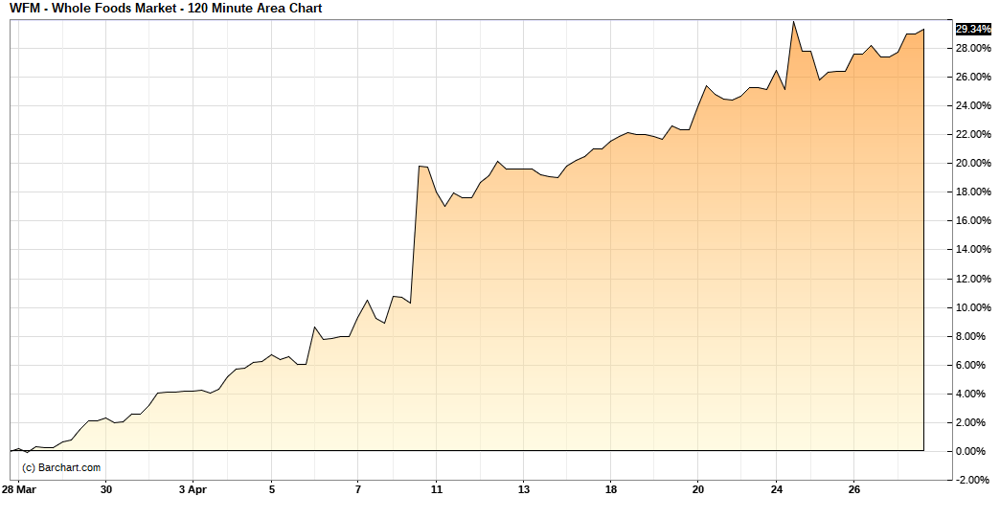 A mere two weeks after the Jana-Amazon-Whole Foods story, Albertsons has emerged from the fray as an interested buyer, adding more fuel to the rumor fire. So be it. Last month I mentioned Sprouts Farmers Market (SFM) as an Albertsons takeover target, but with all the news surrounding J-A-W-A (Other clever acronyms welcome), it seems like Sprouts has been left for dead. What's really going on here?

Red Herrings are cunning; figuratively, that is. Sure, you could buy some real fish and grill it up, but why not explore the game theory behind grocery store drama? As a short thought experiment, put yourself in Albertsons management shoes. Given the go-private transaction by The Fresh Market (TFM) last year, you want to be sure that you are getting a fair deal for either SFM or WFM. That said, why not extend some interest for WFM and get a closer look at the company? By doing so, you could do some due diligence on both grocery chains and feel really in the know. So is J-A-W-A nothing but a smoked red fish? Or has Sprouts really dried up? Time will tell. But until then, keep riding the retail red herring roller coaster, if you dare! Honestly, I should work for Six Flags (SIX) and build an actual red fish thrill ride...
1) Kate Spade, Inc. (KATE)
 This one is similar in its M&A nature, but there has been more transparency to the bidding process. KATE has been on the block since last December, and Coach (COH) has confirmed talks. But over the past few months, numerous companies have garnered interest - Louis Vuitton (OTCPK:LVMHF), Michael Kors (KORS) - and most recently Jimmy Choo appears to be a substitute purchase for Coach, leaving KATE with no date to the prom. Simplicity states that KATE could be worth ~$20 per share; at the same time, complexity is not a vice. Another worthy thought experiment involving a complicated game and multiple players.
2) Hitachi Kokusai Electric (OTC:HTKKY)
 Speaking of complexity, KKR has announced a tender offer to acquire Hitachi Kokusai Electric, via HKE Holdings GK for ~$2.3 billion. But before doing so, Hitachi needs to split its two businesses - video communications solutions (the video segment) and thin-film process solutions (the electric segment). First, Hitachi will acquire 51.67% of Hitachi Kokusai shares by way of a share repurchase. Second, Hitachi will conduct an "absorption-type company split" in which HKE Holdings GK will succeed to 100% of the thin-film business. Third, HKE will transfer 20% of Hitachi Kokusai shares to each of Hitachi and HJV Holdings, Ltd. (an entity that is backed by Japan Industrial Partners, Inc.), resulting in a 60%, 20% and 20% split ownership of Hitachi Kokusai's video business (the video segment). This deal is complex, it's foreign, and it requires deep research. Oh and by the way, don't forget the conversion rate of Yen to Dollars.
Understand? Me neither. In times like this, when I'm busy filtering through merger agreements, SEC documents, press releases, financials, or any other needle buried in a stack of needles, I try to remind myself that complexity is not a vice. In this particular case, the offer is expected to commence in August, so I've got some breathing room. Best of luck to those who venture in.
3) Rite Aid (RAD)
 The Walgreens (WBA) Rite-Aid deal hangs in the balance, and has been well documented in the news and on Seeking Alpha. Therefore, there will not be much discussion here, and buyer beware. But for the sake of government intervention, last year the FTC demanded RAD store divestitures in order to quell competitive concerns, and Rad-Wag complied by divesting 1,000 stores to Fred's, Inc., (FRED). This year, the FTC is pulling some hijinks again. The Commission has renewed concerns: not from Walgreens or Rite Aid, but from Fred's. Apparently, the FTC does not believe Fred's can handle the ~$1 billion debt load resulting from a 1,000-1,200 store purchase, and the deal will result in Fred's jacking up prices on consumers down the road in order to survive.
The FTC thinking here is concerning. If Fred's can't handle the debt, then the company would probably sell, refinance, or go bankrupt. Let free markets reign. If Fred's does nothing and raises prices at its stores, then customers will end up going to a cheaper competitor (say, Walgreens, CVS (CVS), or even Amazon). Does the FTC really have that little faith in the American consumer, that we must be protected from not just the Rad-Wag merger, but also the Fre-Rad-Wag derivative merger?!
I'll also add that there are only two commissioners currently on the FTC, with three vacancies that have yet to be filled by President Trump. Consequently, the FTC may be having difficulty making decisions while we await the President's appointees and consequent Senate confirmations. For now, It appears that the FTC a) has no faith in Fred's ability to conduct business, b) has no faith in the ingenuity of the American consumer, and c) has its own internal roller coaster to ride.
There's something fishy going on here...
Disclosure: I am/we are long SFM, katE, RAD, FRED.
Additional disclosure: Nothing contained in this message is an offer or solicitation to buy or sell any security/investment, and is for informational purposes only.