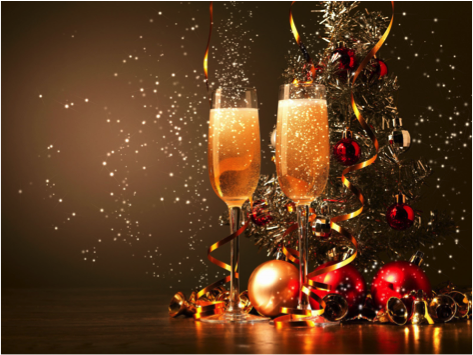 Happy New Year!
I believe that success is achieved through connections. Specific to investing, generally people consider a profit and success as one and the same. However, it is more prudent to view profits as the byproduct of linking ideas to knowledge. For example, my best and oldest idea - BGC Partners, Inc. (BGCP) - was also the source of my first article on Seeking Alpha: "BGC Partners Poised for Potential Growth in 2014". Looking back on it, the article did not present much of a thesis; it was more of an overview on a financial company that doubled as a commercial real estate firm. Even still, the gains have been impressive: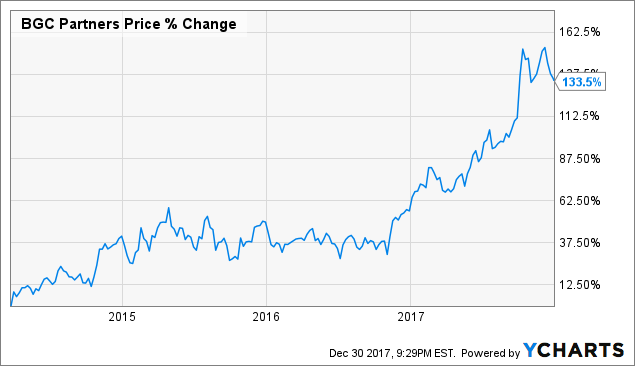 And the ~7% annual dividend payments aren't even included here. What I didn't realize back then that I know now is that this investment has an event-driven backdrop. With BGCP getting Nasdaq (NDAQ) payments for fifteen years, and the recent Newmark, Grubb, Knight & Frank IPO (NMRK), the company has been (and still is) primed to outperform. But the point is that by connecting event-driven outcomes (Nasdaq payments & the NMRK IPO), value based principles (a discounted cash flow analysis presented here), and multiple strategies (M&A, spinoff/IPO), I was able to connect my ideas to investment. Remember, profits are a byproduct of success. That said, cheers to a few ideas from 2017, and onward to whatever 2018 will bring.
March 2017 - Quorum Health Corporation (QHC): Spinoff of Community Health Systems (CYH), down 27% since March, but up 24% since August 2016.
April 2017 - Sprouts Farmers Market (SFM): Rumortrage on a possible buyout from Albertsons - up 5.32%
May 2017 - Kate Spade (KATE): Eventually sold to Coach (COH) for $18.50/share - up 6.26%
May 2017 - Rite Aid (RAD): A merger-arb gone horribly wrong, when the FTC threated to block the deal - down 50.75%. I'm willing to admit failure as much as the next man, as long as I continue to learn from it and improve for the future (lesson learned: if you tread into binary merger arbitrage against the DOJ/FTC, be wary of thin ice).
June 2017 - Terraform Global, Inc. (GLBL): the deal to be acquired for $5.10/share by Brookfield Asset Management (BAM) was recently consummated. Up 3.57%
July 2017 - Litecoin (COIN): No explanation necessary - up 509%
July 2017 - Pandora (P): It's still not for the faint of heart, down 46% since July. Now that the share price has dropped significantly, I wonder if the time is right…
August 2017 - Akzo Nobel (OTCQX:AKZOY): The company was going to spinoff its specialty chemical unit, but has since been in acquisition talks with Axalta (AXTA) and now Nippon Paints (OTCPK:NPCPF) - down 3.57%
September 2017 - Ensco, plc (ESV): Ensco acquired Atwood Oceanics (ATW) via an all-share deal - up 39%
September 2017 - Bitcoin Cash (COIN): the hard-fork "spinoff" of Bitcoin, it is presumably better, faster, and cheaper than Bitcoin - up 519% 
October 2017 - Lattice Semiconductor (LSCC): The deal with Canyon Bridge broke at the hands of CFIUS, but there were so many interested parties in Lattice, that the failed arbitrageurs unfairly pressured prices too low - up 10.9%
November 2017 - 22nd Century Group (XXII): One of my favorite microcaps, XXII has patents on a controversial very low nicotine cigarette - up 32%. See a more detailed explanation here.
December 2017 - Caesar's Entertainment Corp. (CZR): After the emergence from bankruptcy, the shares have performed well - down 4.5% this month, but up 48% since January.
Thank You
Thanks to all of you, the readers, who give me the motivation to write and express thoughts & theses. I'm well on my way toward growing my own investment business, and as a result I'm always looking for feedback, criticism, and debate to help improve the foundations. That said, your comments are more helpful than you know.  Looking back on 2017, my ideas were both up and down, and so it's crucial to realize that this is about idea generation, not blind investment. It is the opening act, never the crescendo. It's not the profits that make success, but the path that gets us there.
Enjoy the New Year, and keep an eye out for my best idea for 2018, coming soon. I'm on a serious hunt for value, and I promise it will be unexpected, unusual, and unconventional. Cheers!
Disclosure: I am/we are long bgcp, ESV, P, QHC, XXII.
Additional disclosure: Nothing contained in this message is an offer or solicitation to buy or sell any security/investment, and is for informational purposes only.