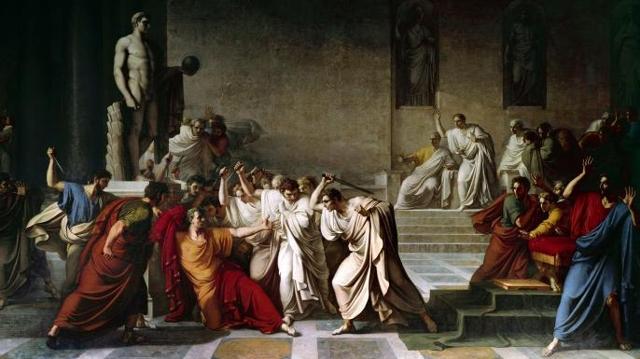 "A soothsayer bids you beware the ides of March" - Act I, Scene 2
I'm not one for menacing prophecies, but Shakespeare's infamous quote certainly sends shivers down the spine. It's not even the death of Julius Caesar that gets me, but the impending demise he faces in a battle of fate versus free will. There are warning signs all around him, yet he chooses arrogance and trust at the same time. He chooses friendship in spite of the ultimate flaw of unfaithfulness. Admirable perhaps, but we all know that life comes not without a sense of irony.
"Men at some time are masters of their fates. The fault, dear Brutus, is not in our stars, but in ourselves, that we are underlings" (Act I, Scene 2)
And therein lies the problem: of choice, of uncertainty, and of fate. We face decisions of a similar caliber every day, whether or not we realize it. We are free to choose, but then again, our choices seal our fate. In the same vein, the doubt that surrounds us can also bind us in unequivocal anguish. How then, can we choose wisely between fate & free, between destiny & discovery, when there is so much at stake?
In no way do I pretend to know the answer, but I will say that under the most precarious circumstances, the smallest steps are usually the most rewarding. And I dare say, the Ides of Investing are fraught with uncertainty, along with its fair share of reviling & revelation. Nevertheless, "the great man," Emerson declared, "is he who in the midst of the crowd keeps with perfect sweetness the independence of solitude."
1) Akorn (AKRX)
In the timeliest of fateful moments, the spread in Fresenius Kabi's (OTCQX:FSNUY) $34/share takeover of Akorn has broken beyond the pre-deal price, due in part to, well, anonymity. In reaction to the anonymous tip, CEO Stephan Strum et al. initiated an investigation (with the cooperation of Akorn along with independent experts) into the product development process for new drugs. Mr. Strum commented at length during the Fresenius conference call:
I'd like to reiterate that the due diligence undertaken prior to signing the merger agreement was the most intensive and comprehensive that I have experienced during my time in Fresenius and I'm here now since 2015. We have examined and audited as intensively, carefully and conscientiously as possible. However, when you wish to acquire a competitor, there are restrictions, especially if it's a stock listed company.

There are areas where you simply are not allowed to look, including product development and drug approval processes. So, how do you protect yourself in those areas? You ask the seller for assurances, representations and warranties to use the legal term on certain key facts and issues. The task now is to verify whether these assurances provided by the seller actually hold true.

I do not want to prejudge the outcome of the investigation, but will say that our management and supervisory boards will take decisions based on the findings and should the allegations prove to be of a non-material nature, then we will complete the acquisition as planned and together make it a success as we have done so often in the past at Fresenius. If however the allegations are proved and proved to be so serious that we must question the very basis of the takeover agreement, then in the interest of our shareholders, we may use our rights to withdraw from the transaction.

At the same time, I must once again stress that the strategic rationale behind our offer for Akorn remains absolutely sound. And I can assure you that we are determined to pursue the strategic goal of expanding our liquid pharmaceuticals product offering in North America. We have created detailed plans on how to complement the acquisition of Akorn or how to move forward without Akorn. We're well prepared to reach our goals and to continue the successful development of Fresenius Kabi.
News of the investigation caused AKRX shares to drop over 30%, and drew plenty of prognosticators who want to flaunt their opinions on deal break, material adverse effects, FDA probes, $8 price targets, and the like. The truth of the matter is we don't know the fate of the AKRX/Fresenius deal.
2) Rite Aid (RAD)
After the failed merger of Rite Aid and Walgreens (WBA) on anti-trust grounds, Rite Aid has found ways to siphon itself off to multiple competitors. In a twist of fate, Walgreens bought about half of the Rite Aid stores to circumvent the FTC. At the same time, Rite Aid was nearly left for dead - nearly.
Enter Albertsons Companies, the grocery store chain privately managed by the likes of Cerberus Capital Management, who earlier in the month announced a deal to acquire Rite Aid for either ("i") one share of Albertsons stock plus $1.83/share cash or ("ii") 1.079 shares of Albertsons Companies stock. At the close of the transaction, RAD holders will own 28% to 29.6% of the combined company (depending on the cash elections). The trick of it is, Albertsons is private, and will in not so many words "IPO" themselves via the Rite Aid transaction.
The combined company will generate revenues of $83 billion and adjusted pro forma EBITDA of $3.7 billion. Albertsons expects synergies of $375 million, with 60% of that achieved in the first two years. In 2016, RAD generated $32.8 billion in revenues (of course, that was with 4,500 stores nationwide). That said, with somewhere around 2,500 stores, is RAD worth the ~28% of future-Albertsons' stock?
3) Newmark (NMRK)
Those who have followed my articles know that BGC Partners (BGCP) pops up frequently in my research. It is my oldest and largest position. Now, it a bit of both destiny and discovery, I expect to own a portion of Newmark, Grubb, Knight & Frank, BGC's commercial real estate segment that IPO'ed late last year. But, the IPO wasn't quite normal, as the shares weren't fully up for sale. BGCP currently owns 85% of the company.
In due time (somewhere around May), BGCP expects to spin off NMRK to its shareholders. Meanwhile, Newmark expects to grow revenues at a 19%-28% clip in 2018, and initiate a dividend next quarter at somewhere around 25% of its adjusted post-tax earnings next quarter (presumably the quarterly dividend will be somewhere around $0.08/share).
More to come…
Disclosure: I am/we are long AKRX, BGCP.
Additional disclosure: Nothing contained in this message is an offer or solicitation to buy or sell any security/investment, and is for informational purposes only.