News Bulletin - Draiman News Agency - Tuesday, Nov. 27, 2012
Yehuda YJ Draiman is certified as a mayoral candidate to be on the ballot in Los Angeles elections which will be held on March 5 2013
Y.J. Draiman. - Candidate for Mayor of Los Angeles 2013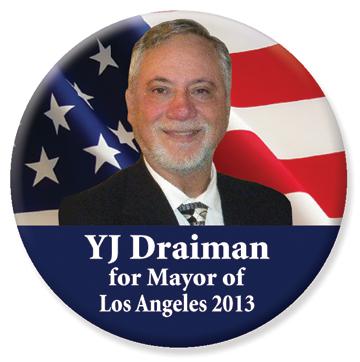 YJ Draiman ran in 2009 for councilmen at District 12 in Los Angeles
 
Draiman has formally filed paper to run for Mayor of Los Angeles - March 5, 2013.

Y.J. Draiman. - Candidate for Mayor of Los Angeles
Draiman is an Energy Efficiency Advocate and the lead elected official with the goal of Energy Conservation for the Northridge East Neighborhood Council - NENC, from Northridge, California. Draiman is also the liaison between the NENC and LADWP. Draiman is known for his advancement of implementing Energy efficiency, Renewable energy and Water conservation in the Los Angeles Area. Draiman is promoting the theme of Made in America, bringing back Los Angeles's industrial base, increase employment and reduce government with fiscal responsibility. Draiman ran for Los Angeles City Council in 2010. A recent ambitious goal by Draiman is to create in Los Angeles an innovative renewable energy zone approach which will create 200,000+ new jobs with billions in investments over the next 5-10 years.
Draiman is a former Real Estate developer with over 20 year's experience. Draiman has extensive experience in the deregulation of Utilities and implementing energy and water conservation.
In January 1996 Draiman was asked to run for U.S. Senate, but He declined.
Draiman is currently working on his PHD in energy conservation.
How to expedite America's economic recovery - YJ Draiman r2
The U.S. and the city of Los Angeles economy could expedite its economic revival by accelerating its hydrocarbon exploration and development. A national policy to enhance the development of hydrocarbon will turn the U.S. into a net exporter of hydrocarbon products. The U.S. must also build additional refining capacity at strategic locations in the U.S. to alleviate fuel shortages and increase its export of refined fuel and natural gas. Allocating a percentage of the revenues for the further development of renewable energy, energy efficiency and the development of water resources and efficiencies, including rainwater harvesting and grey water utilization etc. will further fuel Americas economic revival.
"He who controls the energy can controls whole continents"
"Those who control the water sources can control life"
Another avenue to boost the U.S. economy would be to initiate a program for Made in America products. This would require certain tax benefits to the manufacturer of products in America. Any unemployed American, who returns to the workforce, reduces the dependency for financial and social support by the government. Thus it turns the worker into a revenue generator for the government, while the employee's earning are spent on goods and services which boosts the economy further.
The city of Los Angeles must make it easy for businesses to thrive. This will create employment and increase revenues to the government and it will create the multiplier effect.
Increasing bureaucracy, taxes and fees depresses the economy, reduces business development, which in turn reduces consumer spending and as a result reduces revenues to the government.
YJ Draiman