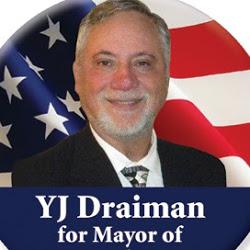 LA has the Opportunity for Grassroots Voices to Change the Game in 2013 - Draiman
Los Angeles CITY ELECTION March 5, 2013
It is rare, historically, for LA's grassroots voters to be in a position to actually make a difference. Most of Los Angeles City elections are poorly contested and decided long before the polls open. Do not miss this opportunity for change. For you to make a difference, Vote today, No matter how you vote. Nevertheless, how to vote shouldn't be too confusing this year for Angelenos. If you are happy with the dysfunctional work of those currently managing your city, return them to their seats around the horseshoe.
If you are satisfied with our city teetering on the precipice of bankruptcy, with un-drivable streets and crumbling infrastructure, with diminishing city services and a City Council stuck on equivocation and procrastination, are you going to give the folks who got us here another four years. (Keep in mind, the City's budget was being mismanaged, dollars misspent, and the system disorganized before the Council and Mayor's current excuse for our crisis. the crash of 2007-08. In addition, most of the City's current elected officials were handling your dollars and administering your City's business during those plush revenue times as well.)
Of course, you have another choice. If you think it is time for a game change, it is time for beginning to set our City on a course where transparency, decisive and responsible management, and honest and direct communication with the people whose government they are serving are a reality for our elected officials, then you can cast your vote for change.
There is an unusual number of promising and talented contenders on this year's ballot. There has been an exceptionally involved and active grassroots constituency this pre-election season. This City Election promises a real opportunity for LA's grassroots voices to speak at the polls today. To be game changers.
Vote today because LA's future depends on it. Because your vote does make a difference.
YJ Draiman