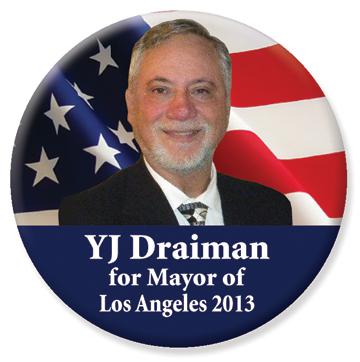 LA Mayoral Candidate YJ Draiman statement to the Press on March 1, 2013
Any form of trash franchising (exclusive or non-exclusive) will result in higher trash costs for the multi-unit apartment building and shopping mall owners with the increase being passed to the renters and will also result in the loss of thousands of jobs. I firmly believe in free enterprise and I want to leave commercial trash pick-up as is so that the owners can choose their own trash company, I am also in favor of mandatory recycling and that all trash trucks be carbon compliant and install the necessary filters for air emission control and meet all city and state regulations.
Moreover, we should utilize waste to energy technology. This would create jobs and produce electricity.
The way for our city to get on the road financial and economic sustainability is by reducing bureaucracy, aggressively going after new businesses and creating an environment that entices businesses to locate within the City of Los Angeles. This will create jobs and increases revenues to the city; moreover, it takes the new employee off the government subsidy, which again saves the government money and social resources. We must promote products "Made in America" and develop our natural resources; this will create immediate permanent jobs with good pay.
Thank you
YJ Draiman for Mayor of Los Angeles 2013
http://draimanformayor2013.com
http://www.smartvoter.org/2013/03/05/ca/la/vote/draiman_y/