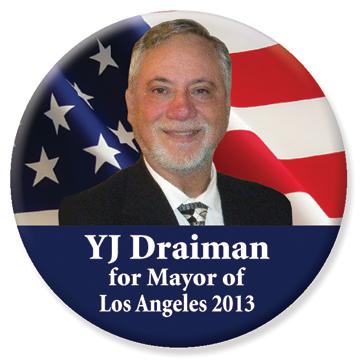 My name is YJ Draiman I am one of the candidates running for mayor of Los Angeles
Do you want LA to follow Detroit? Be carful whom you vote for as the next mayor of Los Angeles
When millions of dollars are spent by Unions to support a specific Mayoral Candidate in LA, it is time to question the candidate's loyalty to the people.
Our city is in dire financial crisis, our economy is in shambles, businesses and people are leaving the city in droves. Sounds familiar? - This is what is happening in Detroit. Do you want the same to be repeated in Los Angeles?
The Odor of Favoritism, Monopoly and Union Pressure is raising a Stink in LA politics.
Candidates courting Union money for their campaign coffers are costing taxpayers jobs and higher rates for city services. Let us address what is rotten in Los Angeles politics when many of the office-seeking candidates raised campaign funds through backroom politics and cronyism rather than looking out for their constituency.
We want to get the word out that the public trust is being manipulated, and this will be another cause in advancing the city of Los Angeles to Municipal Bankruptcy and total economic collapse.
Let the people vote for the independent candidate whose allegiance is to the people of Los Angeles and not the special interests.
My goal is to rejuvenate the business community in Los Angeles, aggressively go after new businesses and make Los Angeles the World Capital of Renewable Energy and more …
It is government by the people for the people and not just the special interest groups who can afford to buy the government.
Let us all vote and take back our government.
"Voter apathy was, and will remain the greatest threat to democracy."
Do you want to make a change for the better in Los Angeles
Vote for me, thank you I am "YJ Draiman"
Check out my website to learn more about me and what I stand for at: www.YJDraimanForMayor.org
Where there is discord, may we bring harmony; where there is error, may we bring truth; where there is doubt, may we bring faith; and where there is despair, may we bring hope.
Angelenos "There is work to be done."
http://www.smartvoter.org/2013/03/05/ca/la/vote/draiman_y/
http://bit.ly/draimanformayor2013 youtube