Dear Hamdan,
Under the federal rules of civil procedure, I am entitled to conduct discovery meaning: depositions, interrogatories, request for admissions, production of documents, and subpoenaed to third parties.
This is going to entitle me to the type of investigation that hasn't been done in any case. The SEC can only serve subpoenas. In a deposition, we can ask all the questions about Interactive Health Network (OTC:IGRW) and Creative Edge Nutrition (OTC:FITX) to name a few. We can ask questions that go to the heart of his business and/or fraudulent activities to determine that truth thereof after these questions are answered under oath. This is something that Mr. Hamdan hasn't had to do thus far.
While he might be able to take the 5th amendment in his SEC lawsuit, it won't work so well in his defamation lawsuit. It is rather fortuitous that Mr. Hamdan brought this lawsuit.
I believe the following people will be necessary to depose for the purposes of the defamation lawsuit: Gary Wolf, Fred Schiemann, and Bill Chaaban, J Scott Watkins to mention a few names. I also want to look into companies like HH Group, Oracle Consultants, JW Financial, Blue Ridge Financial, and Capital Shield, to name just a few. The strategy for this case is just only coming together.
But I thank Mr. Hamdan for this opportunity to ask him under oath and his little buddies issues in regards to questions of securities fraud and marketing fraud, which will be subject to a federal judge's supervision. I only ever alleged that there was fraud, which raises the vector whether or not there is actually fraud. I now can turn this upside down and search for fraud. The same fraud that the Securities and Exchange Commission believes they can prove.
I bet the SEC will love to have a copy of the depositions in this case.
And if Mr. Hamdan or anyone else lies in their deposition the Federal Judge may hold them in contempt of court and be arrested.
And I am going to make sure that Mr. Hamdan's deposition will be a video recording.
My question is why hasn't the SEC looked into a larger period of time? Because the issue is regarding defamation of whether or not Mr. Hamdan has a fraudulent past, we will be looking at EVERYTHING.
This is the tiniest hint of what's coming. And at the end of all this, I want Mr. Hamdan to know that there will be a barbecue after all of this. A nice little party.
And for anyone else who has had dealings with Mr. Hamdan that you wish can be exposed, I invite you to click the link below to the legal fund handling this matter and submit questions that you believe should come to light.
http://www.gofundme.com/b7pgmk
Check out where all of this began: www.GreenRushInvestors.com and the Facebook group Cannabis Contrarians.
******UPDATE*******
It appears that Hamdan has changed his education experience on his linkedin profile after questions were raised.

However, Hamdan has put out several PRs and written up blogs about himself claiming that he has a "Master's Degree in Economics from the University Michigan-Dearborn"
About: Randy Hamdan is a young professional who earned his master's degree in economics in the early 2000s. He enjoys his work and plans to continue working in various industries as he enjoys the unique challenges and variety his career path provides.
Did you hold yourself to be an expert in something that you are not?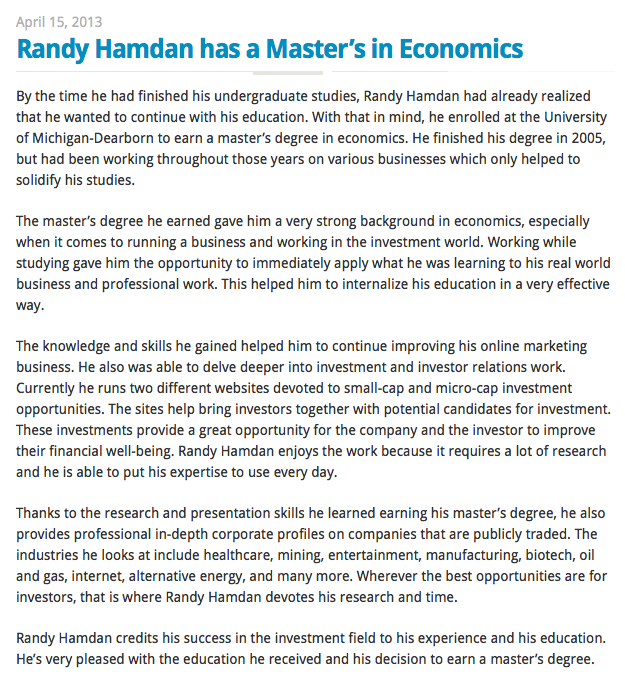 But Univeristy Michigan-Dearborn doesn't have an "economics department."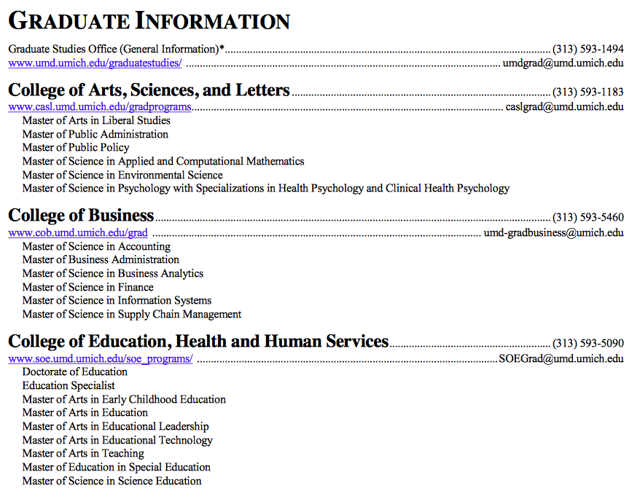 www.umdearborn.edu/fileadmin/graduatestu...
Disclosure: The author has no positions in any stocks mentioned, and no plans to initiate any positions within the next 72 hours.