Night Culture Q2 Results
Highlights:
Revenues: $1.656m and 31% Q/Q
Operation profit: $174k up from -$23k Y/Y & -$197k Q/Q
Gross Margin: 47%
Operating profit margin: 10.51%; compare -1.80% Y/Y and -15.57% Q/Q
Cash: $220k up 318% Y/Y and 104% Q/Q
Gross Profit: $774k; up 62% Y/Y and 40% Q/Q
Total assets increased 19% Y/Y and 23% Q/Q
Liabilities also decreased -19%
EPS: 0.01
Revenues per share TTM: 0.095
In 2014 Q2, NGHT produced 63 events netting $1.656m in revenues. Comparatively, 2013 Q2 NGHT produced 43 events (one of which was MDF) and netted $1.280m in revenues. NGHT has already produced 111 events YTD, which has brought in $2.921m in revenues, an increase of 27% Y/Y.
To say the least, this was an extremely impressive quarter for NGHT.
Forward Guidance Estimates for 2014 Y/E
Sales of $8m to $10.5m (increased from previous estimate of $7.6m)
Operational income $846k to $1.5m
Operating growth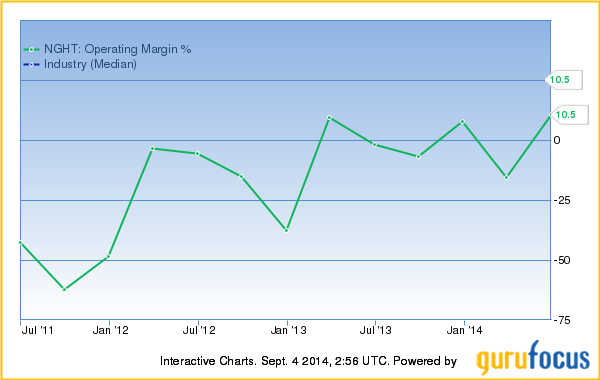 The company Night Culture (OTCPK:NGHT) operates within the unique live entertainment industry. Specifically, it's business operations focuses solely on the Electronic Dance Music ("EDM") market. The EDM market currently only has two publicly traded players, NGHT and SFX Entertainment (NASDAQ:SFXE). The EDM sector is currently estimated to be worth about $15 billion. Some have even estimated that the worldwide EDM market is valued at $20 billion.
Business Model
NGHT produces events solely within the Midwest. Currently, it puts on weekly events within four cities in Texas: San Antonio, Houston, Dallas, and Austin. There are three types of events: local events that have a maximum of 2,200 persons attendance; mid-size festivals with a maximum of 11,000 persons attendance; and large festivals that have 20,000+ persons attendance. This year, NGHT is expected to produce 231 local events, six mid-sized festivals, and one large festival.
The bulk of their events are co-produced with Disco Donnie Presents ("DDP") a subsidiary of SFXE. NGHT's source of revenues is primarily from ticket and beverages sales at these events, but also profits from selling artists' merchandise.
Since NGHT does not provide a detailed breakdown of how much each event brings in, this article gives rough estimates. These estimates are derived from counting the total events and adjusting for any anomalies.
In my estimation, each local event currently averages about $22.5k to $26k.
The mid-sized festivals are broken down into two types: the wholly owned branded festivals like Meltdown Dallas Festival ("MDF"), which brought in roughly $346k in revenues last year and SFXE's branded festivals like Life in Color ("LIC") and Beach Blanket Disco ("BBD") bring in $37k.
NGHT's most profitable and largest event is its Something Wicked Festival ("SWF"). Last year, this 1-day festival netted NGHT approximately $1.042m in revenues. This year NGHT has added an extra day to SWF, which will most likely double NGHT's revenues for that sole event.
Local Events
In 2013, NGHT put on 161 local events, earning roughly $3.645m to $4.169m in revenues. This year NGHT is on track to produce between 220 to 240 local events, which would net roughly $5.5593 to $6.102m in revenues, representing a low estimate of 34%-46% increase Y/Y to a high estimate of 53%-67% Y/Y.
Even with 240 local events, NGHT will have yet to fully maximize its opportunity in these four cities. Ideally, each week NGHT will produce 2 events per city Friday, and Saturday night. At full capacity, NGHT would produce 104 events per city. If maximized, it would produce 468 events in the four cities that it currently operates in for $16m to $17m in revenues.
Investors should also expect NGHT to expand into other large metropolitan cities within the Midwest.
Current Active Markets by Target Population*
Dallas, TX: 711,788
Houston, TX: 667,900
Austin, TX: 287,456
San Antonio, TX:433,913
Total Active Target Market: 2,101,057
Inactive Market
Oklahoma City, OK: 166,626
Night Culture's Current Estimated Total Market: 2,267,683 persons
Potential Target Cities for Operations: Target Demographic*
Texas: 6,186,442
San Marcos, TX:21,799
College Station, TX:47,840
El Paso, TX: 228,800***
McAllen, TX:37,117
Louisiana: 1,102,964
Baton Rouge, LA: 129,487
New Orleans, LA:100,306
Oklahoma: 887,941
Missouri: 1,364,731
Kansas City, MO: 161,426
St. Louis, MO:208,323***
Tennessee: 1,430,361
Memphis, TN: 224,174***
Nashville, TN: 186,696
Other Cities
Albuquerque, NM: 164,971
Birmingham, AL: 158,008
Atlanta, GA: 251,842***
Charlotte, NC: 242,672***
Phoenix, AZ: 429,313***
Charleston, SC: 98,618
Wichita, KS: 110,833
Potential Midwestern Market: 3,390,820 persons
*Data from U.S. Census Bureau & SuburbanStats.org
**Target Demographic: 15-35
***Total of Top 6 Cities for Expansion: 1,585,124
As a producer of local events, there appears to be huge growth opportunity for NGHT. NGHT currently actively serves 2.1m Texan millennials and has the opportunity to increase that to 5.7m. Ideally, NGHT would maximize its exposure in its current markets and expand operations in cities like El Paso, TX (228,800), Phoenix, AZ (429,313), and Memphis TN (224,174).
Just like NGHT purchased the Dallas Market through acquiring Full Access, the company can also acquire existing promotional companies like Steve Levine Entertainment, which operates within Scottsdale, Arizona.
Targeting cities with growing millennial population will be key for NGHT's future success in becoming a staple as a destination source for entertainment in the Midwestern market.
Mid to Large Sized Festivals
Thus far, NGHT is on track to produce as many mid-sized festivals in 2014 as it did in the previous year. It has scheduled 3 LIC events and 1 BBD event. This would bring in roughly an additional $150k.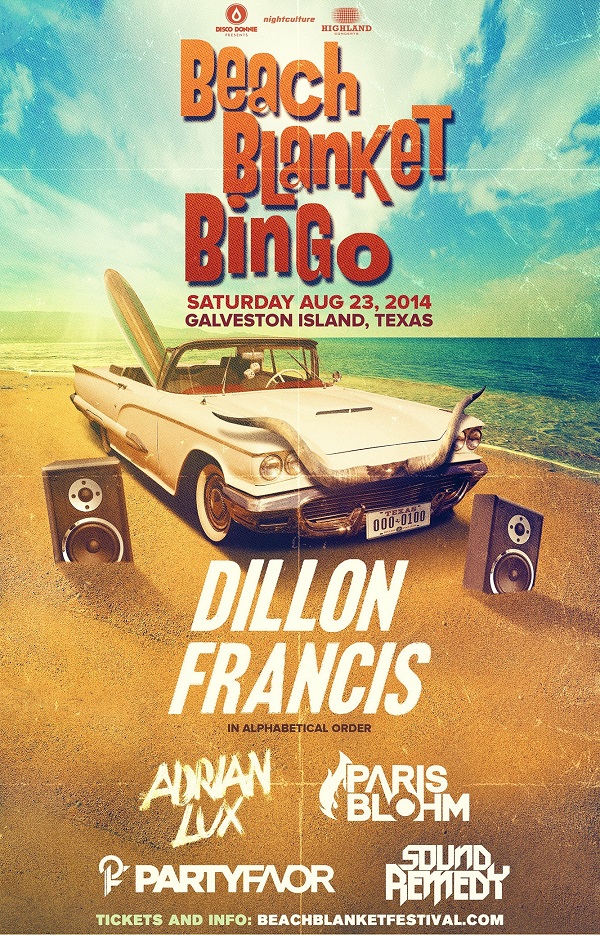 Meltdown Dallas Festival
Although NGHT has not announced the date for its Dallas event, MDF, it is expected that they will do so for the 4th quarter. Last year, MDF was not profitable for NGHT so the company plans to reschedule the event for a date that would be more lucrative for shareholders. A more conducive date should bring in a minimum of $350k but potentially $1m in revenues.
One opportunity for growth for NGHT will be to increase ticket sales for MDF. It could do this by both increasing attendance and adding additional days like it has done for SWF. If MDF can increase in popularity, this will be a no-brainer.
Another opportunity for growth will be creating additional mid-sized branded festivals like DDP's LIC. The company currently hosts a popular "Electric Foam" event at its Houston venue, Stereo Live. I see this as a potential festival branding opportunity. A mid-sized festival foam party would be an ideal attraction for concertgoers that could be a counterpart to LIC's paint party.
Upcoming Event: Something Wicked Festival

As discussed earlier, its Houston SWF event has been NGHT's big money maker. The company has already taken great strides to make this branded festival more profitable for shareholders by adding an additional day. In a press release, the company announced its plan to turn SWF into a weeklong destination event. If successful this could gross $8m to $10m in revenues.
In three to four years, NGHT could be grossing $12m from its larger sized festivals. Add that to the potential $17m it could gross from its local events, investors could see $30m in annual revenues. With a conservative 5% net profit margin, investors could see $1.5m in annual net income. If achieved I believe that a five year price target of $0.75 or a market cap of $56 million represents a fair valuation for this expanding company. The company is currently valued at $3.2 million.
Q/Q Analysis and Year End Guidance
For the first two months of third quarter, the company has already increased the amount of events by 130% Y/Y. NGHT only produced 103 events in 2013 from January to August. Comparatively, the company will have produced 157 events from January to the end of August for 2014, a 52% increase Y/Y.
I expect NGHT to produce at least 25% more events for Sept-14 as it did for Sept-13. If it does so, NGHT will have produced a total of 70 events for Q3 or 181 F/YTD. If achieved, investors should expect NGHT to bring in $1.839m in revenues for 2014-Q3 and $4.761m F/YTD. In contrast, 2013-Q3 only netted the company $1.145m and $3.442m respectively for nine months ending in September 2013.
2014-Q4: Expect Impressive Results
The company already has already scheduled its big event, SWF for Q4. This event alone should bring at least $2m-$3.6m in revenues. If MDF is also produced in Q4, that could add an additional $350k+. If NGHT produces only 25%+ local events for Q4 Y/Y that would be a mere 58 events, for an additional $1.52m in revenues. I estimate that investors should expect Q4 results of $3.78m to $5.479m in revenues, an increase of 70% to 148% increase Y/Y.
Forward guidance for 2014 suggests the company will gross roughly $8.541m to $10.183m in revenues, a 51% to 80% increase Y/Y.
The mean valuation of companies within the Movie & Entertainment sub-industry is valued at price to sales ("p/s") of 3. At current valuation, NGHT would be trading at a p/s of .37. I believe investors are grossly undervaluing NGHT and that NGHT deserves as least a p/s valuation of 1 or higher. That suggests that a more reasonable current valuation for NGHT would be a minimum of $0.095 a share. If NGHT were to be valued at the sub-industry p/s average of 3, the stock would be trading at more bullish $0.285 a share. At $0.043 a share that suggests a 120% to 564% upside at current valuation.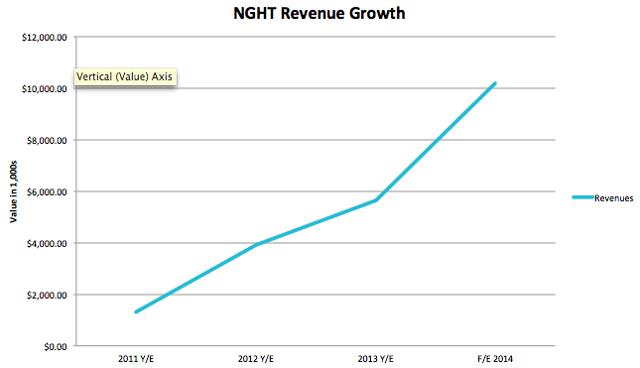 Quarterly growth:

For the past three years, revenue per share growth was 81.70% per year.
Conclusions
Valuation at $0.043 a share
Price to Sales TTM: 0.44
Price to Earnings TTM: 4
Price to Cash Flow TTM: 2.9
Enterprise Value to EBITDA TTM: 2.74
Enterprise Values to Sales TTM: 0.436
I believe that the best buying opportunity for NGHT is at current valuation. It is estimated that NGHT will grow 70% F/2014. Investors should expect similar growth for 2015. NGHT is one of the few stocks that trades on OTC-Link that demonstrates all the qualities of a realistic investment. Because there are no financial requirements to be listed on OTC Market exchange, NGHT unfortunately gets grouped in with the tens of thousands of dead tickers that have no assets, no business operations, and no revenues. It is easy to overlook NGHT as "just another penny stock." In the same vein, being grouped in as "just another penny stock" is what makes NGHT a great long-term value investment for the contrarian investor.
Disclosure: The author is long NGHT. The author wrote this article themselves, and it expresses their own opinions. The author is not receiving compensation for it. The author has no business relationship with any company whose stock is mentioned in this article.